The Miami Marlins have won two World Series titles in 11 years.
Historic baseball teams such as the Chicago Cubs and the Cleveland Indians and their rabid fan bases only dream of that rate of success. The two teams have won a combined four championships in the last 137 years.
Despite those early successes, the Marlins won't be widely lauded for their cultural and financial impact on South Florida as it begins its 20th season on Monday in Washington, D.C.
The franchise has yet to make a firm dent into the South Florida fabric as the other professional franchises have achieved. The Dolphins have Dan Marino and Don Shula. The Heat has Dwayne Wade and LeBron James. The Marlins have yet to establish an identity due to constant player turnover rate.
"As a club you want your fan base to embrace your organization, but you've had three different owners in 20 years and the buy-low, sell-high, a majority of folks out there have a tough time embracing it," said former Marlin Al Leiter, now a commentator on MLB Network and the Yankees' YES Network. "'What are we going to get?' And not just what Jeffrey [Loria] did this time. It's been a pattern."
Even the dawn of a brand-new stadium has not created the attraction needed to become a foothold in the community. (Story continues below.)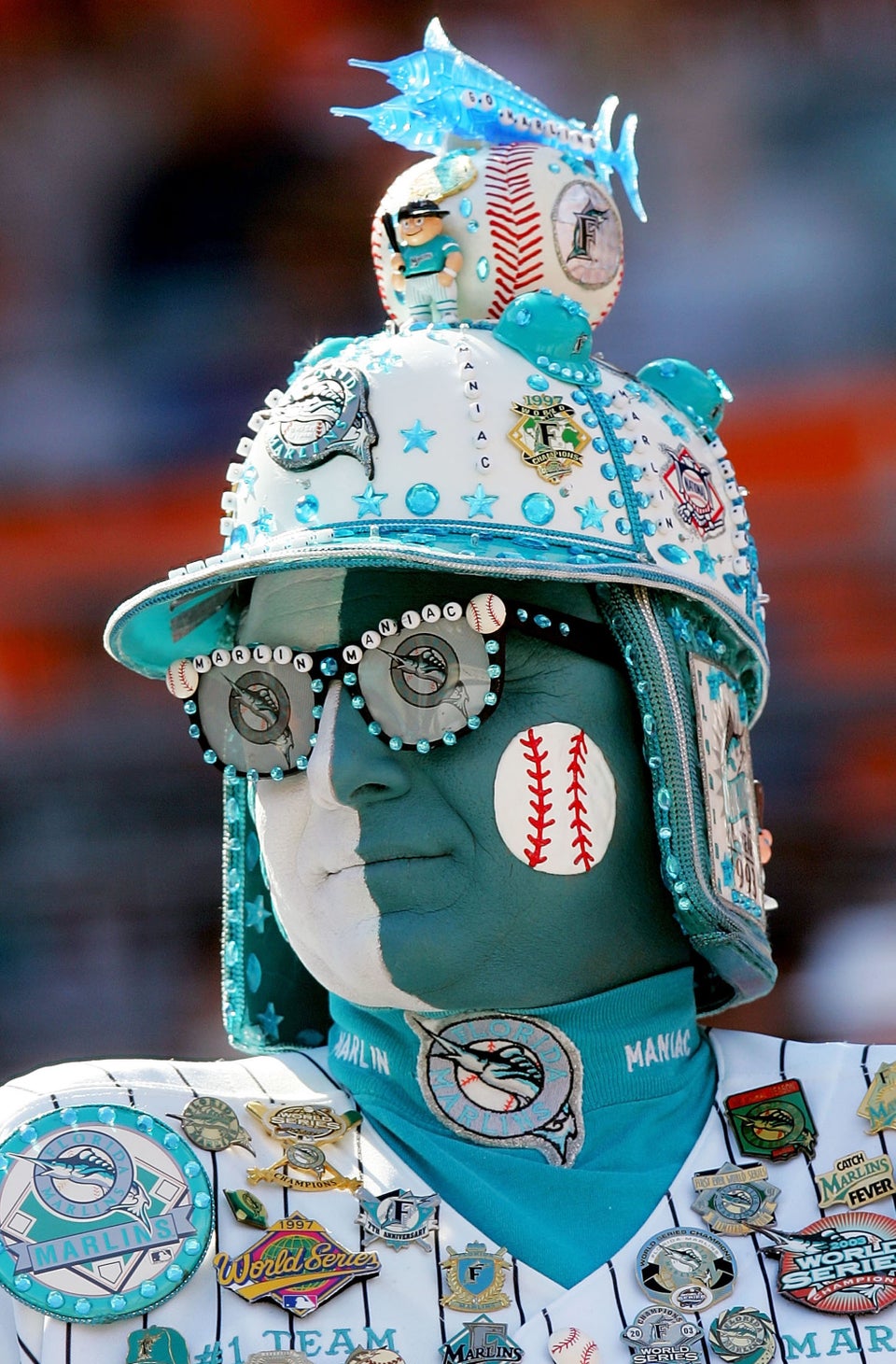 Marlins Fans Through The Years
For each fan that chooses to re-live the euphoria of Edgar Renteria's Game 7, World Series-winning hit in 1997, countless others will fume over the dismantling of that team.
For every fan who honked horns that echoed through South Florida after Josh Beckett's 2003 World Series-clinching shutout at Yankee Stadium, more will seethe over the shedding of last season's experienced players.
A growing population of emotionally spent supporters has ceased caring altogether. They shed tears of joy when radio play-by-play announcer Joe Angel exclaimed after the first World Series win: "The 5-year-old child has become king."
They shed tears of anger when the teams following the World Series titles were dismantled the next season.
What Loria, the Marlins' owner since 2002, did midway through a 69-93 inaugural season at Marlins Park was authorize what he termed a reset. The Marlins shed more than $205 million in payroll commitments for 2013 and beyond.
An all-in strategy prompted the Marlins to commit $201 million to manager Ozzie Guillen and free agents Jose Reyes, Mark Buehrle and Heath Bell heading into last year. It proved catastrophic.
They fired Guillen, and Reyes, Buehrle and Bell were among those traded as well as other popular and mostly productive Marlins like Josh Johnson, Emilio Bonifacio, Anibal Sanchez and Omar Infante.
Weary Marlins fans have grown tired of the franchise's excuses to constantly discard high-priced veterans. Marlins Park and the revenue streams it was projected to produce were supposed to end the heartache and better establish the team into the community's collective conscience. (Story continues below.)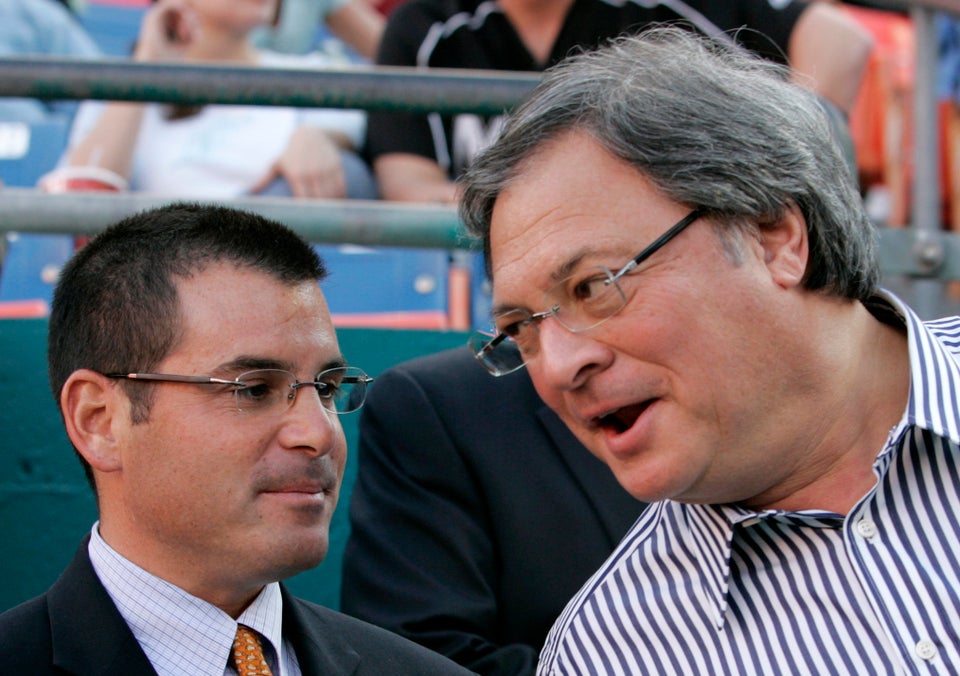 Sportswriters Bash The Marlins Trade
Loria succeeded where predecessors Wayne Huizenga and John Henry failed in building a state-of-the-art baseball facility. Rather than a monument of the community's love affair with baseball and the team, for many it's a symbol of deceit and broken promises.
Miami Mayor Tomas Regalado in a recent Sports Illustrated article is quoted as saying: "The residents of Miami were raped. Completely."
Ex-big leaguer John Kruk, now a member of ESPN's Sunday Night Baseball crew, was equally harsh.
"They were very disloyal to their fans by signing these guys, getting the hype about the new stadium, everything is going to be great, we're going to be spenders, win another World Championship, then a couple months into the season, OK, this doesn't seem to be working, let's get rid of everyone," he said.
"If I'm a fan of the Miami Marlins, I don't know if I would be a fan anymore. How do you root for anyone? You root for a team. You're loyal to your team, but you also get loyal to players."
Under Loria's watch the Marlins have signed 11 players to contracts of three or more years. Ricky Nolasco, the club's Opening Day starter, is the only one with a chance to remain with the team for the duration of his deal. Nolasco is in the final season of a three-year contract, after which he is eligible to leave the team and sell his talents elsewhere.
If he's pitching well and the Marlins are as bad as most pundits predict, Nolasco likely will be discarded to another team later this season.
And if they are unable to retain young slugger Giancarlo Stanton, the Marlins will trigger another tsunami of spite from an already indignant fan base.
"It's always going to be a little bit of a different scenario here," said Jim Leyland, who managed the 1997 Marlins to the World Series and the next season lost a franchise-worst 108 games. "There were nights when half the crowd was for the Phillies or the Cubs or Atlanta. I don't know how many season-ticket holding fans are Marlins' fans. It's kind of unfortunate because they're not like a Cincinnati or St. Louis. That's just the way it is because so many people are from other places and grew up cheering for another team."
The Marlins' failure to sustain fan confidence has left an economic imprint of unfulfilled promise. Poor on-field performance and player selloffs have a trickle-down effect.
Financed primarily with bonds backed by tourist taxes, $515 million Marlins Park was touted for the benefits it would bring to the community.
"I live in Little Havana, and before it happened, we all knew what they were telling us was all a lie," said Yvonne Bayona, a paralegal and community activist. (Story continues below.)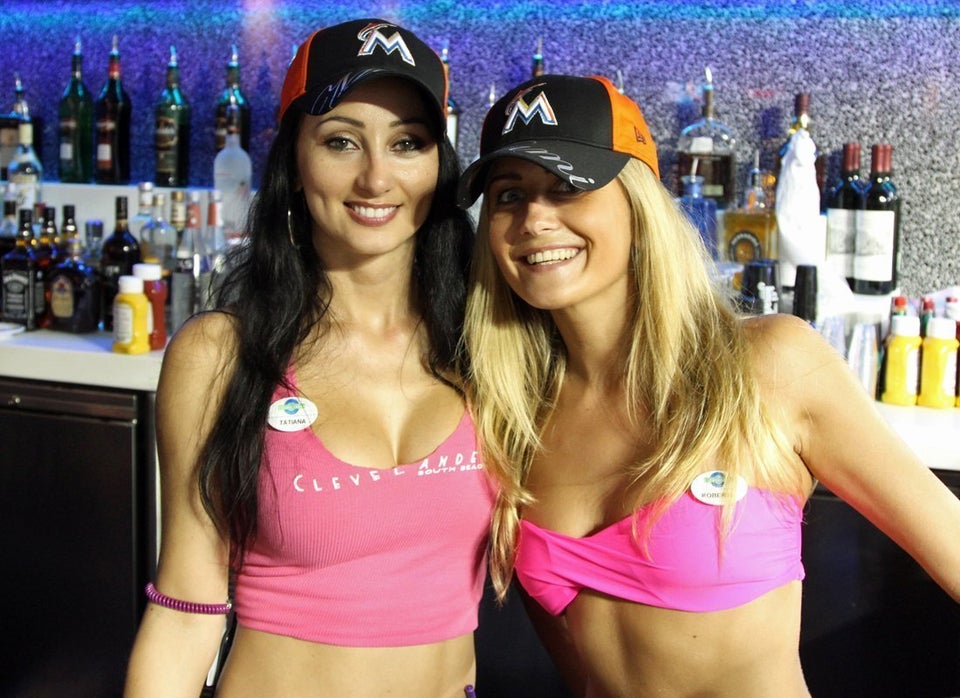 Inside The Clevelander At Marlins Park
When Miami auto dealer Norman Braman sued in an attempt to block funding for Marlins Park, Tony Villamil, chief executive officer of Coral Gables-based Washington Economic Group, testified that new stadiums in urban areas spur economic development.
Villamil helped produce an economic impact study in 2008 (revised in 2009) projecting that Marlins Park would generate $299 million in recurring annual economic impact and create more than 2,700 permanent jobs. However, the study did not specifically address the Little Havana location.
While the ballpark has produced jobs and revenue on the site of the former Orange Bowl, the economic reality isn't measuring up to glowing projections. First-year attendance of 2,219,444 was about 500,000 less than the Marlins expected. That hurts the public coffers, too, as fewer fans means less sales taxes generated at the ballpark.
The Marlins were bracing for a significant decline in attendance this season even before the November trade with Toronto that infuriated much of the fan base. Marlins President David Samson said recently that season-ticket sales were off from more than 12,000 in 2012 to fewer than 5,000.
The benefits of sports franchises and stadiums to cities are hotly debated, especially when teams are seeking public money for new facilities and upgrades. Testifying in support of Braman's lawsuit, Philip Porter, an economics professor at the University of South Florida, said the Marlins' stadium "has a slim-to-none chance of spurring economic development in the neighborhood."
The evidence so far does not indicate Marlins Park is revitalizing a downtrodden urban area. Even the retail space in the parking garages remains unoccupied.
"It's in the middle of a low-income neighborhood," Bayona said. "It's residential. It's really not a commercial area. They promised there was going to be a bunch of businesses. Nobody can afford the rent."
A year ago, Tony Argiz had visions of Marlins Park stimulating a renaissance in Little Havana, just like Coors Field has in Denver.
"There was hope," said Argiz, first vice chairman of the Greater Miami Chamber of Commerce and past president of the Orange Bowl Committee. "It doesn't seem like anything is happening. It might just be the residential nature of that area. The places for business to grow are very limited."
Forecasts of what the Marlins could mean to South Florida always have seemed inflated. Just before they played their first game in 1993, long-time baseball executive Peter Bavasi told the Sun Sentinel, "These franchises mean big bucks, big opportunities and big benefits for their communities. There's no minus to it whatsoever. It's a total plus."
The Marlins actually exceeded projections that first year when they drew more than 3 million to then-Joe Robbie Stadium. But the strike that canceled the World Series the next year prematurely ended the honeymoon, and empty orange seats became the norm throughout the next 19 seasons in Miami Gardens.
Attendance was disappointing even in the World Series seasons, prompting the first two fire sales of high-salaried players. Last season, at Marlins Park, was the highest attendance since the inaugural year, but the average of 27,400 fell well short of filling the 37,000-seat retractable-roof facility.
The move did bring one notable economic boost. According to Forbes magazine, the value of the franchise has increased to $520 million, a jump of more than 69 percent since 2011. It was $136 million when the Marlins won their second championship in 2003.
"Since the teams control all revenue streams, they don't necessarily need to make a huge investment in talent or curry good favor with fans to still be profitable," said Rick Eckstein, a professor of sociology at Villanova and co-author of "Public Dollars, Private Stadiums: The Battle over Building Sports Stadiums". "New stadiums are absolutely huge for increasing the market value of a team."
The recent World Baseball Classic offered a glimpse of what Marlins Park could become as enthusiastic multinational crowds created an electric atmosphere, prompting praise from a Major League Baseball official, who said, "Right now the sky is the limit for this stadium, for this franchise, for this city."
Added Hall of Famer Andre Dawson, an ex-Marlin and now a special assistant with the club: "No one wants to play in front of an empty audience. It remains to be seen. After 20 years, I just don't think it's grasped the way it is in the Midwest and some of the major media centers. It's going to take a few things for that to happen."
jcrodriguez@tribune.com or @JCRMarlinsbeat on Twitter. ___
(c)2013 the Sun Sentinel (Fort Lauderdale, Fla.)
Distributed by MCT Information Services