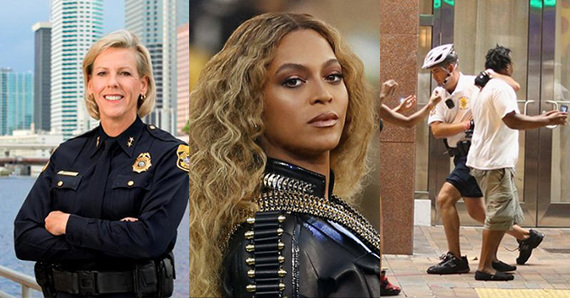 The City of Miami is set to ratify a federal monitoring agreement with the US Department of Justice, which will run for the next 4 years covering its 1,300 member force, protecting the Magic City and it's more than five hundred thousand residents, which can be seen below.
Miami Mayor Tomas Regalado claims that most, if not all of the measures agreed upon have already been implemented at the department, under scrutiny for 7 fatal shootings within a short period of time, and 33 shootings in 2011 which drew national attention to the beleaguered department under former Chief Manuel Oroza.
New rules include a more deliberate review of all intentional firearm discharges, and for Miami's Chief of Police Rodolfo Llanes to personally sign off on the return to work for any officer who's fired a weapon, after psychological screening, and a review by the highest level state law enforcement agency, the Florida Department of Law Enforcement (FDLE).
The Justice Department's agreement also stipulates that FDLE will conduct all criminal investigations arising from Miami police killing a citizen, or in their beaurocratic parlance: "officer involved shootings."
The agreement also mandates an "action plan" to be delivered within a month of commencement, and assigning greater responsibility to supervisors for the conduct of their charges, while limiting the number of officers supervised from 4 to 6 individual.
Former-Tampa Police Chief Jane Castor was agreed by both parties to act as the federal monitor. Castor's officers in Tampa engaged in a notable campaign to arrest black residents disproportionately while riding bicycles and left a legacy described as both shining and flawed by her hometown's newspaper of record.
Castor was a double first for Tampa's department as the first woman Chief as well as the first openly gay chief, whose highest profile contribution to community policing was giving out her personal cell phone number freely.
Miami cops could make that phone ring off the hook.
Meanwhile, Miami Police Department's FOP union reacted by firing up the Police PR Spin Machine to announce their service's boycott of a Beyoncé concert happening months later at the infamous local white elephant, Marlins Park.
Predictably, local news media far preferred reporting on a Beyoncé controversy, leaving only the Miami Herald and one very intrepid hyper local journalist to actually cover the DOJ story. Crespogram was the only news outlet to publish the 92 item, 22 page agreement which the Justice Department announced last Friday while Attorney General Loretta Lynch visited, and is a source of numerous criticisms of Miami's FOP President & friends too.
Not a single local outlet mentioned that Miami's FOP agreed to a "No Strike" provision in their lengthy union contract negotiated by Lieutenant Javier Ortiz, which is publicly available on CheckThePolice.org along with contracts from numerous big city and county departments.
It's unclear if Miami Police FOP's vote to boycott Beyoncé violates their collective bargaining agreement, constituting an illegal work stoppage under the provision which reads:
"Neither the F.O.P., nor any of its officers or members, nor any bargaining unit members, covered by this Agreement, will instigate, promote, sponsor, engage in, or condone any strike, sympathy strike, slowdown, sit-out, concerted stoppage of work, illegal picketing or any other interruption of the operations of the City."
But that's never stopped Miami's FOP from acting illegally in the past, like when the police union led by Lt. Javier Ortiz shut down Miami's City Commission meeting illegally as a bargaining tactic while they were still under contract.
Miami FOP is attempting to enjoin other departments in their PR boycott of Beyoncé, but their efforts have fallen on deaf ears at the nearby Tampa Police Department who issued this hilarious moving GIF response to rumors of staffing problems.

Perhaps Tampa PD's reaction is a foreshadowing of things to come once its former Chief is officially given Federal monitoring duties.
Anticipating this agreement, I interviewed Ortiz last August on my local radio program the Only in Miami Show which airs weekly on 880 The Biz, Miami's Bloomberg network station.
He made extensive comments about the DOJ investigation, the city commission shut down, his own history of legal entaglements for use of force, and about the proper police use of force which you can hear below starting at minute 27 or in its entirety from minute five through fifty five of the podcast.
If Miami's largest police union used as much energy pursuing better community relations, rather than grabbing headlines to distract from receiving one of the highest punishments a law enforcement agency can endure, they could make significant progress towards safer streets.
Unfortunately, Miami police and its F.O.P. members seem far more interested in keeping Miami residents safe from Beyoncé's music.
Likely, we'll see a similar result to the National F.O.P.'s "nasty surprise" comments aimed at filmmaker Quintin Tarantino's film the Hateful Eight, which USA Today noted in their story about Miami F.O.P.'s current PR push when, "nothing happened."
But we know that something will happen with the Department of Justice, who will remain firmly planted inside the walls of Miami's police department for the next four years, overseeing each and every time an officer uses his weapon against a citizen.
Related
Popular in the Community