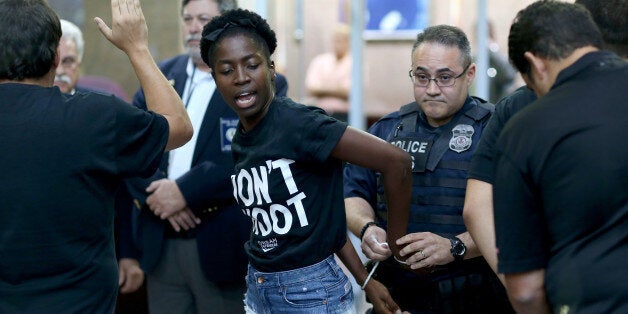 Eight protestors were arrested Thursday afternoon in Miami during a demonstration against the 2013 death of a local teenager and the fatal shooting last week of an unarmed black youth in Ferguson, Missouri.
Israel Hernandez, of Miami Beach, and Michael Brown, of Ferguson, were both 18 when they lost their lives in run-ins with police officers. Both were minorities. In addition, said event organizer Phil Agnew in an email, both young men are "proof that racist police departments around the country will continue to use black and brown bodies for target practice."
Agnew's Dream Defenders civil rights organization led a large group of protestors to the lobby of Miami's federal justice building, their arms raised in silence.
Their aim was a meeting with U.S. Attorney Wifredo Ferrer, who oversees the Southern District of Florida.
"It is time for the federal government to reign in the Miami Beach Police Department, the Ferguson Police Department, and other bigoted departments around the country with an established history of targeting and terrorizing communities of color," Agnew said in a statement.
But Ferrer did not meet with protestors, and police asked the group to leave as the James Lawrence King Federal Justice Building closed for the day.
Eight activists declined to vacate the lobby and were placed in plastic cuffs.
"We're the voice of the mothers in our community who live in constant fear of not seeing their children come back," said Marcia Olivo, one of those detained, according to a release from the Miami Workers Center. "We will continue to hold our hands up and demand justice until those who have sworn to protect and defend us stop killing our children."
The group were later released with citations, the station reports.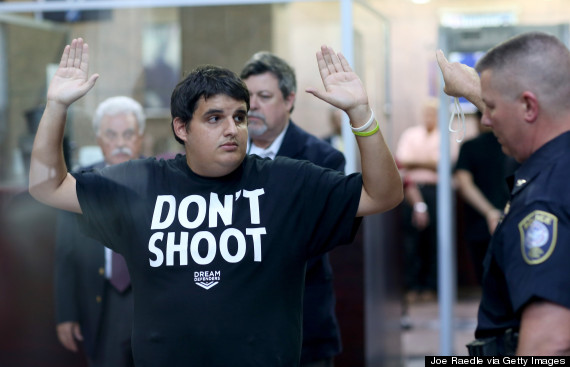 Curtis Hierro is arrested by police in the Federal Justice Building in Miami Aug. 14. Protesters, which included members of the civil rights group Dream Defenders, say they want justice for Mike Brown, shot and killed by police in Ferguson, Missouri, Aug. 9. They also want justice for 18-year old graffiti artist Israel Hernandez, who died from shock from a Miami Beach police officer's Taser last summer.
Even after Brown turned to face the officer with his arms raised, she told CNN, "the cop continued to come up on him and shoot him until he fell down to the ground."
Police say Brown had reached for the officer's gun during the struggle through the window. One shot was fired from inside the car, they said, then several more followed.
A moment of silence for Brown and victims of police brutality was held Thursday night in cities across America, including greater Miami, where Hernandez's death was one of a string for which local police departments have been accused of excessive force. The Colombian-born Hernandez, an aspiring artist, was spotted scrawling graffiti on an abandoned, paint-covered building by a Miami Beach police officer last August. An ensuing chase ballooned to include "more than half a dozen" officers, and Hernandez was eventually cornered and shot in the chest with a Taser, killing him.
His family has sued Miami Beach Police for excessive force over the officer's response to the minor crime -- a second-degree misdemeanor that would not likely have resulted in prosecution -- and protestors have repeatedly called for the arrest of the officer who shocked the teen. That officer remains on the job.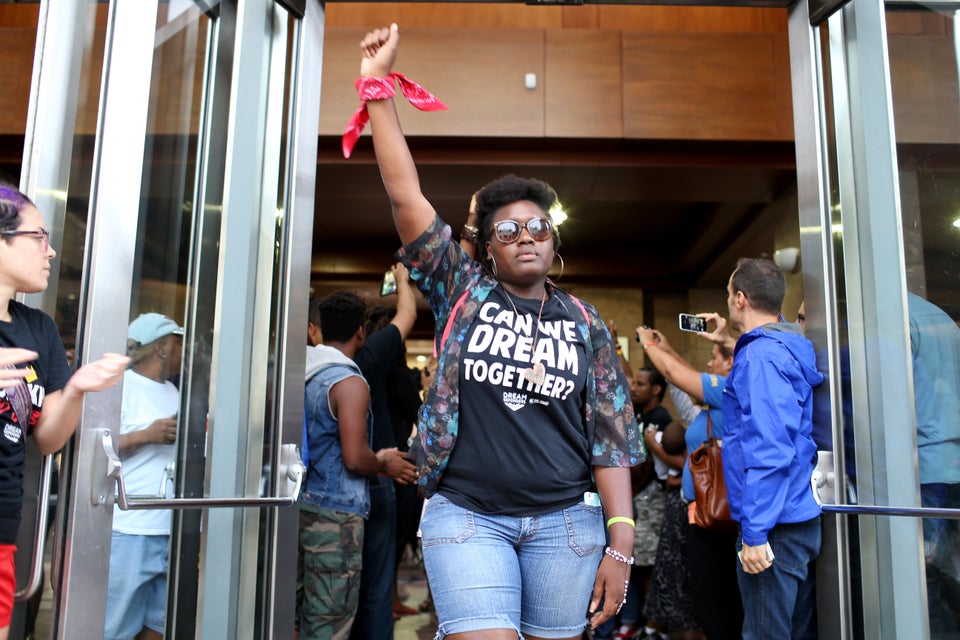 Miami Protestors Arrested
Popular in the Community