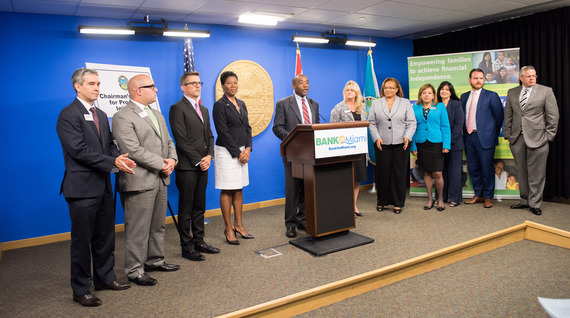 Miami's public, private and non-profit sectors came together this week with a noble goal: to assist individuals in the world of the "unbanked" and "underbanked." Though the data is a bit choppy when it comes to those individuals who don't have bank accounts or who use alternative financial services like check-cashing stores and payday lenders, Miami has ranked as high as No. 1 in recent years among large cities for the unbanked. The community has hundreds of thousands of residents who have either lost the right to have an account with a bank or credit union, or choose to use alternative services at a considerable cost.
Statistics from CFED in 2013 state that 15.4% of households in Miami-Dade lack either a checking or savings account while 21.6% have bank accounts but still use alterative financial services.
Public officials from Miami-Dade County, non-profit groups such as the United Way and Switchboard Miami, 15 local financial institutions, and other partners have joined forces to take on this problem through an effort called Bank on Miami. It kicked off with a press event and fair at county hall.
Commission Chairman Jean Monestime suggested that it is now time for unbanked and underbanked individuals to stop using payday lenders, check-cashing stores and pawn shops which charge anywhere from 2.5 to 10% to cash checks.
"We need to close the income equality gap," he said. "Getting a bank or credit union account is the first step in climbing the economic ladder and securing a brighter future."
Commissioner Barbara Jordan echoed his point with even more vivid examples. "We have to take small steps to help members of our community move out from the shadows, and move their money out of the freezer," she said, explaining how many individual have more trust in the security of their mattress than their local financial institution.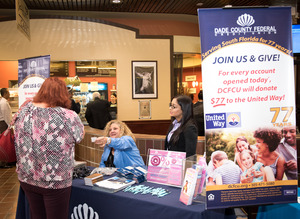 An impressive list of local banks and credit unions have joined the effort including Bank of America, Bank United, Brickell Bank, City National, Dade County Federal Credit Union, Florida Community, International Finance Bank, JP Morgan Chase, Regions, Sabadell United, Suntrust, Totalbank, U.S. Century, Valley National and Wells Fargo. Other groups, including the FDIC and the Office of the Comptroller of the Currency, have also joined-in to help promote the efforts.
Participating banks and credit unions will step-up efforts to help those who have fallen through the cracks and no longer have access to traditional bank accounts.
Annie Wilkinson, executive vice president at Dade County Federal Credit Union, participated in the kick-off event and explained how "second chance" accounts and credit building programs are available to help people who have fallen on hard times and lost their ability to use a traditional financial institution.
"Any institution participating in Bank on Miami can help an individual rebuild their financial life," she said. "Specific programs have been developed to guide the unbanked or underbanked back to a mainstream financial institution. We are committed to helping them escape the high fees and crippling interest rates associated with many alternative financing arrangements."
Individuals who are interested in learning more can visit www.bankonmiami.org or call 2-1-1 or 3-1-1 in Miami-Dade to be connected to a participating financial institution.
Calling all HuffPost superfans!
Sign up for membership to become a founding member and help shape HuffPost's next chapter