Summer vacations in Miami are fun and a smart travel strategy. Restaurants are more accommodating (Miami Spice program runs from August 1 to September 30 offering $23 lunch and $39 dinner tasting menus at prime restaurants). Hotels and spas that are over-booked during the winter months are offering special packages and deals. Tennis courts are emptier, golf courses, stores and family attractions too. Summer is the perfect time to wallow in pure luxury or hunt out those word-of-mouth hidden gems--without the crowds.
A quiet afternoon on the sandy beach pier at the
Mandarin Oriental, Miami Hotel in downtown Miami.
Conventional wisdom says book a room in South Beach. But if you want a different look at Miami, head downtown. Business travelers know the joys (hotels, bars, restaurants) that lurk between the skyscrapers in the financial district. Vacationers are learning too, and they're getting easy access to neighborhoods like Coconut Grove, Coral Cables and Key Biscayne Island. Sometimes a lush business hotel can be a destination in and of itself.
As you drive across the bridge to the tiny isle of Brickell Key, just off bustling Brickell Avenue, the yellow and cream-colored 20-story-high Mandarin Oriental, Miami comes into view. Only the hotel and a few condo buildings sit on this man-made isle at the base of Biscayne Bay. The high-roofed lobby, with floor-to-ceiling windows looks like a set from a Wong Kar-Wai art-house film. Impeccable decoration, pleasing colors and stately furniture underscore pure elegance. The 295 rooms and 31 suites feel open, spacious and some have a large window between the bathtub and sleeping area that provides unobstructed views of Biscayne Bay and the Miami skyline. After sunning on the sand-beach pier or dunking in the pool, head to the 15,000 square-foot spa. You'll know you're in the lap of sheer luxury when your therapist escorts you up an elevator to a floor with private spa suites and dramatic panoramas. Treatments run from the Thai Herbal Compress Ritual (warm compresses of herbs and essential oils applied to the body's key muscles in a tailored massage: $285) to the indulgent Oriental Harmony (starts with a footbath, continues with a four-handed scrub and massage and ends with a simultaneous head and foot massage: $495).
After a refreshing day at the pool and spa, dinner can be near or far. The hotel's Peruvian cuisine at bayside restaurant La Mar by Gastón Aurio is impressive. On first view, you walk in the main dining room past the unique Cebiche bar (aka Peruvian sushi bar with 15 different dishes) to an outdoor verandah. Start with Tiraditos (Japanese sashimi Peruvian Style), Causas (whipped Peruvian potatoes and aji) or Hot Piqueos (Peruvian sliders made with pork, scallops or calamari).
If you're lucky the whole fish of the day will be the Hogfish, a tender snapper-like fish that's fried to perfection and served curled up on a plate with spicy sauce, bok choy and white chaufa broccoli rice. End the meal with Los Picarones de las Esquinas (crispy soft sweet potato and pumpkin fritters).
For a more festive experience, walk across Brickell Key Drive Bridge, up Brickell Avenue to the restaurant named 15th and Vine, which sits on the 15th floor of the Viceroy Hotel. Some nights there's a live band outside on the patio where you'll hear tunes by Marc Anthony, Ed Sheering and Pharrell. The lively spirit of the venue is also embodied in the menu. Begin the meal with Duck Confit Mac & Cheese(orechiette, smoked cheddar), Bacon Wrapped Dates or Grilled Flatbreads with Roasted Pears or Shrimp. But save room for main courses like their tender Double Bone Lamb Chops (with spring peas and house made dumplings).
The Area 31 Restaurant and Outdoor Lounge sits perched on the 16th floor of the Epic Hotel, at 270 Biscayne Boulevard Way. Its view down Brickell Avenue at night is perhaps the best cityscape in downtown. Under the direction of Executive Chef Wolfgang Birk, fresh, local ingredients is a key factor on the menu with entrees like Seafood Risotto (ruby red shrimp, grouper, snapper, mussels, sea urchin); but your palette might be really pleased by the soft-as-butter Ribeye Steak.
South Beach has its Oases
And if you do head to South Beach, you'll notice that the crowds cluster at beachside hotels on trendy Collins Ave or boisterous lower Ocean Drive. Washington Avenue runs one street west of Collins and is far less traveled. Between sixth and seventh streets, there is gem of a boutique, luxury hotel, the cottage-looking, white-colored The Angler's. It has a choice of 45 rooms and suites, with balconies, poolside views and/or two-floor-duplexes that are adjacent to a plush Moroccan style lobby.
For brunch, lunch or dinner the hotel's restaurant, 660 Angler, is a cozy, banqueted room and the food is sweet. The Three-Fried Chicken Tacos appetizer is almost a meal in itself. The Seared Mahi Mahi (with Chipotle Adobo rice, black bean puree and jicama mango salsa) is delicately flavored. The Key Lime Pie has the consistency of a gritty Ricotta cheesecake.
If you want to venture out for local dining, two new restaurants with similar names and different cuisines have sprung up two blocks apart on Lenox Avenue near 16th Street. People flock to the over-crowded, eternally wait-listed, Yardbird Southern Table + Bar at 1600 Lenox, where the house specialty is southern food. Don't get talked into ordering Moma's Chicken Biscuits, they're sliders made with tender biscuits but they're filled with a fried chicken thigh that's so tough you'd crack a tooth chewing it. Up the street is the friendlier, less pretentious sports bar/restaurant Yardhouse at 1681 Lenox Ave. The party atmosphere is punctuated by big screen TVs showing soccer, tennis and baseball. Dig into the Black Truffle Cheeseburger (with truffle cheese, tomato bacon and onion jam) on a potato bun and order a side of Truffle French fries. Warning, they're addicting.
The Quiet Part of Ocean Drive
A city ordinance bans loud outdoor music from 14th Street to 15th Street on Ocean Drive where the popular avenue ends. No noisy outdoor roof bars, blaring house music or raucous scantily clad young partiers. This is quiet zone. Families frequent the Hagen Daz ice cream shop, adults wait in line at Starbucks, couples snack at the local pizza parlor. This is where you'll find Edgewater South Beach, a former condo building turned small hotel. The front façade looks like a pale, pale pink South of France chateau. The 48 Deluxe Studios and One-Bedroom Suites are big enough for couples and entire families, and that's whom they attract. Ocean-view rooms look across a park to the beach. Top floor rooms have outdoor patios where you can sunbathe or dry your swimsuits. An $18 daily guest fee includes brunch on the rooftop terrace, wickedly fast WiFi, local calls, beach chairs and towels.
Walking down to festive lower Ocean Drive takes seconds. Walking up to the more adult- and tourist-filled, shop-lined Lincoln Road takes minutes, and on the way ladies can stop by the Ritz-Carlton South Beach's Spa for their 110-minute, 10-step, self-indulgent Carita Precious Ceremony Diamond Facial. The treatment includes: rénovateur massage and skin exfoliation, ultra targeted facial massage with Pro-Lift machine, Diamond Mask application, Paraffin wax on hands and feet, etc. for $355.00 and is part off the Ritz's 10th Anniversary Dazzle You In Diamonds $100,000 package.
Most of the restaurants on Ocean Drive are tourist traps. The glaring exception is the BLT Steakhouse, one block north of the Edgewater. Dine here and you may need to bring your heart medication. Once you see the prices, heart palpitations could ensue: $55 for a Ribeye, $58 for New York Strip. The quality of the food is as high as the price. More modest wallets can pay $32 for Grilled Local Snapper (with sweet pea guacamole and cilantro vinaigrette), which is delectable. But you may find yourself jealously eyeing the $90 Porterhouse Steak for Two that's being served to the older, Bentley-driving gent sitting with the bored but hungry and halter-topped younger woman.
Things to do and a Family Surprise
The Flamingo Park Tennis Center in South Beach, and North Shore Tennis Center on 72nd Street near Collins are now co-managed with Miami Shores Tennis Center at 825 NE 100th Street in Miami Shores. The tennis pros (Julio, Marcello, Burd, Thibo) are a joy to play with, the facilities run smooth and clinics for adults and day camps for kids abound. Drop the tykes off for tennis camp and pick them after you've had some adult time.
If adult time to you is shopping, jump in your rented car (it's a 35-minute drive north) or hop on a shuttle bus to arguably the best discount mall in the country, Sawgrass Mills Mall in Plantation, FL. The sprawling, bargain-shoppers' paradise features more than 350 stores. Don't be surprised if you find that $130 running shoe you coveted at Niketown at the Nike Factory Store for 40% off. Ditto Ralph Lauren, Michael Kors, Neiman Marcus, Hugo Boss, Adidas, Burberry, the Gap...
The 75-year-old Jungle Island, a private animal abode, is appropriately located on 1111 Parrot Jungle Trail, a street on a small island on Rte. 395 between downtown Miami and South Beach. There are several ways to encounter the exotic animals (white tigers, red kangaroos, Brazilian macaws, South African penguins, orangutans), some of which have been bred back out of extinction here. Just show up with the kids. Or take a scheduled tour. Come for one of the shows (wild birds, big cats, penguins). Sleep overnight on a Jungle Slumber. Or for the most intimate experience, take a V.I.P. Safari Tour. The latter is a privately guided, 90-minute, $240-per-person excursion that starts with personal interactions with red-ruffed lemurs (primates from Madagascar). It includes: one-on-one sessions with Aldabra Tortoises, Capuchin Monkeys, and parrots; detailed descriptions of all the animals; a souvenir t-shirt, park admission for the rest of the day and a 10% discount in the gift shop. If you're lucky Jungle Island's V.I.P Director Ryan Jacobs will give you the tour. He did for Beyonce, Shakira and other V.I.P.s Don't forget to tell him you want to pet the collar of the Andean condor for good luck (it's a cool tradition).
In the summertime, no matter how warm it gets, there's a breeze off the ocean in Miami and the air is clean and clear. Unlike the winter months, when the snowbirds from the northern cities swarm the restaurants, hotels and attractions, it's peaceful, less expensive, accessible and a pure joy whether you're living the life of luxury or seeking out hidden gems.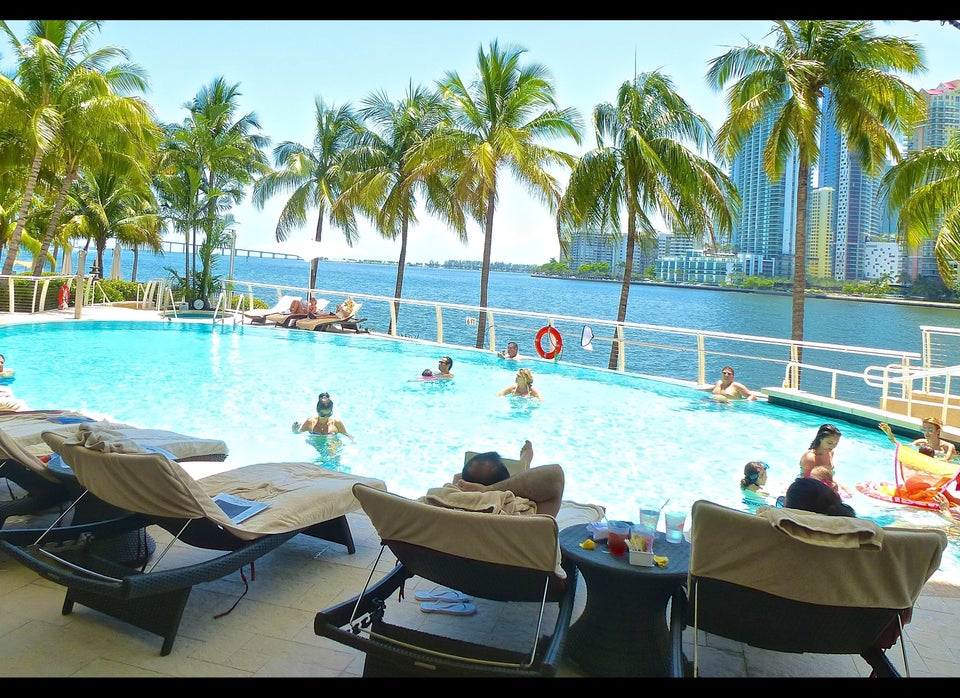 Miami: Pure Luxury and Hidden Gems