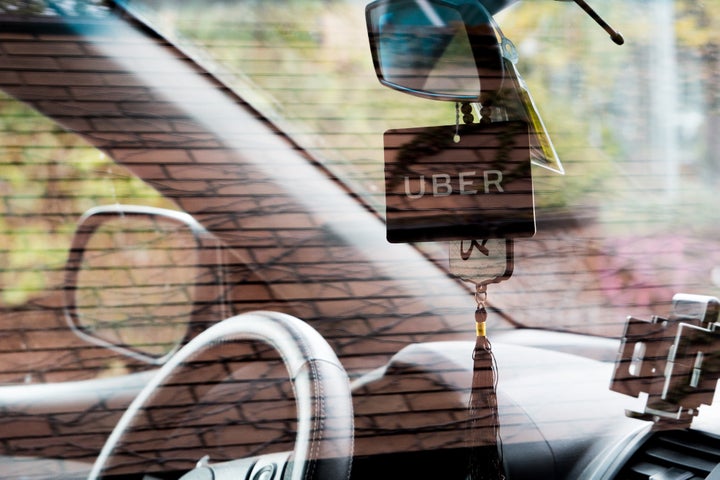 A Miami Uber driver raped a female passenger over Labor Day weekend last year, later calling it "good sex" and saying it's simply a "perk" of the job. 
The Miami New Times reports that a 26-year-old woman was drunk with a male friend in Miami's Wynwood district in September 2017 when 51-year-old Uber driver Fredrick Gaston offered the two a ride home. The woman, who has not been identified, was doubled over vomiting and passing in and out of consciousness. 
Gaston dropped off the woman's friend first. He then penetrated the victim, who was sitting in the front seat, with his fingers as he drove her home. When they arrived at the woman's apartment, Gaston parked and raped her in his car. 
She later told police that she was "too terrified and intoxicated" to fight Gaston off, fearing that he may have a gun and "would harm her if she resisted," according to the Miami New Times. As soon as the woman exited Gaston's car, she flagged down a neighbor to call the cops. 
The responding police officer, Anthony Murphy, later said in a deposition that he found the victim "sitting on the stairs crying hysterically, asking for help. She just kept repeating, 'I've been raped' over and over." 
It wasn't until December 2017 that Miami police tracked down Gaston and he admitted to penetrating the woman with his fingers and having sex with her. 
"We had sex, and it was good sex," Gaston admitted, according to Special Victims Detective Michelle Farinas' deposition, obtained by the Miami New Times. 
"He said that those are the perks of being an Uber driver. You get a lot of pussy," Farinas said, adding earlier that Gaston stated "several times" that the woman was really drunk ― so much so he thought she may have been drugged. 
Gaston reportedly had a history of predatory and violent behavior prior to working at Uber. Despite his criminal history, Gaston was still hired by Uber.  
Uber has a storied history of sexual harassment and violence, including incidents in the corporate company and in the cars offering taxi services. In a report published in May, CNN found that over 100 Uber drivers have been accused of sexually assaulting or abusing customers in the U.S. over the last four years.
"What's been reported is deplorable and something no one should ever go through," a spokeswoman for Uber told HuffPost. "The individual's access to the app was removed."
Gaston was arrested shortly after the December 2017 interview and has been in jail ever since. He's facing with a felony charge of sexual battery on a physically incapacitated victim, and set to face trial on Oct. 29. 
This has been updated to include Uber's comment.
Calling all HuffPost superfans!
Sign up for membership to become a founding member and help shape HuffPost's next chapter