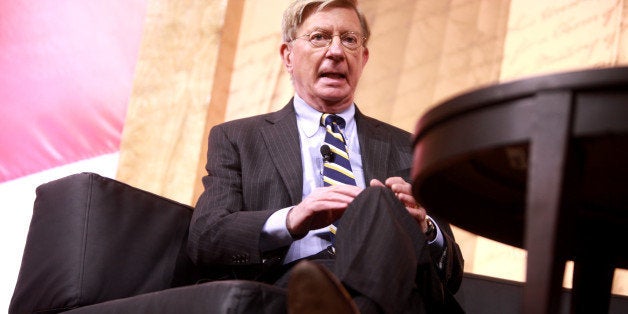 Miami University of Ohio has no plans to cancel a speech by Pulitzer Prize-winning columnist George Will, despite protests over the Washington Post writer's comments about campus sexual assault.
Will is scheduled to speak at the university's Farmer School of Business on Wednesday. Nearly 1,000 students, faculty and alumni of Miami have signed an open letter opposing the decision to invite Will. The letter argues that his appearance sends the wrong message about "the tolerance of rape culture and predatory sexual behavior at Miami University."
In June, Will wrote that being a victim on a college campus had become a "coveted status," using sexual assault survivors as an example. His column placed the words "sexual assault" and "survivors" in quotations, which many interpreted as him questioning the validity of such attacks. Will's column sparked outrage, especially among women who had experienced sexual violence.
In the face of fierce backlash from activists, sexual assault survivors, U.S. Senators, newspaper editorial boards and others, Will has stood by his comments, saying he was concerned about false rape allegations.
Miami University defended its decision in a statement Tuesday. "As an institution of higher education, we stress the importance of engaging in open, respectful, intellectual dialogue about the challenges facing our campuses and our country," the statement said. "Members of our campus community may rightfully have questions about Mr. Will's writings on a number of issues and we support their right to pose those questions."
Will is collecting a fee of $48,000 for his speech. University officials say the funding for Will's payment came from a private gift that established a speaker's series at the school.
The Women's Center at Miami is organizing a protest Wednesday in front of the location where Will is set to speak. The center is encouraging people to participate in the question-and-answer session after his lecture. The Miami Business School has said that questions about Will's stance on sexual assault and rape will be allowed.
"He doubts the legitimate struggle of rape and sexual assault -- this is extremely harmful to survivors," the group said in a Facebook post. "Although he's not talking about this issue, his presence here sends the message that rape and sexual assault is not a big enough issue to turn him away from campus like other colleges have done."
Matthew Myers, dean of the Farmer School, invited leaders of campus groups focused on sexual assault and gender issues, as well as student government representatives, to meet with him Monday to discuss their concerns and "to talk about bringing positive action out of this," according to university spokesperson Claire Wagner.
Popular in the Community