Though just a short trip, Kim (@VeganTravelista on IG) and I were able to sample plenty of the delicious eats in Miami. We had fun researching and planning in advance the restaurants we would visit, and we made many reservations ahead of time. We planned our activities in accordance with our destined restaurant locations, because food is one of the major fun parts of any trip, right? We found that Miami had a good amount of options for us, and we were even able to try some food that we couldn't get at home. Here are the highlights: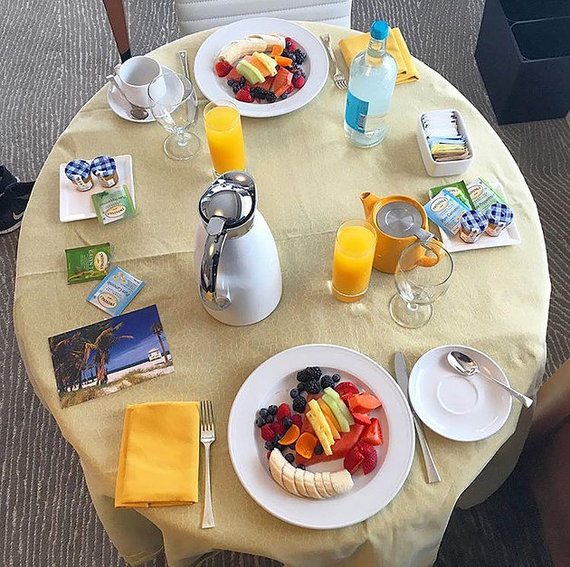 Some of the hotels offered fruit that we are not readily able to get back home; the Four Seasons offered mamey, and the One Hotel had rambutans. Our first hotel The Four Seasons had a fruit plate that we were pleasantly surprised by! While a fruit plate is a good option anywhere, the fruit in Miami is particularly delicious, and they also included mamey! Mamey is a fruit that tastes like pumpkin pie, and I had been researching where to find it, so I was happy that it was part of the regular fruit plate at our hotel so that we could try it. The Four Seasons also offers a great juice that uses passionfruit, an addition which adds a great tropical flavor to a juice. I'm not a big oatmeal lover, and order it for breakfast when there is not much else, but I had it here and it was surprisingly tasty and also beautifully plated on a wood plank.
At the eco-friendly One Hotel, farm fresh fruit was available in the lobby, including this rambutan. It tastes just like lychees, and I haven't quite mastered the art of elegantly breaking them open. I do know that stabbing it with a wooden coffee stirrer will make a big mess in the hotel room.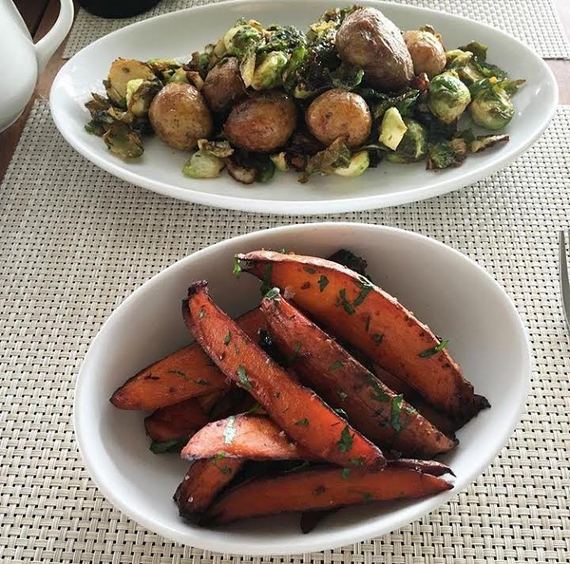 At Verde, we savored perfectly prepared, healthy comfort food, and we were in complete awe of everything we were served. Though I go to a lot of fancy vegan restaurants, this was one of the best meals I've had in a long time. The highlights were the sweet potatoes, which were perhaps baked in salt like fish? Also the brussels sprouts, and grilled endive. Though I usually avoid endives, these grilled ones had an incredible caramelized flavor mixed with perfect char. Let me tell you that I typically do not rave about anything in the lettuce/ greens family, so when I say an endive dish is incredible, you know it's good. Here's the catch about Verde, though: we went with a friend who works with the restaurant, so we ordered plenty of things that were off the menu. Seeing as this was some of the best food we'd ever eaten, I hope they expand their menu to include these dishes. I would recommend calling in advance and letting them know your dietary preferences, or whenyou're there, see what they can whip up for you. I can't believe we ate such incredible food that's not even offered on the menu, and I would eat there all the time if I lived closer. Verde is in an unusual location, in the Perez Art Museum, so check out the art when you go.

Plant Food and Wine Miami had just opened the week prior when we dined there, and it included some of our raw favorites, and new dishes that incorporated Miami flavors. We couldn't resist the sesame dumplings, one of our favorite dishes at the MAKE restaurant that had been in Santa Monica. Everything is innovative, healthy, delicious, and artfully plated, but my favorite was the lettuce tacos with chorizo and coconut meat. The fresh crunch of the romaine, the spicy savory chorizo, and the cool meaty coconut was my favorite combination of flavors and textures. We enjoyed the outdoor seating and all the palm trees.
Some more of the beautiful dishes: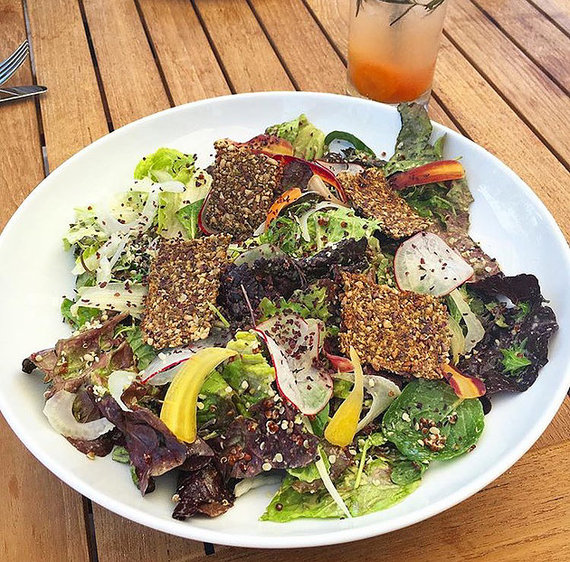 MK bowl, with greens, red quinoa, shaved fennel, sprouts, avocado, pulse, hemp seeds, sunflower chia croutons, lemongrass tahini
At Pao by Paul Qi in the Faena Hotel, we weren't sure what to expect: we knew this would be an ultra-fancy dining experience, much more upscale than a typical night out for us. Photos were difficult to get in the dark restaurant, which had a gold unicorn in the center (I kid you not). We left it up to the waiter what to get us. We started with some incredible wine (I'm not sure what kind, I'm not even much of a wine drinker but wow!), and our favorite dish was a wild mushroom risotto. It was incredibly savory and earthy, and had mushrooms in all kinds of shapes and textures. We were absolutely delighted with our dessert; they had accommodated us with what they had on hand, and elevated it to be so beautiful: a fruit plate, artfully cut and plated, with gold leaf! So healthy, fancy, and pretty, definitely next-level.
Another incredible aspect of the Faena hotel is the coffee and tea service from the butler! Mr. Faena grows his own coffee which he produces with the help of Howard Schultz (the CEO of Starbucks), and the butler on our floor was able to bring us a coffee or tea service. I opted for coffee, and they also had the option of both soy and almond milk. The beautiful service made us feel pretty special (of course, having a butler helps, too).
Our trip to Miami was full of culinary surprises, and I can say with confidence that we were able to enjoy some of the tastiest vegan food in the city. Miami has left a lasting impression on me, and I can't wait to come back!
Four Seasons Miami
One Hotel South Beach
Verde
Plant Food and Wine
Pao
Faena Hotel
Popular in the Community