 More than a year after plans were announced, Walmart still cannot fit an oversized Super Center store into Midtown Miami by design, hook or crook.
The next public hearing on Walmart's mayorally-backed redesign of Midtown will be this Wednesday February 20th, at 2 p.m. at Miami City Hall, in front of the Urban Design and Planning Review Board.
Walmart withheld plans from the public record -- at the advice of high-priced counsel -- while requesting to scrap a neighborhood Master Plan built around pedestrians. The company's plans are so odious, they've convinced the city of Miami twice to hold public hearings without giving promised notice to stakeholders in the community.
The heart of efforts to prevent Walmart's arrival in Midtown center on one simple premise: a Super Center and 600 parking spaces cannot fit into Midtown as designed. At what point should our public servants stop spending taxpayers' money on city staffers' time reviewing a plan ignorant of local regulations, and insistent upon requesting repeatedly rejected changes which are out of character with the area?
Miami 21, the city's newly implemented zoning code, is written entirely in English, and contains local regulations with architecturally drawn design standards, none of which seem relevant to Walmart's architect, Gensler. The latest plans contain two egregious flaws, either of which merits outright rejection of the current application that has been requested for six months now.
The first fatal flaw is the Midtown zoning requirement 627.2.12 (item 3, page C.25), which encourages developers to line second story parking structures with active uses such as office space. This is because the Master Plan seeks to eliminate canyon-like streets surrounded with soulless multi-story parking structures.
Without padding by active use space, garages must be placed 85' back from the lot line of Miami Avenue and Midtown Boulevard, according to local regulations designating them Primary Streets. But Walmart wants to place 600 parking spaces without any active second floor use.
Midtown's Design Standards specify how to build out each street, including where Walmart wishes to place both a four-bay loading zone and main entrance to its parking garage. The Design Standards call for on-street parking and trees to line 31st Street to "link the retail corridors to the perimeter streets and help create an integrated grid system." (See: II. Street Types, 2: Secondary Streets, Pages 19 and 20)
Walmart's plan conveniently ignores these "clearly drawn diagrams" in favor of installing a three lane road without required on-street parking or trees, laden with pedestrian refuges and turn lanes that were previously rejected at public hearing. The code requires important (and already existing) road improvements for pedestrians to have safe walkways when interacting with service driveways and parking entrances -- a crucial point in a neighborhood designed to be especially walkable, and sandwiched by foot traffic-heavy neighbors Wynwood and the Design District.
Ironically, the charge to rip apart Midtown's Master Plan was initially led by former Mayor of Miami Beach Niesen Kasdin as counsel. Just last week, Kasdin sat on the stage at the The Atlantic's "Startup City: Miami" event discussing the vital role of visionary planning in civic life with Professor Duany Plater-Zyberk, the author of the Miami 21 code that governs Miami, based on Midtown's principles.
Mr. Kasdin was absolutely right in his remarks when he said that the revival of Miami Beach started with image, architecture, art and style. Now an Akermann Senterfit attorney and lobbyist, he spoke forcefully about the need for members of the public to restrain the likes of himself and others who would seek personal enrichment at the undoing of visionary civic plans.
But contrary to his words, Mr. Kasdin's proposals on behalf of DDR Corporation and Walmart aimed to scrap the Midtown Miami Master Plan's "smart growth" altogether in favor of adding three lanes to every street and turning Miami Avenue into a loading zone. His plan received four public hearings, at taxpayer expense, prior to the submission of two flawed plans to the city.
The first of the Walmart public hearings was scheduled with minimum notice by the city at the Miami's Planning and Zoning Appeals Board. With only three days notice, the NoWalmartinMidtown.com petition signers showed up en masse at that hearing. The city deferred, held two interim meetings, and both submitted plans were explicitly rejected at the fourth and fully noticed public hearing by the Planning and Zoning Appeals Board -- with a unanimous 9-0 vote.
The city still hasn't provided upon request any proof of notice or publication aside from email assurances that a notice was posted. The spirit, if not the letter of the Florida Sunshine Law is violated when public officials mislead the public about meeting dates.
Midtown Miami is a visionary plan, created by our elected officials with local architects to leverage Smart Growth as a revitalization engine of the inner city, and it is working. Looming 2013 municipal elections will present a stark choice to voters between politicians who support Smart Growth and those who sell out to Walmart.
Right now it's time for the City of Miami to heed the will of its citizens, stakeholders and the plans we've created for Midtown Miami and issue a firm denial of application to Walmart.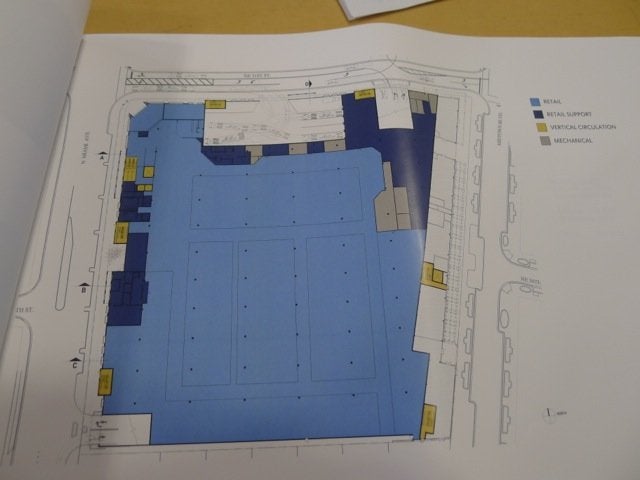 Walmart Midtown Miami Plans
Popular in the Community