Miami is touted as the city of the future because practically every race, culture, country, nationality, sexual orientation, creed and scam artist are represented here. Its ground zero for the good, the bad and the ugly. Supposedly Miami is a melting pot. Yet every time I ask someone to name the truly consistently, multi-cultural, interactive eco-systems in Miami I get a combination of quizzical and blank stares. Truly baffled.
After more than 20 years in this city, I have yet to find where this particular brew exists in more than a select few places. It's hard when a huge chunk of the population moved here for the weather. The sun is not enough commonality to bridge a cultural divide on a true and lasting basis. I mean most people can't just camp out on the beach making new friends every day. Ironically, what is perceived as our strength (multi-culturalism) is actually our weakness.
The Latin community is really like 10 plus communities (Cuban, Puerto Rican, Venezuelan, Columbian, Dominican, Nicaraguan, Mexican, Argentinian, Brazilian, Peruvian, etc); the black community is really like 7 plus communities (African-American, Jamaican, Bahamian, Haitian, Trinidadian, Bajan, Guyanese, etc). And sometimes these Caribbean cultures are not necessarily black; there are lots of white/Syrian/Asian people from Caribbean countries who identify with their country's culture instead of a race. The strong Jewish culture has its own unique infrastructure. And the "general" white people are just kinda squeezed in the middle. For the most part each of these communities don't play at all with the others.
Can you see the confusion? So I submit to you, Miami is not a melting pot, it's really a Bento Box. A community existing together, where every one has their place but separated by culture and color. How many black people have been to a Quinceañera? How many white people have been to Caribbean carnival? How many Latinos go to Little Haiti for griot?
Every once in a while Miami surprises me and gets out of its own way to offer a true melting pot. Here are 10 eco-systems I think are truly INCLUSIVE as in they regularly include white, black, hip, nerds, Latino, crunchy granolas, gay, straight, pink hair, whatever.
1. Wynwood- Hands down, the coolest hippest most inclusive hood in Miami. Art, tolerance and free spirits reign.
2. Unity on the Bay- Talk about open minded. Worshipers are giddy about inclusion. No judgements, just God.
3. Critical Mass- Awesome time on 2 wheels. Just try to keep up. It sucks (and is embarrassing) to end up as a straggler who's missed the "critical" part of the ride. So don't.
4. Miami Shores- Black, white, gay, Latin, Asian, families, singles, elderly, that's why we call it a "village".
5. Wood- a great time on a Sunday afternoon for hip hop, drinks, chilling and Jenga. Get there early or join the wrap around line.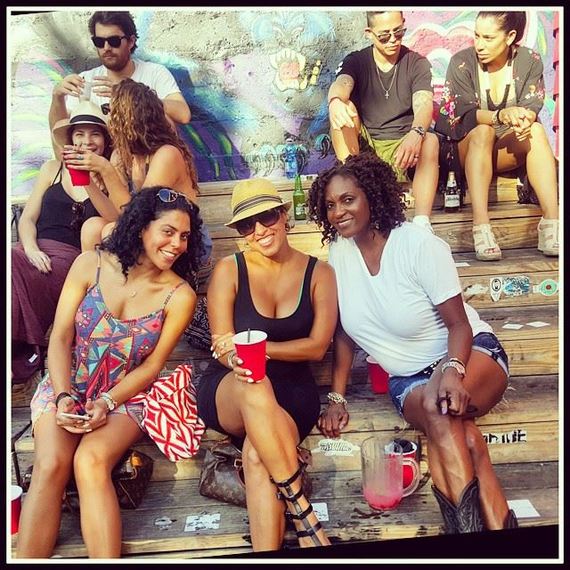 Nicole, Flora & Suzan; The girls @ Wood on an easy breezy Sunday afternoon, chilling with the melting pot.
6. Miami Heat games- Wade County comes together, fair-weather fans or not, every kind of fired up Miami person is there!
7. Rec Room- Great music, hip multi-cultural crowd, go if you wanna dance all night. Parking sucks though since its smack dab in the middle of South Beach.
8. Yard Bird-Southern comfort food. Look around and you'll see a mélange of people united in the love of fried chicken and southern cocktails
9. Upper East Side- On the multi-cultural come up on Biscayne Blvd between say 54th and 77th Streets.
10. Goldman Sachs 10,000 Small Business program- I'm biased because I just completed the course (big up Cohort 3!), a 25K scholarship to get a mini-MBA designed to catapult your business. Miami Dade College delivers the 3 month course curriculum designed by Babson College. All cultures, all businesses owners, bonded together by the heartache of payroll, CEO burn-out and the roller-coaster of managing employees. All of a sudden race and culture are irrelevant when you're trying to trying to move your business forward, together.
There have to be more places in Miami-Dade, just not in my knowledge base or geographic stratosphere. I challenge readers to offer their own suggestions. The criteria is: all races, cultures, lifestyles, mixed up in a happy stew, on a consistent basis.
This blogger graduated from Goldman Sachs' 10,000 Small Businesses program. Goldman Sachs is a partner of the What Is Working: Small Businesses section.