Miami Beaches and the blue skies have bred a group of women you may want to watch out for. Built in a city where their sexuality is celebrated, their bodies are used to inspire and their minds are shamelessly changing the topography of what it means to be a woman. They deny nothing, speak the truth, and stand for being exactly what they are.. in their entirety. Made up of female entrepreneurs and actresses, they stop at nothing.
Introducing POWER BITCHES.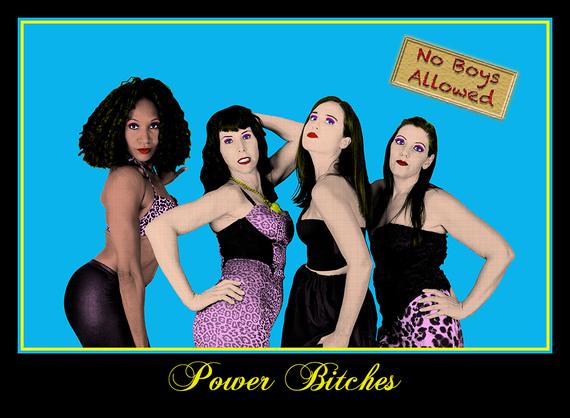 Barbie Lazaro, Susie K Taylor, Katherine C. McDonald, Monica Matteo-Salinas
photo credit Clare Coco
Lead by me, Susie K Taylor, and possessed by the fact that shit has got to change in my city and it starts and ends with the women. I am exhausted by pointing fingers, blaming, and asking men to help me be heard. Since the problem is ME, myself and I, I have to consider that I am the solution as well. As harsh as that was to accept it did make me begin to take full responsibility for my actions and my life in order to make real gutted change. And I have.
As the leader of the Power Bitches, my first plan of action is to bring awareness to Sandy Skelany's Ignition fund. You must know about her and what her pivotal place in the horrific truth of one of Miami's most disgusting truths, a sex trafficking hub.
I love Miami and so I will broach the subject with kindness and love.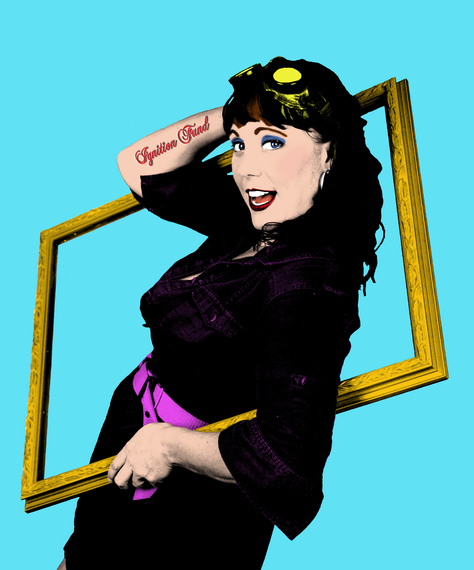 Sandy Skelaney photo credit Clare Coco
Skelaney's Ignition Fund has bravely joined the Passionately Ethical movement to tap into the feminine energy of sensuality and community to raise awareness about sex trafficking and the violence and exploitation that are all too common within the sex industry.
In fact, my favorite city and home town is best known for Sex Trafficking and it has been happening all around us. I drove 10 minutes last week and found myself right in the middle of a horrific scene dealing with this issue. Something no one should see but that is the problem. There are many women and even mothers in our city that are SLAVES.
What if we can accept that fact at times we can all be a BITCH, unite with that acceptance. Would that acceptance release us of being HURT by each other every time one of us looks the wrong way at us? Maybe we can laugh at that Bitchy quality in our sisters and in ourselves and unite in our Power Bitchiness to end the pains of this city.
Ignition Fund is a Miami-based organization that helps launch innovative and technology-based human rights startups through an accelerator program, technical assistance, seed funding and mentoring. Founder and Chief Mastermind, Sandy Skelaney, is an award-winning anti-trafficking advocate and consultant who is frequently requested to help launch initiatives throughout the United States.
"Those of us who provide services and advocacy around sex trafficking often push aside opportunities to celebrate women's sensuality in order to avoid criticism about the sexual objectification of women or emotionally triggering survivors who have had their own sexuality violated in every way" said Skelany. So consider Power Bitches a blend of artistry and advocacy that brings women together to explore the power and vulnerability of their own sexuality in a women-only space.
I happen to also be working on a play about Bettie Page and her life had a ton of sexual assaults that went unhealed and may have led her to what was considered a mental break. What are the correlations of Bettie and the Power Bitches. I think the Power Bitches are Betties without fear of truth.
Sexual liberation was empowering for women while also being preceded by and exposing them to violence and abuse. The underbelly of the glamorous pinup world that we know in images and the lives of the models goes far deeper than we have ever imagined. Much how the sex industry today is teeming with young women whose complex lives are overshadowed by our sanitized projection of the empowered female.
Power Bitches promises to dig deep into these cultural narratives through laughter and a celebration of the gift of feminine sensuality and form. Power Bitches can't be fired for speaking the truth and someone has to if we are going to get anywhere together.
Think you are a POWER BITCH and need some support while you are trying to change this city?
Join us on May 26th at Villains Theater. Details ,tickets, and opportunities to donate here.

Proceeds will go toward expanding awareness-raising and training to organizations and individuals starting anti-trafficking initiatives across the United States.
Support HuffPost
The Stakes Have Never Been Higher
Related
Popular in the Community