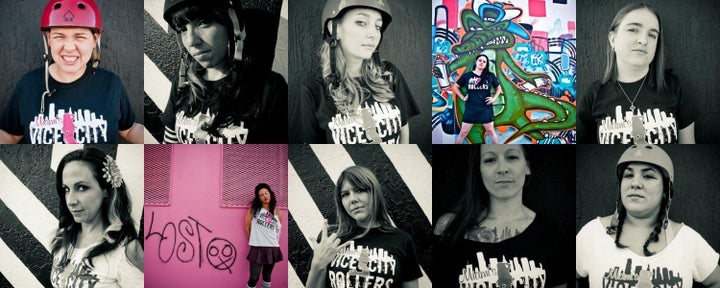 Miami's Vice City Rollers, the 305's first roller derby team, is ready to for their inaugural match, just six short months after holding their open house.
Until recently, local derby fans and players had to burn gas to reach the closest team, the Gold Coast Derby Grrls, who are based in Fort Lauderdale.
But now Miami's roughest and toughest ladies on wheels can represent the Big Mango with their very own riot grrl team.
We spoke with Tallygator, one of MVCR's founders, about the progress they've made since starting the team in May.
What has the response been to recruiting and training a new team?
The response has been phenomenal! All of the ladies and gentlemen of MVCR are extremely dedicated members that are just as excited to be a part of Miami's first roller derby league as we are to have started it! The interest level just keeps increasing with more emails, phone calls, and Facebook fan page likes every day. We are very happy to see that Miami is very interested in roller derby.
What is Vice City's practice regimen?
We offer our skaters five available practices that they can attend in a week, they are required to attend at least two. Each practice is two and a half hours long that includes a 30 min session of off-skates training to improve muscle performance. Practices are held at Suniland Hockey Rink.
Do you have an experienced roller derby player coaching the new recruits?
Yes we do! Coach De La Ruthless, Nauti-Seacups and I all have years of previous derby experience under our belts. It doesn't end there. Our coaching staff extends with the help of Kreamy Sanchez (bench coach) and Yoda (skating skills and equipment expert). We are a versatile group and everyone has knowledge we can all learn from.
How much of the team is entirely new to the sport?
With the exception of our coaches, it's everyone else's first time playing roller derby. Some of our rostered skaters for our game against the Bradentucky Bombers had never even skated before, and they are now ready to bout. It is amazing what all these women have been able to accomplish in such a short period of time.
Meet the gnarly bunch who call themselves Vice City Rollers (STORY CONTINUES AFTER THE SLIDESHOW):
PHOTO GALLERY
Miami Vice City Rollers
How do you expect your first match to go on Sunday?
We are definitely ready to kick some ass! We have all been training very hard and are definitely going to bring a good fight on the track. The Bombers have been together for a couple of years now. Nobody expects it to be easy.
When is your first home match?
We are planning our first home bout for May, final date to be announced soon. For our first home bout, the Bradentucky Bombers will be visiting us! As a new league in the roller derby community, we are expected to travel in our first season.
Will you ever play the Gold Coast Derby Grrls, based in Fort Lauderdale?
Yes. We are all booked for this year, don't know if we can squeeze them in this season, but it's definitely in our future.
Click below for images from MVCR practice.

Calling all HuffPost superfans!
Sign up for membership to become a founding member and help shape HuffPost's next chapter
BEFORE YOU GO