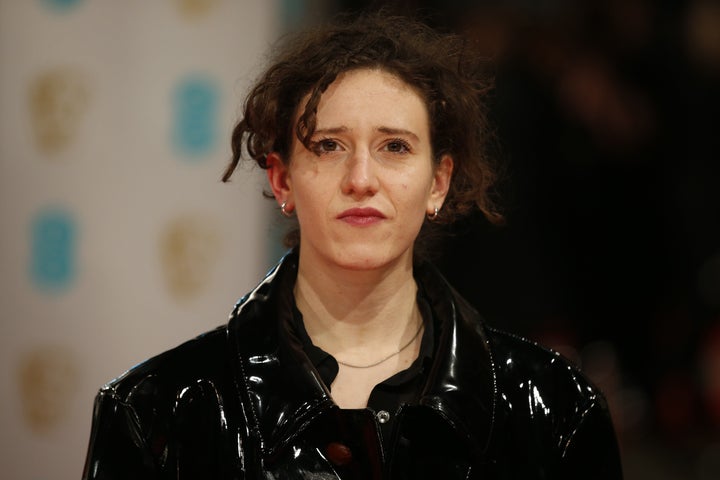 It's safe to assume "La La Land" will win the Oscar for Best Original Score this month. It is a musical, after all. But you owe it to yourself to learn the name of a promising composer whose work is competing against that illustrious city of stars: Mica Levi. 
Every now and then, the music used in a movie is evocative enough to transcend or reshape the plot. In "Jackie," Levi's strings score plays like a phantom haunting its title character, the newly widowed Jacqueline Kennedy (played by Natalie Portman). Before any images appear, Levi's orchestra announces itself as though a horror movie will follow. When a close-up of Portman's face illuminates the screen, the ambiance softens, a nip of hope sandwiched between numbing terror.
"Jackie" uses Levi's score sparingly. Many of its cues are unexpected. The music steers the story through the dread of JFK's 1963 assassination, the turmoil of Jackie's public grieving, and the personal reckoning she faced in defining her husband's legacy despite his truncated political achievements. Without losing faith, it treats this chapter of Jackie Kennedy's history as a buffet of tragedies. 
"I was thinking more about her and her life than I was the story of what was happening because I didn't really know what the film was going to be," Levi told The Huffington Post in November. "So I tried to write music that I thought she'd like or that she would listen to." Think of classical artists like Igor Stravinsky and Pablo Casals, whom the Kennedys hosted at the White House. 
Levi's score has been exalted as a hallmark of "Jackie." This is her first Oscar nomination, but she didn't emerge from nowhere. The classically trained 29-year-old Brit, who DJ'd in London and dropped her first mixtape on MySpace, has been releasing experimental indie pop since 2008, under the stage name Micachu. While ostensibly happier, elements of her personal catalog sound similar to "Jackie": odd, dissonant, haunting, beautiful. 
If there's a purer parallel with "Jackie," it's "Under the Skin." Director Jonathan Glazer chose Levi to compose the music for his 2013 sci-fi oddity starring Scarlett Johansson after hearing "Chopped & Screwed," the LP that Levi's band, Micachu and The Shapes, recorded with the London Sinfonietta, a chamber orchestra. From the opening notes, the "Under the Skin" soundtrack sounds appropriately alien. Lacking distinct melodies, the tracks are all swelling tremolos, screeching strings and pulsating percussion. Reviews of "Under the Skin" praised Levi's contributions, comparing them fondly to an "otherworldly hornet's nest" and "static emanating from another galaxy."
Levi had seen a cut of "Under the Skin" before writing, and then she and Glazer worked together in an "incredibly immersive" spell. With "Jackie," Levi conceived pieces based on Noah Oppenheim's script and her own interpretations of the former first lady. The process was, comparatively speaking, instinctual. Levi sent her compositions to director Pablo Larraín, who then showed her select scenes and asked her to fill in a few gaps by channeling certain feelings, "like when Jackie needs to be more tender or when there's madness." Levi and Larraín were two artists constructing their puzzle of a tone poem in separate quarters. And yet that tandem operates in a beautiful discordance that more conventional Oscar-nominated scores do not achieve. (In addition to "La La Land," "Jackie" is competing against "Lion," "Moonlight" and "Passengers.")
"I remember Pablo saying he didn't want to hold back on showing how surreal it must have been," Levi said, referring to Jackie's struggles. "I suppose there is horror in it as well, but I think it's more the trippiness of that situation, especially because she was in such an official capacity."
When I talked to Levi, "Jackie" hadn't opened yet. One week before the movie hit theaters in December, Levi released her next album. More symphonic than some of her previous outings, "Remain Calm" was a collaboration with Oliver Coates, a cellist who also performed on "Under the Skin" and helped to mold Radiohead's "A Moon Shaped Pool." Less than two months later, Levi's third cinematic endeavor, the sci-fi drama "Marjorie Prime," premiered at the Sundance Film Festival. The next morning, Levi became one of the few female composers nominated in the Oscars' 89-year history. And a couple of weeks later, The Film Stage reported that she will score "Vox Lux," a drama featuring Rooney Mara as a pop star. It's all happening. 
"What I do think is really cool about the experience of working in film is how collaborative it is," Levi said. "I know that sounds very corny, but what I mean is that it's a lot of different kinds of forms coming together. It's actually quite satisfying because everyone is working for a common goal that isn't much to do with one's own thing. You've got to do what's right for the picture."
Calling all HuffPost superfans!
Sign up for membership to become a founding member and help shape HuffPost's next chapter
BEFORE YOU GO
PHOTO GALLERY
The 21 Best Movies Of 2016