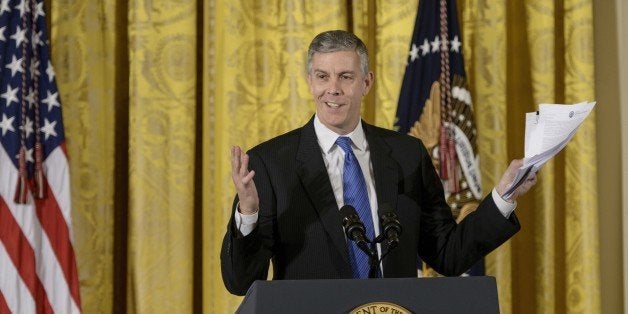 The Miccosukee Indian School has received a waiver under the No Child Left Behind Act, making it the first individual school to be granted flexibility in meeting the strict requirements of the federal law, Education Secretary Arne Duncan and Interior Secretary Sally Jewell jointly announced Monday morning.
The waiver represents a "historic agreement" between the Miami school for Native American students and the federal government, officials said at Monday's press conference. The school is overseen by the Interior Department's Bureau of Indian Education.
Colley Billie, chairman of the Miccosukee tribe, said the waiver will free the school to put a greater emphasis on science and culturally relevant curricula. "The Everglades are home to our people and a living classroom for our students," said Billie.
"Our standards include rigorous educational benchmarks and reflect the unique history, heritage, tradition, language, culture and values of the Miccosukee Indian Tribe and our people," Billie said.
The school also aims to cut the number of students who are not proficient in English and math by 50 percent within six years.
While Miccosukee's is the first one-school waiver, a majority of states and some school districts have been granted flexibility from the stringent requirements of No Child Left Behind. Since 2012, the Obama administration has handed out such waivers to states and school districts in exchange for agreeing to adopt administration-approved education reforms, even as Congress has failed to update the 2001 law.
The Bureau of Indian Education operates some 180 schools for about 42,000 students, who generally perform worse academically than Native American students elsewhere and graduate from high school at low rates.
This latest waiver is designed to give the Miccosukee tribe more control over their children's education, Jewell said at the press conference.
The history of federally run schools for Native Americans is "littered with broken promises, unfulfilled promises and empty promises," Jewell noted. But she said that the government is "working hard to change that history."
Officials described this waiver as proof of the administration's commitment to Native youth, branding it part of the Generation Indigenous initiative. The latter effort, announced in late 2014, seeks to improve the lives of Native students through a combination of grants, conferences and a Cabinet Native Youth Listening Tour, which puts high-level officials face to face with Native youth around the country.
"We want to have more tribes step up and have high standards," Duncan said. "We hope this will not be our last announcement. We would love to do more of this going forward."
Popular in the Community