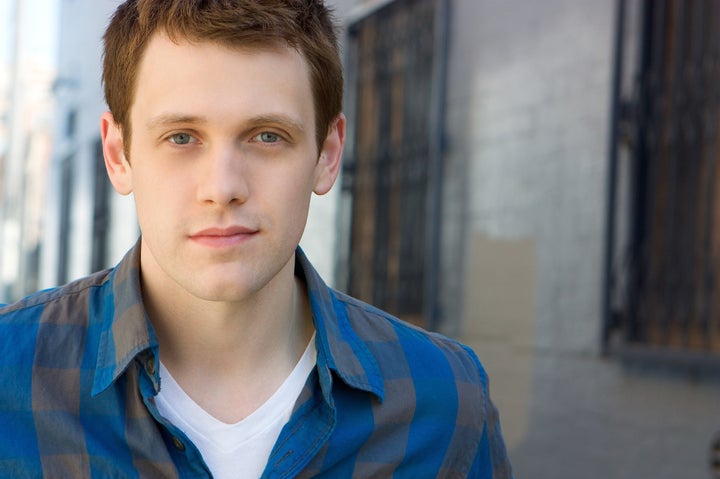 The Aug. 12 show marks Arden's much-anticipated return to Manhattan's cabaret scene after an acclaimed 2008 run at Joe's Pub, where he covered Joni Mitchell's seminal "Blue" album in its entirety. In the meantime, the 29-year-old actor-singer-composer-director has kept himself busy not just with his new television series, but also with an incredibly diverse array of stage and screen projects, including the forthcoming "The Odd Life Of Timothy Green."
After the show, Arden is also set to hit the road with transgender singer-songwriter Our Lady J (who also serves as Arden's musical director), where the pair will continue work on a new musical described as "Into The Woods" meets "The Wall" at a retreat in Williamstown, Mass.
Chatting with HuffPost Gay Voices just ahead of his 54 Below gig, Arden revealed a few of the many surprises he has in store for the show, his thoughts on the role of an openly gay actor in Hollywood, as well as some dish on working with Charlie Sheen and Barbra Streisand.

The Huffington Post: Congratulations on your 54 Below debut -- it's been too long since we've since you on the cabaret stage in NYC. What surprises do you have in store for us?
Michael Arden: Thanks! It's going to be a night of pop-rock-folk material… I'll be doing songs by the great singer Katy Perry (laughs). I'll be doing a Duncan Sheik tune, I'll be doing a song from a musical I'm currently writing with Our Lady J, who is also my musical director. Also some Sufjan Stevens… I don't want to give it all way.
How would you describe your collaboration with the amazing Our Lady J?
I feel like I've found my musical and spiritual sister that I've always dreamed of having. She brings such a caliber of artistry to everything she does; I really feel like I'm just trying to keep up with the beauty she's creating. She really inspires me to be a better musician, and I would work with her for the rest of my life, and I really hope I do.
And after your performance, you'll be departing for Williamstown with Our Lady J to work on your musical. Tell us a bit about that.
It's a sung-through piece called "God's On The Ceiling." It takes place at the Griffith Observatory in Los Angeles in a sort of fictional future when the U.S. post office goes out of operation, and about things that begin to happen in the world at that time. It's a completely original story…it's sort of "Into The Woods" meets "The Wall," if that makes any sense, which it hopefully shouldn't.
"Into The Woods" and "The Wall" –- talk about strange bedfellows!
So are Michael Arden and Our Lady J, so it's only fitting!
Do you have any pre-show rituals?
Besides a shot of tequila, nothing really! (laughs) I refuse to go onstage without looking into the eyes and touching everyone I'm working with…we're all in it together, and everyone's an equal part when we're onstage.
You've on stage, in movies and on TV, in addition to composing your own works. How difficult is it for a performer such as yourself to move in between mediums?
I actually think that's the best part –- that's my favorite thing about what I do. I feel really blessed to do that, and I hope that's what I continue to do. If you're really strict with yourself with putting forth your best work and always trying to stay honest and reflect what you see and feel in the world, one is not that much different than the other. Hopefully I do that… I like all of them equally.
I've also been directing recently [as part of my new theater group, the Forest of Arden]. I found that the same things I loved about performing were the things I liked about directing and creating a piece –- striking a chord that was in tune with the world and was reflecting back what I saw, just from a different angle. I felt like I could be all of the characters in a small, hidden way. Who doesn't like putting on the mustache and the dress?
You've just started a new TV series, "Anger Management." What's it been like working alongside Charlie Sheen so far?
He's great. He's an actor and, I think, a really fine actor. Of course, there's a lot said about him in the press and everything. People work hard and they play hard, and Charlie has been that over the years… but what I know of him is that he's a really hard worker who cares so much about what he's doing and the people he works with. He has one of the best work ethics I've ever seen in any project I've ever worked on.
You also sang back-up with Barbra Streisand as one of her "Broadway Boys" during her 2007 tour…
I actually didn't know much of her work when we worked together…I think that really helped in me not being so star-struck that I couldn't speak with her. We gave each other a hard time and fooled around a lot on the tour. It was thrilling to sing for 30,000 people a night with one of the world's greatest performers… it was such a learning experience for me as well as a joyride. I hope I get to sing with her again.
What would you say is the biggest misconception that fans have about Babs?
She's just a regular girl who worries about how she sounds and how her hair looks and how her nails are. She's really funny and really critical of herself, just like we all are. She goes to Starbucks like everybody else, she just has a Starbucks in her living room (laughs).
You've had the opportunity to play a number of gay characters both on TV, from "The Good Wife" to "Kings," and on stage. Have you ever felt limited in these roles?
Maybe someone else looking at those roles might think that, but to me, gay isn't a character description, it's just a plot point. In these characters, I've tried to find the interesting things about them – not that being gay isn't interesting, but you can only get so far playing that. A lot of times comedy writers will go for the gay joke, and I've been vocal about saying, "Go for the smart joke."
I've played gay and I've played straight… I'm proud to be a gay man myself, and I'm thrilled to get the opportunity to play a variety of different gay men.
Check out some of Michael's best moments over the years below:
PHOTO GALLERY
Michael Arden's Greatest Moments
REAL LIFE. REAL NEWS. REAL VOICES.
Help us tell more of the stories that matter from voices that too often remain unheard.