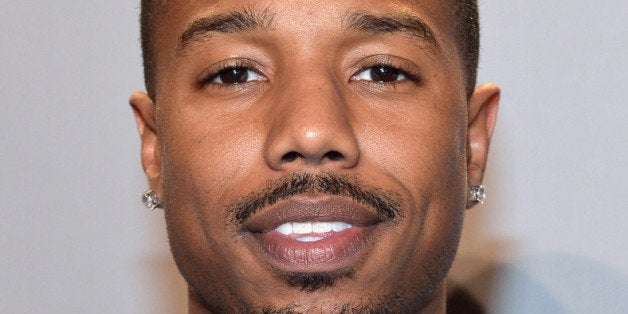 Vanity Fair and FIAT celebrated Young Hollywood at a dark and sexy cocktail party in Hollywood, Calif. on Tuesday night (Feb. 25). Taking over a chic club space called No Vacancy (you guessed it -- no sign, no visible address, "Entourage"-style), the magazine invited guests to join co-hosts Chris Evans and Vanity Fair West Coast Editor Krista Smith for cocktails under the stars.
It was part speakeasy and backyard bash, with Moscow Mules being passed around and partygoers posing in a very public photo booth. Evans ("The Avengers," "Captain America"), Marvel's main squeeze, dressed in Gucci and joked, "I only wear Gucci." He was a bit more serious with The Huffington Post, saying, "When people ask what advice I would give, I say remember where you're from. For me, it's about remembering where I'm from because I had a great youth. But not everyone did. So it's more about not letting this town change who you should be."
As far as his Oscar pick, he was similarly straight forward. "I'm a big Joaquin Phoenix fan," Evans said. "I think his performance is pretty fantastic." Unfortunately for Evans, Phoenix wasn't nominated for his work in Spike Jonze's "Her," but the film did score a Best Picture nomination at this year's Academy Awards.
Inside, film and television stars gathered to talk about their upcoming projects and their Oscar picks.
"House Of Cards" star Kate Mara joined the party with boyfriend Max Minghella close at her side, and revealed her honest relief at the show's second season finally being available on Netflix. "Now I can stop lying! People thought I was working on the show for seven months and I worked on it for, like, two weeks," Mara said, referring to a major spoiler that happens during the second season. "Now I can stop pretending like it was the past seven months of my life. I was shooting a movie so they just thought I was really busy doing both. And I wasn't."
When asked about her favorite Oscar movie, she feigned ignorance before citing "Blue Is The Warmest Color," another movie that missed out on Academy Award nominations in 2014. "It's the best," Mara said of the film, which won the Palme d'Or at the 2013 Cannes Film Festival. "Everything about it."
Mara also blushed at the Internet theory that the Mara sisters, Kate and Rooney, would be on a new season of HBO's "True Detective." "My sister and I? That's very flattering," she said. "Would I? I mean, I would love to work with my sister. Pitch it!"
Mara's future "Fantastic Four" co-star, Michael B. Jordan ("Fruitvale Station," "Friday Night Lights," "The Wire"), revealed that he, too, is a huge "True Detective" fan. So, it wasn't a total surprise that Jordan's favorite Oscar performance was Matthew McConaughey in "Dallas Buyers Club."
It's been quite a season for McConaughey, the current Best Actor front-runner, and not a shabby one for Jordan, either. "It's a crazy year. I am enjoying it," he said. "It's something I've been waiting for a really long time and working for. And the opportunity is here and I'm trying to take advantage of it -- in the best way possible. The whole 'Fantastic Four' thing –- I'm excited!"
Jordan is set to play Johnny Storm in the comic-book film, a character who has been traditionally portrayed as being white. (In fact, Evans played Storm in the previous incarnation of "Fantastic Four.") In response to some of the recent racial backlash to his casting, Jordan flashed his signature big smile: "People are going to be critics. Haters are going to find something to hate about. I'm a young black man. I've been criticized. My name is Michael Jordan," he said with a laugh. "He gave me a chip on my shoulder that I needed to push me though."
Donning sparkling diamond earrings in both ears, Jordan puffed up his chest and joked, "They are new. It's an investment. Who said diamond's are just a woman's best friend?"
So raise a glass -- Oscar week has officially begun.
REAL LIFE. REAL NEWS. REAL VOICES.
Help us tell more of the stories that matter from voices that too often remain unheard.
BEFORE YOU GO
PHOTO GALLERY
Vanity Fair's Young Hollywood Party