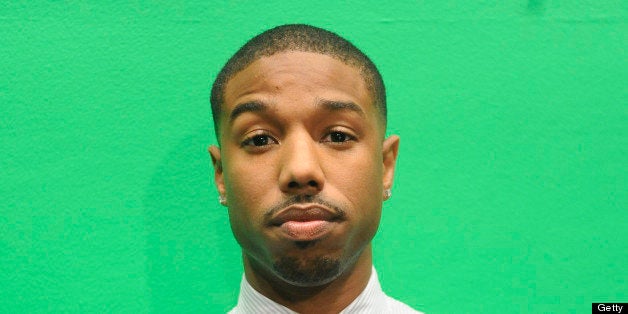 Michael B. Jordan was one of the many stars who expressed outrage after the acquittal of George Zimmerman in the shooting death of Florida teenager Trayvon Martin on Saturday night.
Jordan, who stars in the new drama "Fruitvale Station" -- about a young African-American male who was shot and killed by police in 2009 -- was about to start participating in a Q&A event for the film when the verdict was read.
"My heart hurts so bad right now. I wasn't going to come after I found out about George Zimmerman getting acquitted. It broke me up," Jordan said during the Q&A in Los Angeles (as reported by Deadline.com). "That's why I think this film means so much, because it keeps happening again and again. [We must] learn how to treat each other better and stop judging one another just because we're different. It's not just a black and white thing, it's a people thing. It's the only way that things are going to take the necessary steps to move in the right direction so things can get better because I don't think it's ever gonna stop, but something's got to f--king change."
Jordan also posted some of his exasperation on Twitter in the immediate aftermath of the verdict. "I cannot believe this is the America I live in right now," he wrote in a tweet that was since deleted.
The connection between the Trayvon Martin case and "Fruitvale Station" has been played up by some media outlets. The film's director, 27-year-old Bay Area native Ryan Coogler, did acknowledge some surface similarities.
"Trayvon had love in his life. Trayvon had potential in his life. He had good things in his life ... There are millions of Americans that don't see Trayvon's potential," Coogler said at a Q&A for the film in New York (as reported by BuzzFeed). "They look at him and see him as a thug who got what he deserved. You know he was a 17-year-old boy that couldn't even vote yet, had never been arrested, never had a criminal record. My question is, why do people look at him and see that? We look at him and see something else. We look at him and see us."
For more on "Fruitvale Station," head over to Deadline.com.
Calling all HuffPost superfans!
Sign up for membership to become a founding member and help shape HuffPost's next chapter
BEFORE YOU GO
PHOTO GALLERY
'Fruitvale Station'