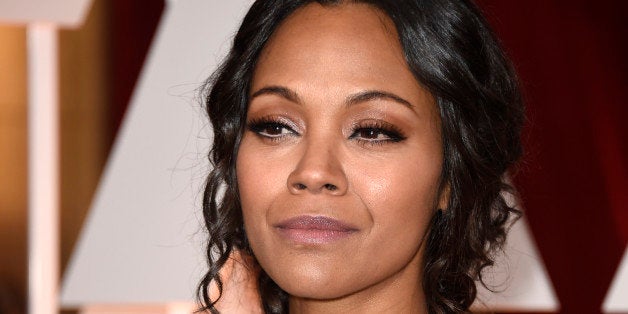 Jordan, who will star in the upcoming "Fantastic Four" reboot as Johnny Storm aka The Human Torch, pushed back against Internet trolls who've criticized the decision to cast a black actor as a superhero originally illustrated with blond hair and blue eyes.
Zoe Saldana not only posted the essay to her Facebook over the weekend, but she also asked critics to instead question the longtime practice of casting white actors to portray characters of color.
The "Star Trek" and "Guardians Of The Galaxy" star specifically pointed to several iconic roles, including those in which white actors were picked to portray real-life people of color like journalist Mariane Pearl and Egyptian pharaoh Cleopatra.
Last year, controversy erupted over casting for Ridley Scott's "Exodus: Gods and Kings." The Biblical film featured Christian Bale as Moses, Joel Edgerton as Ramses and Sigourney Weaver as Ramases' mother. Non-white actors, in contrast, played slaves, servants and thieves.
"To make the main characters white and everyone else African is cinematic colonialism," David Dennis Jr. wrote in a viral piece for Medium. "It's creating a piece of historical 'art' that carries on oppressive imagery that's helped shackle entire countries and corners of the world."
"Egypt was –- as it is now -– a confluence of cultures, as a result of being a crossroads geographically between Africa, the Middle East and Europe," the "Exodus" director said in defense of his casting. "We cast major actors from different ethnicities to reflect this diversity of culture, from Iranians to Spaniards to Arabs. There are many different theories about the ethnicity of the Egyptian people, and we had a lot of discussions about how to best represent the culture."
Jordan, however, has faced criticism for being cast as a fictional superhero character conventionally illustrated as white in comic books. In his Entertainment Weekly essay, the former "Fruitvale Station" star wrote that he hopes the role will help actors of color for generations to come.
Sometimes you have to be the person who stands up and says, "I'll be the one to shoulder all this hate. I'll take the brunt for the next couple of generations." I put that responsibility on myself. People are always going to see each other in terms of race, but maybe in the future we won't talk about it as much. Maybe, if I set an example, Hollywood will start considering more people of color in other prominent roles, and maybe we can reach the people who are stuck in the mindset that "it has to be true to the comic book." Or maybe we have to reach past them.

Calling all HuffPost superfans!
Sign up for membership to become a founding member and help shape HuffPost's next chapter
BEFORE YOU GO
PHOTO GALLERY
'Fruitvale Station'