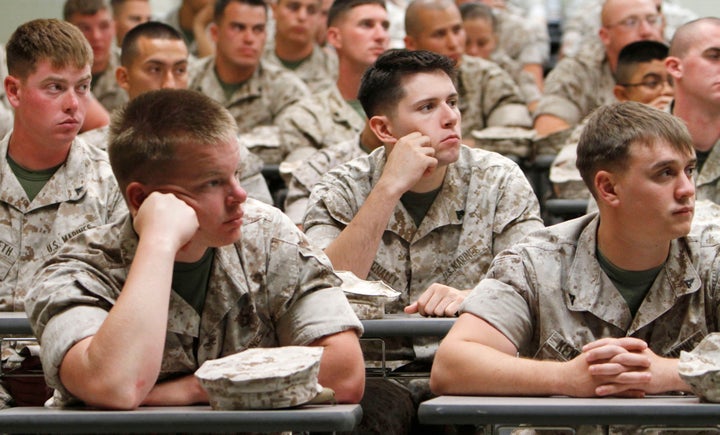 "Get over it." That's the ultimate message delivered to marines by the top non-commissioned officer of the Marine Corps regarding the repeal of "Don't Ask, Don't Tell" (DADT).
Sgt. Maj. Micheal Barrett was recently chosen to be the senior enlisted adviser to Marine Corps Commandant Gen. James Amos. According to The Wall Street Journal, Sgt. Maj. Barrett visited a base in South Korea last week, where he delivered his opinions on DADT and the plans to repeal the ban on gay men and lesbians serving openly in the U.S. military.
The Wall Street Journal reports that Sgt. Maj. Barrett brought out a small copy of the Constitution and referenced Article 1, Section 8. "It says, 'Raise an army.' It says absolutely nothing about race, color, creed, sexual orientation." He then asked if everyone in the group joined the Marines to protect their nation, going on to say, "How dare we, then, exclude a group of people who want to do the same thing you do right now, something that is honorable and noble?"
Sgt. Maj. Barrett concluded by saying "Get over it… Let's just move on, treat everybody with firmness, fairness, dignity, compassion and respect. Let's be Marines."
According to the Marines website, Sgt. Maj. Barrett recently returned from Afghanistan. Marine Corps Times reports that Barrett is a 30-year Marine, and Commandant Gen. James Amos told the news source, "He's the best of the best."
Commandant Gen. James Amos fought to retain DADT, arguing to Congress, "I don't want to lose any Marines to the distraction."
The repeal was enacted in December and the military is already training troops on their new position. But the repeal requires certification that the military is ready for the change by the president, the secretary of defense, and the chairman of the Joint Chiefs of Staff. Politico reports that House Republicans are asking President Obama to hold off on implementation. A Pentagon survey from last November found that while most people serving in America's armed forces do not strongly object to repealing DADT, Marines are most strongly resistant to the ban.
In April, Sgt. Maj. Barrett told Military.com that he saw no evidence of Marines leaving because of the DADT repeal, saying, "It is important that we value the diversity and background and the culture and the skills that all the Marines bring to the service of the nation."
Popular in the Community