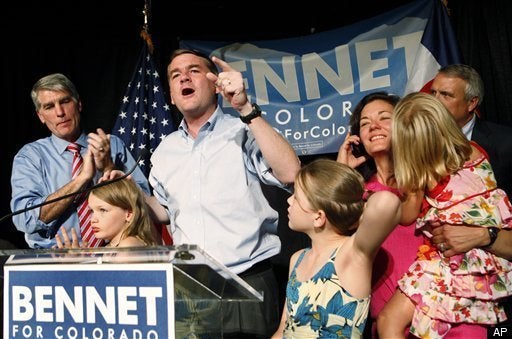 PPP's latest poll, which surveyed 834 likely voters from September 30 to October 2, shows incumbent Democrat Michael Bennet with a the slightest of leads over Buck, 46-45.
Interestingly, PPP found that moderates, who comprise the majority of unaffiliated voters in Colorado, prefer Bennet by a 24-point margin despite having a generally negative opinion of the freshman senator.
37 percent of self-described moderates surveyed hold a positive opinion of Bennet, while 45 percent view him negatively. Meanwhile, just 27 percent of moderates view Buck in a positive light, compared to 57 percent have a negative opinion of the Weld County DA.
PPP's Tom Jensen suggests that Buck's trouble with independent moderates is "the price to pay for Republicans nominating a candidate with limited appeal to the center."
Buck, who won the Republican nomination with the backing of Tea Party and other right-wing groups, has struggled to fend off attacks that he's an extremist.
In a press release, PPP President Dean Debnam said "Given Barack Obama's poor approval numbers in the state and his own unpopularity, Michael Bennet should be in really bad shape. But Republicans really helped his cause by nominating a candidate with limited appeal to moderates."
Popular in the Community