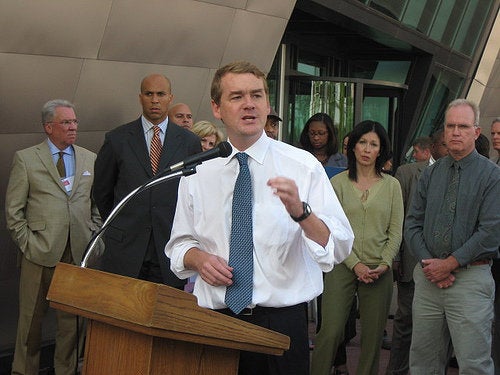 The lobbying reforms proposed by freshman Sen. Michael Bennet on Wednesday would end up crushing many a Capitol Hill career path.
As part of a package that includes filibuster reform, a freeze on salaries and earmark transparency, the Colorado Democrat is seeking a lifetime ban on members of Congress becoming lobbyists and a six-year ban on former staffers lobbying their old bosses or staff colleagues.
A lifetime lobbyist ban will surely disappoint some of Bennet's retiring Senate colleagues. Sen. Byron Dorgan (D-N.D.) all but asked K Street firms to make offers when he announced his retirement in January, and Sen. Evan Bayh (D-Ind.) refused to rule out a K Street gig when he made his announcement in February.
Retired senators are already prohibited from lobbying their colleagues for two years, and retired House members have to "cool off" for one year. Staffers are also required to wait a year before bugging their former peers on behalf of their new clients.
The existing restrictions are pretty significant, since headhunters for K Street firms say former staffers and members have a limited "half life" before their knowledge and contacts become less useful. But plenty of ex-congressmen, such as former Senate Majority Leader Tom Daschle, find them easy to ignore. Bennet's reforms would put a stop to that, too: He'd create stricter rules and penalties for lobbyists who don't register.
Bennet would also prevent lobbyists from returning to the Hill for six years. It's a typical phenomenon that gets less attention than staffers "cashing out" to become lobbyists. For instance, as HuffPost reported in December, 16 of the 86 current staffers on the House Financial Service Committee worked as registered lobbyists sometime in the previous decade.
Ivan Adler is a principal for the McCormick Group who helps lobbying firms hire Hill talent. He said Bennet's ideas threatened the constitutional right to petition the government.
"There's this thing called the First Amendment. We can tell it's important in the list of amendments because it's the first one... Eliminating the right to represent people to talk to their representatives is a very dangerous thing," he said. And he pointed out that Bennet has not had anything to say about campaign fundraising. "I think it's very interesting that members of Congress continue to bash lobbyists on both sides of the aisle yet take their money."
Conspicuously absent from Benning's proposals: public financing for campaigns. His Democratic primary opponent, Andrew Romanoff, pointed out that Bennet has taken $1 million from political action committees in his first term as a senator.
"This is why getting big money out of politics did not make it to his list of needed reforms," a Romanoff spokesman told the Denver Post.
Though he said in his statement that he would support the Democrats' forthcoming response to the Citizens United decision, Bennet has not signaled support for the Fair Elections Now Act, which would provide public financing for campaigns.
"We'd encourage him to add Fair Elections to his list of proposals," wrote David Donnelly of the Public Campaign Action Fund in an email to HuffPost. "You can't fix Washington without addressing fundraising."
Bennet's proposals wouldn't be so bad for everybody on K Street. A lobbyist who used to work on the Hill told HuffPost that Bennet's revolving doorstop, so long as it doesn't apply retroactively, would be pretty great for his business. "No competitors going forward!"
Popular in the Community