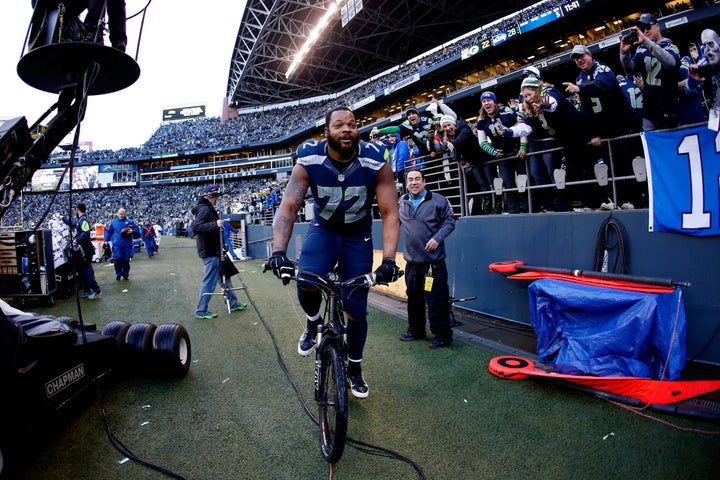 Seattle Seahawks defensive end Michael Bennett overcame the highest of odds. He went from undrafted free agent in 2009 ― meaning he wasn't selected during the 256-pick draft ― to not only making a team and building an NFL career, but becoming a Pro Bowl Defensive MVP and Super Bowl champion.
The problem now for Bennett is that he's stuck in a contract that leaves him woefully underpaid. Bennett, 30, is a game-wrecker, a premium asset in today's pass-happy NFL.
"I just want to be fairly compensated with the top guys in the league," Bennett tells The Huffington Post. "I'm definitely one of the top five defensive ends."
To understand his dominance, we must first understand how the former Texas A&M standout compares to his peers. Despite being the 27th highest-paid defensive lineman in the league, Bennett is, by nearly any measure, one of the five most productive. His 10 sacks in 2015 ranked 11th among all defensive ends, and his 24 quarterback hurries tied for sixth. As a reference point, three-time Defensive Player of the Year J.J. Watt tallied 26 QB hurries in the same period. Speaking of Watt, Bennett ranks second only to the Texan defensive end in total quarterback pressures (292) over the past four seasons, according to Pro Football Focus.
Perhaps most telling, though, is the fact that no 4-3 defensive ends in the league recorded more pressures (91) last year than No. 72.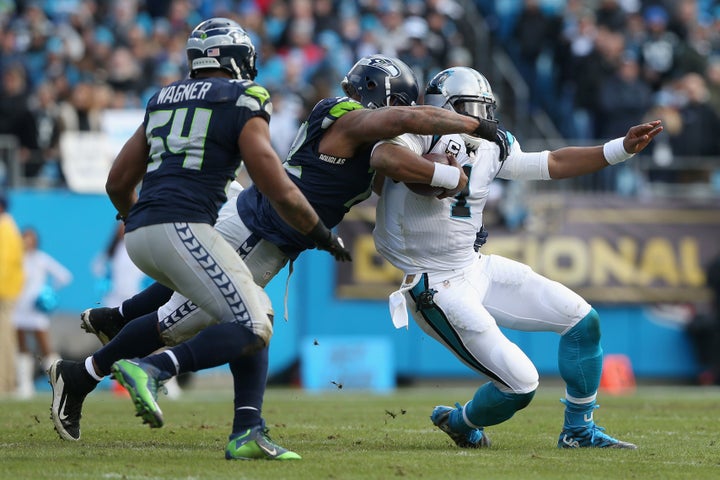 The other notable aspect of Bennett's game is his effectiveness at containing the run. Defensive end is a position known primarily for getting after the quarterback. Sacks and quarterback pressures are crucial. Stopping the run is not sexy, nor is it a common trait of defensive ends, even the good ones. But Bennett is different. Last season, per usual, he consistently played on all three downs, as opposed to only in predictable passing situations, a trait he has developed during his seven-year career. He's had a top-10 run-stop percentage among 4-3 defense ends each of the past three years, as well.
"Mike is probably one of the most versatile athletes in the National Football League," said Michael Robinson, a former teammate of Bennett's in Seattle and a current analyst for the NFL Network. "That's what makes his contract situation pretty peculiar. He really may be the most underpaid defensive linemen in NFL history."
Robinson praised his former teammate's ability to "play all five spots."
"He's a damn good dude," Robinson said. "He wanted a contract last year, but he still came to work. He's a pro's pro. Mike was always the best teammate... Mike is needed in that locker room and he should be paid like it."
For his part, Bennett says he's "happy to see guys get paid." But, he adds, "you definitely want to get what you think you're worth. When you put all the things together, I just don't see a lot of guys having the type of impact I have."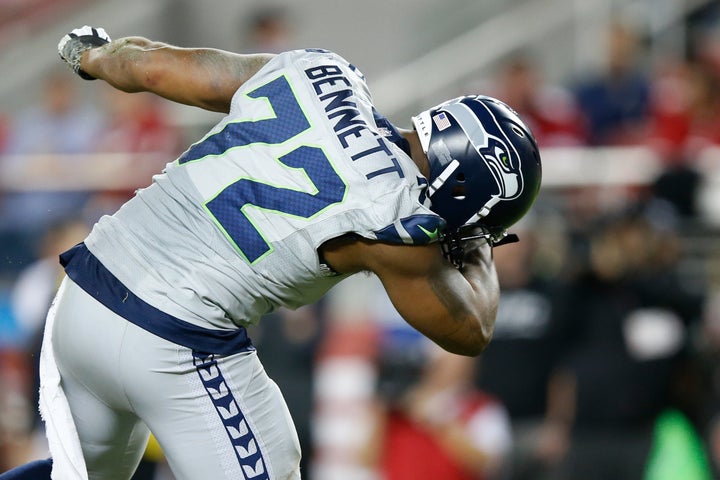 The Seahawks defense has benefited greatly from Bennett's stellar play across the board. Widely considered the NFL's most dominant, it led the league in scoring defense in 2016 for the fourth consecutive year. All the more reason things are frustrating for Bennett: The way NFL contracts are constructed, a player can be cut any time without a significant cap hit to the team.
"It's been super hard, because you want to be a great teammate and you want to take care of your family," said Bennett, who is married with three daughters. "You want to find a balance."
The interesting part about the Seattle defense is that when it comes to the other stars, nobody else is underpaid. Quite the contrary, in fact. Safeties Earl Thomas and Kam Chancellor rank second and third at their respective positions. Linebacker Bobby Wagner is also second, while fellow linebacker K.J. Wright isn't far behind. Richard Sherman has inked an excellent deal that makes him the fourth highest-paid cornerback in the league.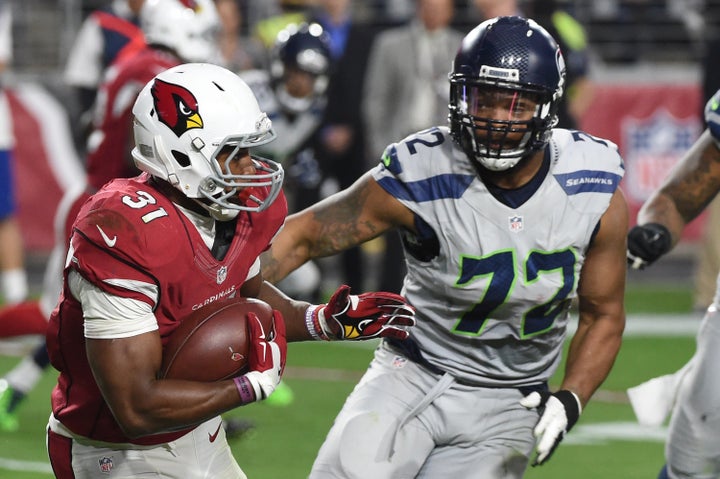 Bennett is entering the third year of a four-year contact signed in March 2014 that pays him $28.5 million overall with $16 million guaranteed. He's set to make $5.5 million this year and $7 million next year. These are, to be sure, enviable sums of money. But other players of similar ability and with comparable skill sets are getting paid much more, and the disparity is puzzling. Watt is paid $16.6 million a year, with a contract that stipulates $51.9 million guaranteed and $100 million overall. Olivier Vernon of the New York Giants just signed a deal to earn $17 million a year from a contract that pays $52.5 million guaranteed and $85 million overall. The Miami Dolphins' Ndamukong Suh is paid $19 million a year with $59.95 million guaranteed and $114 million overall. (Drew Rosenhaus, Bennett's former agent who negotiated his current contract, didn't respond to a request for comment for this article.)
Despite remarks to the contrary in May, Bennett could still opt to hold out of the Seahawks' training camp, which begins July 30, in an effort to get a better deal.
"It is never-ending," Bennett says. "Especially when people are getting new contracts every day. You sit there and you're like, 'Damn, really?' I'm just to the point where it's kind of like, if you don't think I'm valuable, then just get rid of me."
It's not that the Seahawks operation doesn't recognize Bennett's prowess. But head coach Pete Carroll and his staff have a policy of not negotiating extensions with players who have two years or more remaining on their deals. The organization has been "very disciplined" in this regard, as Carroll points out.
Still, if any Seahawk deserves to have an exception made for him, it's Bennett. Nobody else is in quite the same position right now, creating so much value for the team while getting paid so disproportionately little.
"Michael Bennett is an extraordinary individual and an extraordinary teammate," Carroll told HuffPost. "I love the heck out of him... He's not wrong. He's right [to be frustrated]."
To his credit, Bennett's production the past two seasons has gone well beyond what his contract suggests. He has become an elite player at his position. And at 30, he's keenly aware that this is likely his final major contract as an NFL player. It's a fact that Carroll says he respects as well.
"We're gonna make an effort," Carroll said. "An effort so he remains a Seahawk."
Popular in the Community