NEW YORK -- Bloomberg, the media company, made a big bet on the 2016 election by dropping millions on star political journalists Mark Halperin and John Heilemann, launching a new politics site and producing a daily Bloomberg TV show that's also simulcast on MSNBC.
Now Bloomberg, the man, is considering his own 2016 bet on an independent run -- one that would shake up not only the presidential race, but also his namesake news organization.
Michael Bloomberg left his eponymous company in 2001 to run for mayor of New York City, an office he went on to hold for three terms. He returned as company CEO in September 2014 and immediately made his presence felt. He set up a desk in the newsroom and installed a new top editor, and helped shift the company's focus away from consumer-facing sites and back toward the kind of bread-and-butter topics, like global business and finance, desired by subscribers.
A White House run -- or perhaps even the time needed to consider one -- would again pull Bloomberg out of the newsroom, which is now grappling with how to cover his latest presidential flirtation.
"John Micklethwait is our Editor-in-Chief and is in charge of decisions about coverage," Bloomberg News spokesman Ty Trippet said in a statement to The Huffington Post.
Bloomberg News has long placed limits on how reporters cover both the company and its famous owner, including his personal life and wealth. Its coverage of the former mayor this past weekend was noticeably scant.
As major news outlets pounced after The New York Times reported Saturday that Bloomberg's advisers had drawn up plans for a potential independent run, Bloomberg Politics' contribution was only a brief summary of that story. The company licenses Times content and provided the paper's full story to subscribers of its Bloomberg Terminal service, but didn't independently report new details.
On NBC's "Meet the Press," former Secretary of State Hillary Clinton said her understanding was that Bloomberg would only run if Sen. Bernie Sanders (I-Vt.) became the Democratic nominee instead of Clinton herself -- a scenario she said she doesn't expect to happen.
Sanders, for his part, told ABC's "This Week" that he'd welcome the chance to run against two billionaires -- namely, Bloomberg and current Republican front-runner Donald Trump -- because Americans don't want to live in an "oligarchy."
The notion of Bloomberg running for president has surfaced again and again over the past decade, with the former mayor's advisers extolling his strengths as a successful, pragmatic executive and politician, and arguing that his fiscally conservative and socially liberal views could appeal to independent voters.
The Times story, which noted Bloomberg's willingness to spend over $1 billion on a run, suggested a seriousness beyond the usual anonymous Bloomberg adviser bending a reporter's ear. The former mayor appears to be taking more formal steps than in the past, which could force his media company to more actively cover his presidential ambitions this time around.
It's always tricky for a news organization to report on itself. If the coverage is positive, it can be seen as self-congratulatory cheerleading; if the coverage is negative, skeptics will say it's just a superficial attempt to assert independence. Matt Winkler, then editor-in-chief of Bloomberg News, said in 2014 that covering one's own company represents "an inherent conflict of interest and no outlet does it well."
At Bloomberg-the-company, restrictions on coverage of Bloomberg-the-man are a matter of policy, and the company has been scooped in the past on its own news. Most employees first learned Bloomberg was returning as CEO from a story in the Times.
According to "The Bloomberg Way," the company's in-house style guide, Bloomberg News "doesn't cover Michael Bloomberg's wealth or personal life" and "doesn't originate stories about the company."
The style guide states that Bloomberg should be included in a story "in cases where omitting the company from a broader story would be misleading or make the story incomplete," and notes that a company spokesman should be reached for comment. Also, it says, "when others report about Bloomberg, we should summarize what their stories say, and the company should be given an opportunity to comment."
Bloomberg News has had to navigate covering its owner in the past, given that he's a public figure and has been outspoken on issues like gun control. While Bloomberg was mayor, the news organization typically covered what he publicly said or did in that role, but steered away from analysis.
But Halperin and Heilemann -- the latter of whom, for New York magazine, wrote in 2007 on an earlier Bloomberg boomlet -- will be expected to report on the behind-the-scenes details of the presidential race, and to analyze the various contenders' chances.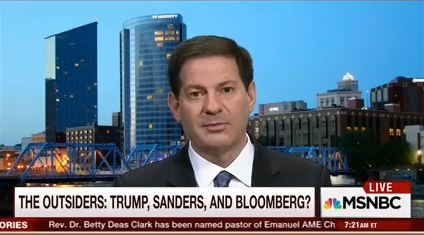 On Monday, MSNBC host Joe Scarborough asked Halperin what he's been hearing about Bloomberg "outside of your position at Bloomberg."
"As people know, I work for Michael Bloomberg," Halperin said. "But as [BuzzFeed editor Ben Smith] said, it's true of me: I've reported on his thinking about running for president for a long time. So what I think about this is independent of the fact that he owns the company for which I work."
Halperin acknowledged the difficulty of third-party presidential runs, something of which he said Bloomberg himself is similarly aware.
"He knows, as well as every analyst does, it's easy to romanticize the prospect of a third-party bid," Halperin said. "It's very difficult to get 270 electoral votes."
Popular in the Community