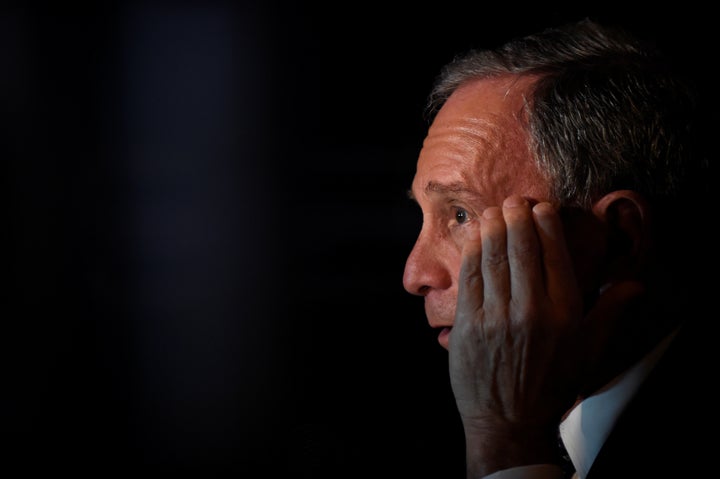 NEW YORK ― Michael Bloomberg, one of the deepest-pocketed advocates for fighting global warming, on Tuesday offered his first challenge yet to Donald Trump's plans to unravel much of the climate progress made in the last eight years. If Trump pulls out of the historic Paris climate accord, which the president-elect has repeatedly vowed to do, the former New York City mayor will rally mayors around the country to adhere to the treaty's terms, anyway.
"Washington will not have the last word on the fate of the Paris agreement in the U.S. ― mayors will, together with business leaders and citizens," Bloomberg said in a speech to Chinese officials and business leaders.
Trump is poised to gut environmental regulations and revive heavily-polluting fossil fuel industries. Through out his presidential campaign, Trump threatened to shred President Barack Obama's signature policy to fight climate change. He has repeatedly threatened to pull out of the Paris agreement signed by nearly every other country on Earth. 
The success of Bloomberg's plan depends on a litany of factors. Does Bloomberg's loose coalition of city chieftains, the Global Covenant of Mayors for Climate & Energy, have any real power? Will mayors actually buck with a president who has already threatened to withhold funding from cities that don't obey his immigration orders? Can small cities even afford to go it alone on clean energy projects with enough scope to make a difference? 
Bloomberg credited city-level policies and private companies for most of the progress made in cutting carbon emissions over the past decade. The 74-year-old billionaire blamed inaction on climate change on partisan gridlock in Washington, D.C.
"The U.S.'s success in fighting climate change has never been primarily dependent on Washington," Bloomberg said. "Bear in mind: Over the past decade, Congress has not passed a single bill that takes direct aim at climate change. Yet at the same time, the U.S. has led the world in reducing emissions."
In fact, the U.S. has been slow to adopt renewable energy, compared to China and European countries such as Denmark, France and Germany. The country has reduced emissions, in large part by converting coal-fired power plants to natural gas, a cleaner-burning but still-dirty fossil fuel. The clean energy industry has soared in recent years, but still depends heavily on federal subsidies that could be in jeopardy under Trump.
"Over time, as more and more Americans come to recognize what climate change means to their families and their futures ― by seeing the increasingly severe impact of storms, droughts and other weather events ― they will demand action from the federal government, too," Bloomberg said. 
In July, Bloomberg called Trump a "dangerous demagogue" and a "con" whose business plan for the country "is a disaster in the making." If Bloomberg's elite club for mayors is his best proposed bulwark against environmental catastrophe, the future looks increasingly clouded by smog.
Calling all HuffPost superfans!
Sign up for membership to become a founding member and help shape HuffPost's next chapter
BEFORE YOU GO
PHOTO GALLERY
How Scientists Know Climate Change Is Happening