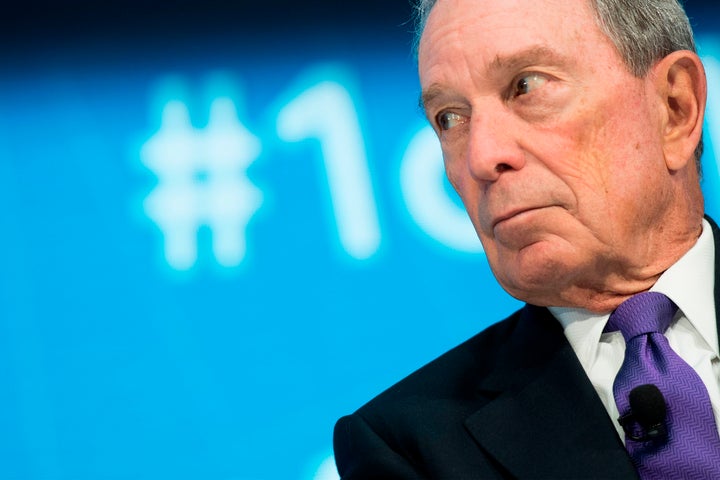 EMILY's List, a Washington, DC-based women's political action committee, announced on Thursday that former New York City Mayor Michael Bloomberg will be a featured speaker at an upcoming event for the group.
Bloomberg, 76, is set to give the welcome speech next Monday during the organization's 2018 New York conference and luncheon in Manhattan. Other featured speakers include Stacey Abrams, the Democratic nominee for governor of Georgia, and Lucy McBath, the Democratic nominee for a U.S. House seat in Georgia's 6th Congressional District.
The announcement comes as a surprise after Bloomberg made dismissive comments about the Me Too movement and specifically questioned allegations of sexual harassment against now-disgraced TV journalist Charlie Rose.
"The stuff I read about is disgraceful ― I don't know how true all of it is," Bloomberg said in an interview with The New York Times published Monday.
He later brought up Rose, whom dozens of women have accused of groping and sexual harassment, as an example. Rose recorded his show "Charlie Rose" at the Bloomberg office.
"We never had a complaint, whatsoever, and when I read some of the stuff, I was surprised, I will say," Bloomberg said. "But I never saw anything and we have no record, we've checked very carefully."
"You know, is it true?" he continued. "You look at people that say it is, but we have a system where you have ― presumption of innocence is the basis of it."
EMILY's List spokeswoman Christina Reynolds told HuffPost that Bloomberg is not the main speaker at the group's event and is simply giving welcoming remarks.
"He was invited as a New Yorker and someone who is a partner in taking back the House," Reynolds said.
Bloomberg shares some progressive goals with EMILY's List, which is committed to helping elect pro-choice Democratic women. The former mayor gave nearly $2,000,000 to the group in August alone.
A political independent, Bloomberg is liberal on social issues including abortion and same-sex marriage, while leaning moderate to conservative on foreign and economic policy. He is actively considering a run for president in the 2020 election on a Democratic ticket.
Support HuffPost
The Stakes Have Never Been Higher
Popular in the Community