New York City Mayor Michael Bloomberg called on President Barack Obama and GOP presidential candidate Mitt Romney Friday to detail their views to improve gun control in wake of the mass shooting at an Aurora, Colorado movie theater that left at least 12 dead and scores wounded. The suspected gunman, now identified as 24-year-old James Holmes, opened fire during a premier of "The Dark Knight Rises."
"You know, soothing words are nice, but maybe it's time that the two people who want to be President of the United States stand up and tell us what they are going to do about it, because this is obviously a problem across the country," Bloomberg said, referencing early morning statements from both Obama and Romney, during his weekly appearance on WORS radio.
And everybody always says, 'Isn't it tragic,' and you know, we look for was the guy, as you said, maybe trying to recreate Batman. I mean, there are so many murders with guns every day, it's just got to stop. And instead of the two people – President Obama and Governor Romney – talking in broad things about they want to make the world a better place, okay, tell us how. And this is a real problem. No matter where you stand on the Second Amendment, no matter where you stand on guns, we have a right to hear from both of them concretely, not just in generalities – specifically what are they going to do about guns? I can tell you what we do here in New York. The State Legislature passed the toughest gun laws – some states may say no. That's okay, what do you want to do? And maybe every Governor should stand up. But in the end, it is really the leadership at a national level, which is whoever is going to be President of the United States starting next January 1st – what are they going to do about guns?
Bloomberg is an active and outspoken member of Mayors Against Illegal Guns, a group that boasts a membership of 600-plus mayors from across the country.
Bloomberg also said Friday that guns are not just a city issue.
"But guns – get back to Aurora – this is killing people every day, and it's growing and it's not just an inner-city, east coast, west coast, big city phenomenon. Aurora is not a big city."
"The murder rate in the rural areas is just as bad if not worse than the murder rate in urban areas," he said.
Host John Gambling then asked, "Have you ever talked with anybody about the psychology of that? I know the gun issue, but the psychology of that. Have we become less sensitive to our neighbor?"
I don't know about that. You know, I'm not a psychiatrist or a psychologist. I can tell you I don't think there's any other developed country in the world that has remotely the problem we have. There's no other place that allows- we have more guns than people in this country. Every place else, if there are murders they're generally not done with guns – not generally, a lot more are not done with guns. And everybody's got problems with crime, and you know, that's the real world. God didn't make everybody perfect. But this is just- you know, and we can talk about it on the talk shows, we can wring our hands and say it's terrible. You know, 'I need more guns to protect myself.' And that strategy doesn't work. That's like saying incarcerate more people and you'll reduce crime rate. In New York City, we've reduced the incarceration- the number of people incarcerated by over a third and crime keeps coming down. Because when you send somebody to jail – particularly a kid – all they do is learn how to be a worse criminal. So that's just not a good solution. You may be able to say, 'I'll put her in jail and throw away the key.' That sounds good, but it doesn't solve the problem.
"As a precaution against copycats and to raise the comfort levels among movie patrons in the wake of the horrendous shooting in Colorado, the New York City Police Department is providing coverage at theaters where the 'The Dark Knight Rises' is playing in the five boroughs," Police Commissioner Ray Kelly said in a statement.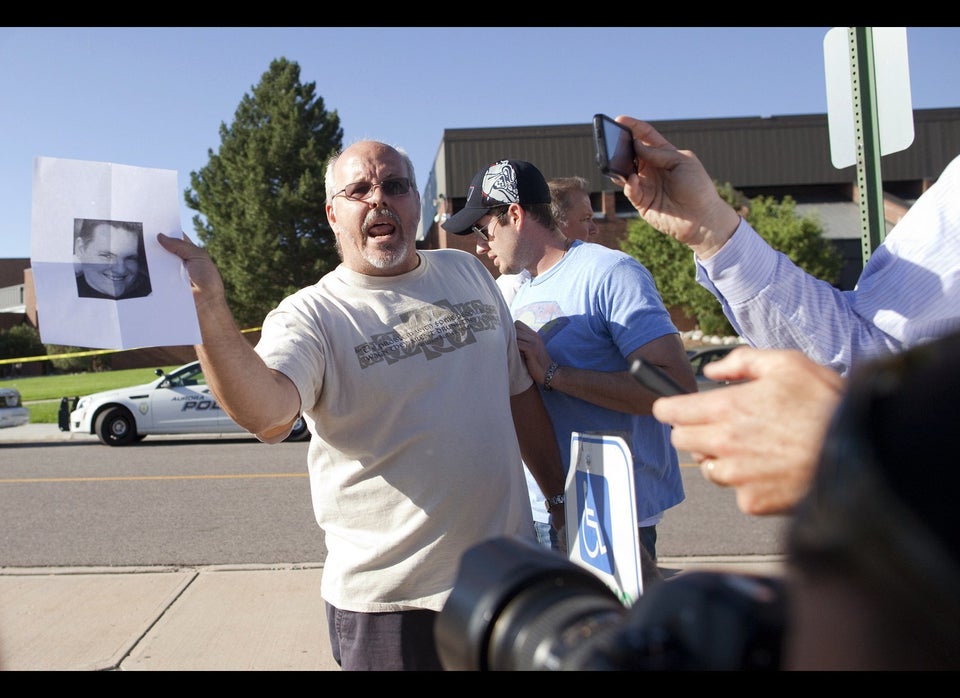 Batman Premiere Shooting At Century 16 Cinema
Related
Popular in the Community