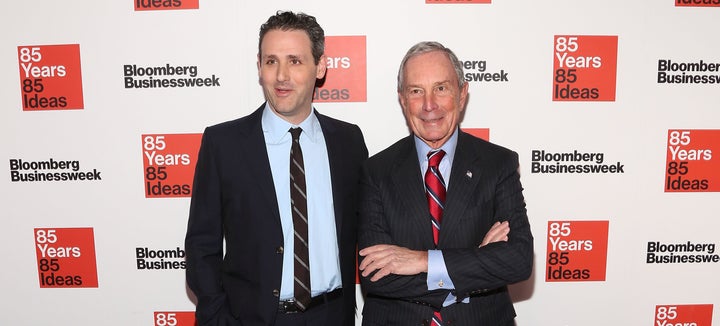 NEW YORK -- Michael Bloomberg expressed support Friday for Bloomberg Politics, following a report he doesn't plan to renew the contracts of star political journalists Mark Halperin and John Heilemann after the 2016 elections.
"I've become a devotee of Bloomberg Politics," Bloomberg said in a statement to The Huffington Post. "It's an important part of our TV line-up and our strategy, giving our customers the news and people they need going into election season. I fully support it."
Bloomberg's comment comes a day after New York magazine quoted an unnamed Bloomberg adviser saying that "some days he thinks what they do is good and other days isn't." Either way, the adviser said, Bloomberg doesn't feel Halperin and Heilemann's show, "With All Due Respect," fits the network's mission.  
Halperin and Heilemann, each reportedly making $1 million per year, were hired a few months before Bloomberg returned as CEO in September 2014. Three months later, Bloomberg installed Economist editor John Micklethwait to oversee editorial, and the company has since renewed its focus on Bloomberg's core strengths and its lucrative terminal business, a reversal from the previous year's increased emphasis on consumer-focused digital and TV products.   
The Bloomberg Politics launch created tensions within the company, as some Washington staffers felt marginalized by the New York-based operation and others questioned the resources devoted to and overall direction of the pair's show. 
Bloomberg's statement should assuage concerns that Bloomberg Politics will be scaled back, though he did not specifically comment on the futures of Halperin and Heilemann, the site's co-managing editors and public face of the brand. Inside Bloomberg, some have assumed the pair would leave after their contracts were up following the elections, given that they co-authored best-selling books on two previous presidential contests and may do so again.  
But chatter about their future roles in the company was roused Thursday following the departure of Chief Content Officer Josh Tyrangiel, one of the architects of the company's consumer products, including Bloomberg Politics and "With All Due Respect." 
Tyrangiel's abrupt departure followed digital editor Josh Topolsky, who helped oversee the launches of Bloomberg Politics and Bloomberg Business and left in July amid reported clashes with Bloomberg over the website's direction. On Thursday, the New York Post noted speculation that Bloomberg Media chief Justin Smith, the third member of a triumvirate whose power diminished as strategies shifted this past year, would be next to go.   
A Bloomberg spokesman said Smith "is very happy at Bloomberg and his strong results speak for themselves."  
"He is making no plans to leave," the spokesman continued. "Any suggestion to the contrary is false. He and Mike have a great working relationship."
Calling all HuffPost superfans!
Sign up for membership to become a founding member and help shape HuffPost's next chapter