WASHINGTON -- President Barack Obama's nomination of Michael Boggs to serve on the federal bench is causing members of the Congressional Black Caucus to turn on each other and sparking rare criticism of Rep. John Lewis (D-Ga.), a revered civil rights icon.
Rep. David Scott (D-Ga.) unleashed on Lewis on Sunday night after Sen. Dianne Feinstein (D-Calif.) indicated earlier in the day that she spoke to Lewis and he signaled support for Boggs' inclusion in a package deal of judicial nominees that Obama agreed to with Georgia's Republican senators. A former Georgia state legislator, Boggs has come under fire from progressive groups over his votes to pass a constitutional amendment banning same-sex marriage, to keep the Confederate insignia on the Georgia state flag and to require doctors who perform abortions to post online their names and the number of abortions they performed.
"John Lewis has betrayed Georgia if this is his new position," Scott told The Huffington Post in a statement. "He is speaking for the White House and not women, African-Americans or gays with this new position, and he has turned his back on his own supporters."
He also went after Lewis on Twitter, calling him a "turncoat" if he is now backing Boggs.
A request for comment from Lewis' office was not returned.
That a fellow member of the Congressional Black Caucus is criticizing Lewis is a remarkable turn in an already heated fight over Boggs' confirmation. One would be hard-pressed to find anyone willing to criticize Lewis, who is hailed on Capitol Hill and beyond for his role in the civil rights movement. He was a central figure in the fight to end legalized racial discrimination and segregation, and he's the only living "Big Six" leader of the movement.
But critics of Boggs have been puzzled by Lewis in recent weeks. When Obama first announced Boggs' nomination in January, Lewis stood alongside other prominent civil rights leaders in urging that his nomination be rescinded. Lately, though, Lewis has gone silent -- just as Boggs' nomination is starting to move through the Senate.
In the meantime, key senators have said their final decision on Boggs will be shaped by private conversations they have with Lewis. Senate Majority Leader Harry Reid (D-Nev.), Senate Majority Whip Dick Durbin (D-Ill.) and Feinstein are among them, though Reid has already said flatly that he opposes Boggs and hinted that he may not even let him get a floor vote. Durbin and Feinstein have also raised concerns with him.
The Congressional Black Caucus has also signaled opposition to Boggs. Last Thursday, the group sent a letter to Reid -- with Lewis' name featured in the masthead -- thanking him for stating publicly that he won't support him.
"In December, Revs. CT Vivian and Joe Lowery led a large group of civil rights leaders, including Rep. John Lewis, at Martin Luther King Jr.'s church to blast the nomination of Michael Boggs to a lifetime appointment. I proudly shared a stage with these leaders and have learned that Boggs' record is worse than we thought at the time," Scott said. "I beg Sen. Feinstein to ask civil rights leaders, black bar associations, the Leadership Council on Civil Rights, the NAACP, the Congressional Black Caucus, and other strong leaders in the black community their view of Boggs' nomination."
Scott said the entire Democratic Georgia House delegation met with the White House last year to share their concerns about Boggs, and he warned Feinstein that whatever she is being told "in secret" about Boggs' record is not reflective of how Georgia's black community feels about him.
"In 2001 and 2003, Boggs voted to keep the flag of Jim Crow and the KKK as the state flag. That flag was created in 1956 as a protest to integration," he said. "Boggs had a black constituency of nearly 30 percent at the time of these multiple votes for the Old South. White and Black legislators fought to change the flag and bring Georgia to the modern era."
Feinstein's hedging on Boggs is notable given her role on the Senate Judiciary Committee, which is likely to vote on Boggs in the coming weeks. Democrats on the panel grilled Boggs for more than two hours during his hearing last week, but no member of the committee has yet to firmly state they would vote against him.
Scott said of Feinstein, "I beg her, as someone who fought to change that flag for nearly 30 years, to not force a backwards nominee on our diverse state."
Before You Go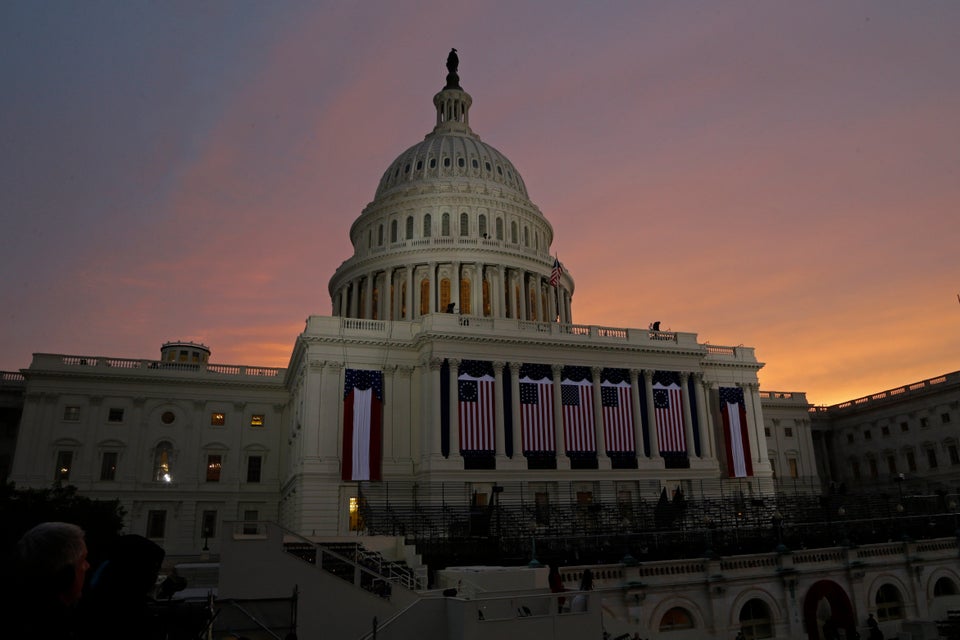 U.S. Capitol Photos
Popular in the Community