The Obama administration's drug czar admitted Wednesday that locking people up won't keep them from using drugs, but he stopped short of renouncing punitive policies that have made America's long war on drugs widely unpopular.
Michael Botticelli, head of the Obama administration's Office of National Drug Control Policy, said in a post on the White House website that the government's new drug control strategy "rejects the notion that we can arrest and incarcerate our way out of the nation's drug problem. Instead, it builds on decades of research demonstrating that while law enforcement should always remain a vital piece to protecting public safety, addiction is a brain disorder -- one that can be prevented and treated, and from which people recover."
It's a striking piece of rhetoric for someone in Botticelli's position, though not a risky one, given that about three-fourths of Americans say the war on drugs has been a failure.
The strategy, released Wednesday, calls for reforms that would move the government's drug-control efforts from the police precinct and courtroom to the treatment center. According to a report outlining the strategy, the administration supports "alternatives to incarceration," like drug courts, where judges can send defendants to rehabilitation clinics instead of prison. It endorses needle-exchange programs, which supply clean syringes to people who inject heroin -- an attempt to slow the spread of HIV and hepatitis C. And it provides funding to states trying to help former prisoners find work and get on with their lives.
But some advocates for drug policy reforms said the efforts don't go far enough. Bill Piper, director of national affairs for the Drug Policy Alliance, pointed to the administration's continuing commitment to the strong-armed tactics of the drug war, like cracking down on drug smugglers in the Caribbean, working with the Colombian government to wipe out coca crops, and shutting down domestic meth labs.
Last year, Congress and the White House allocated $25 billion to drug control, with more than one-third going to domestic law enforcement.
"Until the drug czar says it is time to stop arresting people for drug use, he is not treating drug use as a health issue, no matter what he says," Piper said. "I know of no other health issue in which people are thrown in jail if they don't get better."
The marijuana reform group Marijuana Policy Project chastised the report's references to marijuana, describing the new policy as "staying the course" on pot prohibition with a focus on punishing adult users, often with racial bias.
Mason Tvert, Marijuana Policy Project communications director, criticized a section of the report that portrays marijuana cultivation on public land as a threat to wildlife. "The drug czar's office is clutching at straws to maintain a negative image of marijuana," he said.
Government officials "completely fail to acknowledge" that replacing marijuana prohibition with regulated system would essentially eliminate illegal pot cultivation, Tvert argued. "There's a reason why we don't see illegal commercial whiskey stills and brewing operations being conducted in remote areas of national forests."
The report barely mentions the legalization of marijuana by voters in Colorado and Washington state in 2012. A day after Washington opened its first legal pot shops, the administration suggested legalization is a "serious challenge" and may encourage young people to smoke pot.
The report notes a "troubling increase" in the number of people using heroin, a trend often attributed to widespread availability of opioid painkillers like OxyContin. The administration has responded, in part, by supporting laws that offer legal protection to people who call 911 to seek help for overdose victims, and by backing greater access to naloxone, an inexpensive antidote that can save people who have overdosed.
Jacqueline Corbally, who oversees Vermont's efforts to provide treatment services for people with addictions, is among those who applaud the administration's approach. In recent years, Vermont has seen opiate and heroin overdoses soar. But the state has embraced progressive policies focused on treating and preventing addiction. "To see the president emphasize prevention over incarceration, we were really excited about that," Corbally said. "The energy we spend on prevention can very much have a positive effect."
States have eased spending on punishing people for drug crimes in favor of treating them for addictions. Some, including Texas, have shuttered whole prisons. At the federal level, Attorney General Eric Holder has repeatedly criticized the government's sentencing policies, and the Senate is weighing the Smarter Sentencing Act, a bipartisan bill that would lighten tough mandatory punishments for certain drug crimes. The administration commends these efforts in the new report, contending that many have "already have many met with great success."
In his blog post, Botticelli noted that a new rule made possible by the Affordable Care Act will require health insurers to treat substance disorders like any other chronic disease, potentially expanding coverage to millions of Americans.
"The plan we released today calls on healthcare providers to prevent and treat addictive disorders just like they would treat any other chronic disorder, like diabetes or heart disease," Botticelli wrote. "It calls on law enforcement, courts, and doctors to collaborate with each other to treat addiction as a public health issue, not a crime."
Before You Go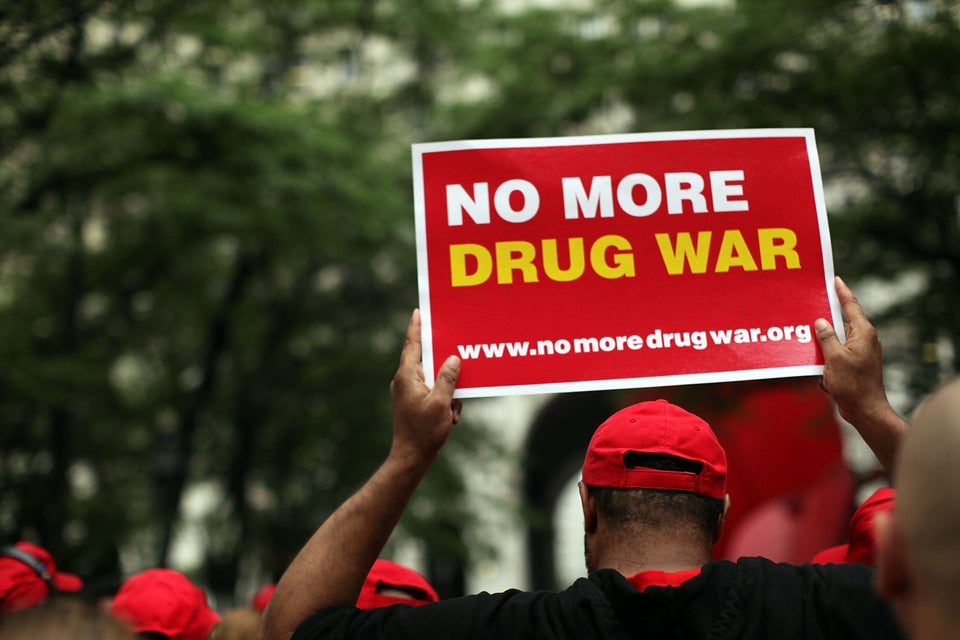 27 Reasons Why The U.S. Shouldn't Lead The War On Drugs
Popular in the Community