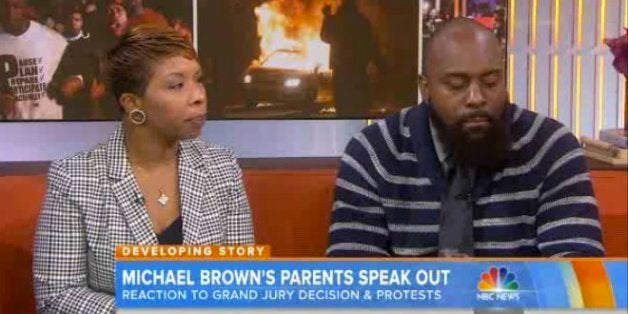 Lesley McSpadden and Michael Brown Sr. appeared on NBC's "TODAY" show on Wednesday morning to discuss the grand jury decision not to indict police officer Darren Wilson for the death of their son Michael Brown.
McSpadden described the last 36 hours as "sleepless, very hard, heartbreaking and unbelievable."
Brown Sr. said he had not watched Darren Wilson's first interview with ABC's George Stephanopoulos yet, but said his story sounded unbelievable.
"Who in their right mind would rush or charge at a police officer?" he asked. "It sounds crazy."
In his interview with Stephanopoulos, Wilson said he believed he acted professionally during the deadly encounter with unarmed Michael Brown, and that his conscience was clear.
"I just did my job," he said. "I did what I was paid to do and that was my job. I followed my training, the training took over, the training led me to what happened. I maintained the integrity of this investigation, and that's it."
Watch the interview with Michael Brown's parents below:
Calling all HuffPost superfans!
Sign up for membership to become a founding member and help shape HuffPost's next chapter