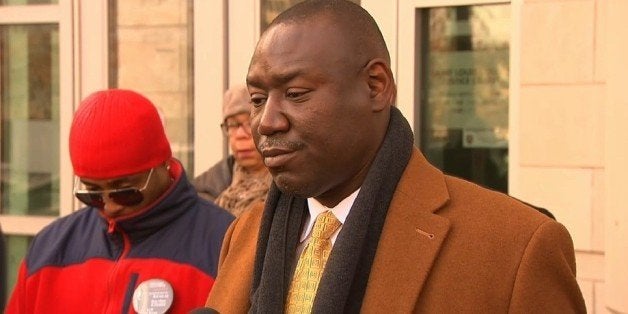 The family attorneys of slain teenager Michael Brown held a live news conference Thursday morning to discuss new developments in Ferguson, Missouri related to the grand jury decision on Brown's death, which is expected to come as soon as this weekend.
Attorneys Benjamin Crump and Anthony Gray also shared the latest information from a private autopsy performed on Brown's body by Dr. Michael Baden, who testified before the grand jury Thursday.
"The only thing that Dr. Baden had wished to express to [Brown's] parents is that in his preliminary autopsy, he had not been able to determine the shots to the chest -- whether they were re-entry or entry wounds," Crump said at the news conference.
"He was [now] able to confirm that there was an additional entry wound into his chest and that it was not a re-entry wound," Crump added.
Crump declined to share additional information or say what, if anything, Baden's findings implied, saying that the pathologist had expressed a wish for the substance of his testimony not to be discussed.
As for the attorneys' assessment on the fatal shooting of Brown by police officer Darren Wilson, both Crump and Gray -- along with Brown's family and many members of the community -- believe that there is enough probable cause to charge Wilson in killing the unarmed teenager.
A grand jury is currently reviewing the case and is expected to announce a decision in a matter of days on whether Wilson will face criminal charges.
However, the Brown family's attorneys said that because of the opaque nature of the grand jury, which meets in secret, there are some doubts in the community about whether the trial is proceeding fairly.
"There's a great concern that because of this secret proceeding, that people will not be so accepting of whatever decision the grand jury will make," said Gray.
The fatal shooting took place on Aug. 9 and immediately sparked a long series of protests in Ferguson, some of which turned violent and prompted the arrival of the National Guard.
However, Brown's parents and family attorneys encouraged protesters to remain peaceful while practicing their First Amendment rights.
"The Brown family sends a passionate plea this morning to law enforcement and to those that support justice for Mike Brown Jr. to allow cooler heads to prevail in times of adversity," Gray said on Thursday.
"Regardless of the decision of the grand jury, it will be a defining moment in the history of Missouri."

REAL LIFE. REAL NEWS. REAL VOICES.
Help us tell more of the stories that matter from voices that too often remain unheard.
BEFORE YOU GO