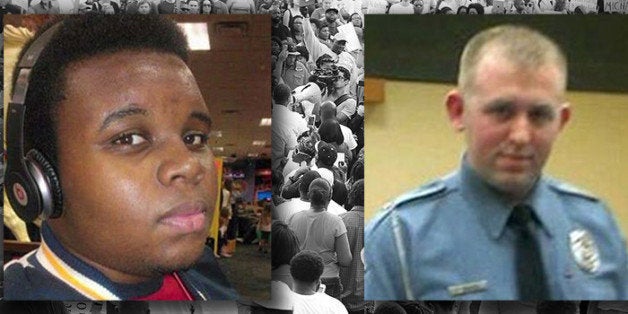 More than three months after the death of Michael Brown, a grand jury decided not to indict Officer Darren Wilson, who fatally shot the unarmed black teenager on Aug. 9.
On that summer day and for many weeks after, the Ferguson, Missouri, community had erupted in protests, both peaceful and sometimes violent, that were heard around the nation. On Monday and Tuesday nights, protests (again, some violent) drew heavy media attention, leaving no escape from the reality of more racially charged conflict around a young man's death.
Here are a few numbers, some that might have foreshadowed the latest protests and others that show the power of people's despair:


The number of people arrested during the demonstrations Monday night. A related note: 44, the number of people arrested Tuesday night.

The number of times out of 162,000 that federal grand juries declined to return an indictment in 2010, the most recent year for which data are available. Granted, the grand jury that didn't indict Wilson was not federal, and federal grand juries rarely consider cases against police officers, but the figure is suggestive of how often prosecutors obtain an indictment when they want to.

Roughly the number of witnesses who testified before the Ferguson grand jury. A related note: 70, the number of hours the grand jury convened.

The number of minutes St. Louis County Prosecuting Attorney Robert McCulloch got into his 20-minute statement about the grand jury's decision before protests began.

The number of minutes Brown's parents asked the public to remain silent in remembrance of their son following the announcement of the grand jury's decision. The figure represents the number of hours that Brown's body reportedly was left lying on the ground before police finally took him away.

The number of National Guard troops that Missouri Gov. Jay Nixon (D) ordered out Tuesday following the previous night's protests. This is more than three times the number of troops deployed a week prior to the jury's announcement.

The number of buildings in Ferguson that were burned during protests the night of the grand jury announcement.

The number of shots fired from Wilson's gun. Wilson reportedly had only one bullet left in his weapon.

The number of black male teens who were fatally shot by a police officer for every one white male teen from 2010 to 2012.
HuffPost's Braden Goyette, Jenna Amatulli, Nick Wing, Alana Horowitz and Sam Stein contributed to this report.

More On Ferguson From HuffPost:
Photographic Evidence Reveals | 'First Year Law Student Could Have Done Better Job' | 61 Arrested | Ferguson Smolders After Night Of Fires | Protest Locations | Americans Deeply Divided | Police Chief: 'Worse Than The Worst Night We Had In August' | What You Can Do | Darren Wilson Interview | Darren Wilson Could Still Face Consequences | Timeline | Students Protest | Photos Of Darren Wilson's Injuries Released | Shooting Witness Admitted Racism In Journal | Peaceful Responses Show The U.S. At Its Best | Reactions To Ferguson Decision | Prosecutor Gives Bizarre Press Conference | Notable Black Figures React | Jury Witness: 'By The Time I Saw His Hands In The Air, He Got Shot' | Thousands Protest Nationwide |
Popular in the Community