ST. LOUIS, Nov 16 (Reuters) - A crowd of a couple hundred demonstrators, angry about the fatal August shooting of an unarmed black teenager by a white police officer, took to the streets of St. Louis on Sunday, briefly blocking a major intersection in protest.
Dozens of people lay down in the street outside of a downtown theater hosting a film festival, pretending to have been shot by other protests playing the role of police officers in an action intended to evoke the memory of 18-year-old Michael Brown, who died 100 days ago in front of his home in the suburb of Ferguson, Missouri.
Marchers went on to briefly block a major intersection near Washington University and the event ended without any of the violence that seen in Ferguson following Brown's shooting death by police officer Darren Wilson.
"This is a mature movement. It is a different movement that it was in August. Then it just had anger, justifiable anger," said DeRay McKesson, a 29-year-old protest leader, as a wet snow fell on the city. "Now we are organized. We are strategizing. And we are going to bring our message to the power structure."
A grand jury, sitting in the county seat of Clayton, Missouri, is currently deliberating whether to bring criminal charges against Wilson. Many residents and officials in the region fear another wave of rioting similar to the one in August that led to the burning out of multiple businesses in Ferguson could result if the grand jury decides not to charge Wilson.
"We are bracing for that possibility. That is what many people are expecting. The entire community is going to be upset," if Wilson is not indicted, said Jose Chavez, 46, a leader of the local Latinos en Axion group.
There have been conflicting witness accounts of the shooting, with some saying that Brown had his hands up in surrender while and others have described it as a struggle between Brown and Wilson.
Ferguson and its surroundings have been fairly quiet the last few days as both police and protests plan their response to the grand jury's report.
"We've decided not to wait for that decision. We've decided to get started," said Rockit Ali, a 22-year-old organizer of Sunday's demonstration, who marched in a Spider-Man mask.
While Sunday's event had been planned as a nonviolent action, Ali said that violence could not be ruled out if the grand jury finds Wilson without fault.
"Rioting and looting are the tools of those without a voice. The rioting and looting, while I didn't participate in it, was necessary. Without it we would not be standing here today," Ali said. "There is no revolution without violence." (Reporting by Scott Malone Editing by W Simon)

Before You Go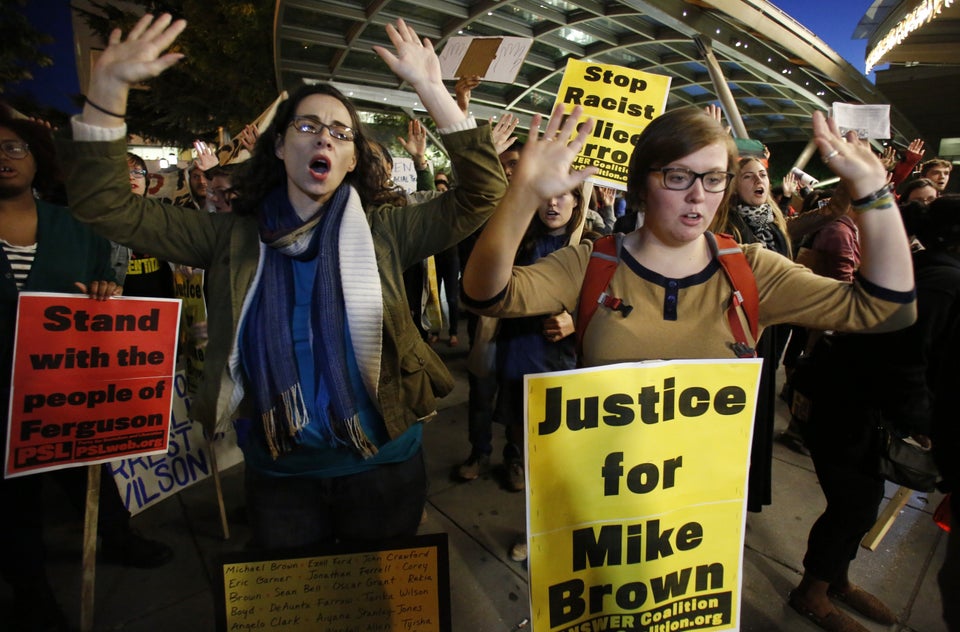 Ferguson
Popular in the Community