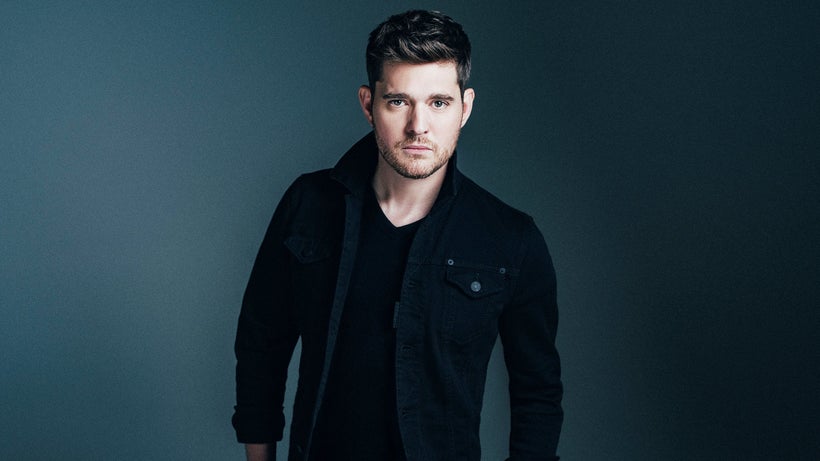 Michael Bublé is the ultimate family man. As Bublé takes a break from the music industry to focus on caring for his son Noah, he left music fans a gift entitled Nobody But Me. The album is one of the best things to happen in 2016. Before Bublé took a leave of absence, I had the opportunity to chat with the smooth crooner about his latest effort.
When asked about what he was feeling when he released Nobody But Me, Bublé told me, "I think I'm relieved. It's my third baby. This record was so personal. There was so much at stake for me because of the fact that it was so personal. You know, what I really wanted was to show growth. I wanted to give the fans something special. I felt like that something special was honesty and being earnest. Making the standards more authentic than they have ever been. Making sure I was writing songs that were stronger than they have ever been before. The fact is that there are more original songs on this record than I ever had before. It's just really fulfilling to have produced it and to have been such a part of the organic makeup. It means a lot to me." In support of the delightful new album, Bublé had the opportunity to create a music video for the title track that is completely charming and spirited.
Bublé went into great detail about his creative process behind the music video for "Nobody But Me." The singer said, "I think for me there was a lot of fun coming up with the concept. I was actually driving with a bud of mine to go play golf and the conversation sort of came up with one of the artistic directors from Warner Brothers. He said, 'You know, what do you think? Maybe you're in Brooklyn, walking outside on the street.' And I just thought, 'God, that's been done before.' And I don't know why the idea popped in my head but I said, 'Do you remember that game show that they air reruns of that was on in the 70's? The Dating Game? Has anyone ever done that concept before in a music video? How cool would it be to get a beautiful girl to be a bachelorette and I can be all 3 bachelors? These caricatures. The beatnik, the '70's nerd, the Ron Burgundy-esqe, Mr. Cool, character with a big ego.' Then it came together very, very quickly. That was a lot of fun. Then of course getting to go there and getting into these characters. I was just laughing at myself. I really was." When asked about the turnaround time for putting the video together, Bublé said, "It was about close to a 24 hour day. That's all I had for time. I know I came into Toronto from New York the night before. I got up very, very early in the morning and shot all of my stuff." Always the charmer, Bublé was sure to give props to another person who was helpful on the set of the shoot. "The director was really lovely too. He was open to everything. He was really easy to work with," he said. Bublé also had lovely words for Meghan Trainor. The two did an uplifting duet called "Someday" for Nobody But Me.
"It was such a joy working with her. In this business you're disappointed by so many of your peers. You know, you have high hopes for people and you put them on a pedestal and sometimes it's hard for them not to disappoint you. With Meghan, she was just better than I could have ever expected. She is a great person and just an incredibly talented human being," Bublé smiled. He continued, "I think it's refreshing too because it's all happening for her. You can see and feel the excitement. That sense of hope. That the future is bright. It actually made me sentimental in some ways because it made me think back to earlier in my career." One of the more recent highlights of Bublé's career was recording the song "Today Is Yesterday's Tomorrow." Bublé said, "I think that's my favorite song on the record. You know, listen...The world is a scary place right now. I love that my job is to bring joy and to allow people to escape. I love a song like that because it's hopeful and it's saying to live in the moment. Life goes by pretty fast so you have to stop and smell the flowers once in a while." Bublé is a guy who likes to recognize those who have made an impact on his own life. When asked about some of his early influences, the Canadian singer went into a deep and complex thought.
"It's so subjective. There are people that I respect so deeply like the producer David Foster. He would always say to me, 'You know, Mike. You're going to have a long career. You have something substantial here. There's a market there that nobody could do it the way that you are doing it and you are going to be okay.' But I don't think I ever believed it," Bublé took a second to pause. He continued, "I think I always thought I was only as good as my last record. Only as good as my last show. And that if I wanted to have the honor of having a long career that it was something that I would have to earn everyday. I still feel that way. You are only as good as your last show." Bublé then realized why Nobody But Me was so important to him. "That's why this record was so huge. I think the word safe is a good word. I didn't want to make safe decisions. I wanted to make the best decisions. Obviously, producing my own record was not safe. And writing with different groups of people and meeting with Max Martin and Johan Carlsson. All of those things took me out of my comfort zone. But when the process was over it was very much like going to the gym. It hurt sometimes and it wasn't always fun. Sometimes it was tough. But when you leave there is a sense of fulfillment. And enjoying the fact that you did it. A sense of pride," he told me. The talented singer almost made me want to sign up for a membership at Crunch Fitness. Bublé had such a compelling way with words. He followed up by saying, "I think it's a risk to be honest too. When I sing a song like 'God Only Knows,' I turn the lights off in the studio and I go over to a picture of my two kids. When I sing the song, it's with complete honesty. You're quite exposed when you release an album. It's not just some song. It's a very personal thing that you'll be judged on and it could be a little nerve-racking to be exposed in that way." If Michael Bublé was judged just based on his pure talent, many would consider him to be head of the class.
Another top class singer that gets a lot of love is Frank Sinatra. When asked what his favorite song is, Bublé told me, "I think, probably one of my favorite songs is 'This Love Of Mine.' It's an old Frank Sinatra classic. I always thought it was really romantic and beautiful. I thought it had a complicated chord structure and beautiful lyrics. I always thought it was a tender and beautiful song." I inquired what he thought about getting comparisons to a young Sinatra. Without missing a beat, Bublé glowed, "There's no bigger honor than to be compared to one of the greatest singers and entertainers of all time." When the subject of possibly bringing his brand of entertainment to a movie screen or a Broadway stage came up, Bublé had a beautiful and caring answer. "It becomes a much more difficult thing when it comes to scheduling. When I put out a record I feel like I owe people all over the world who invested in me when they went out and purchased an album. I owe them by going to their backyard and being tangible. Not just being a picture on a billboard. Or a guy on a television commercial or somebody you download on iTunes. I like the fact that it's tangible. I show up and we have a genuine connection. And if I go and do a movie or a Broadway play it means that instead of me going to 47 countries I'm gonna go to 30. And I don't know if that's a decision that I want to make right now," he told me. He then had another light bulb moment. "Accessible. That's a good word. I think that's the word I was searching for," Bublé let out a gigantic laugh.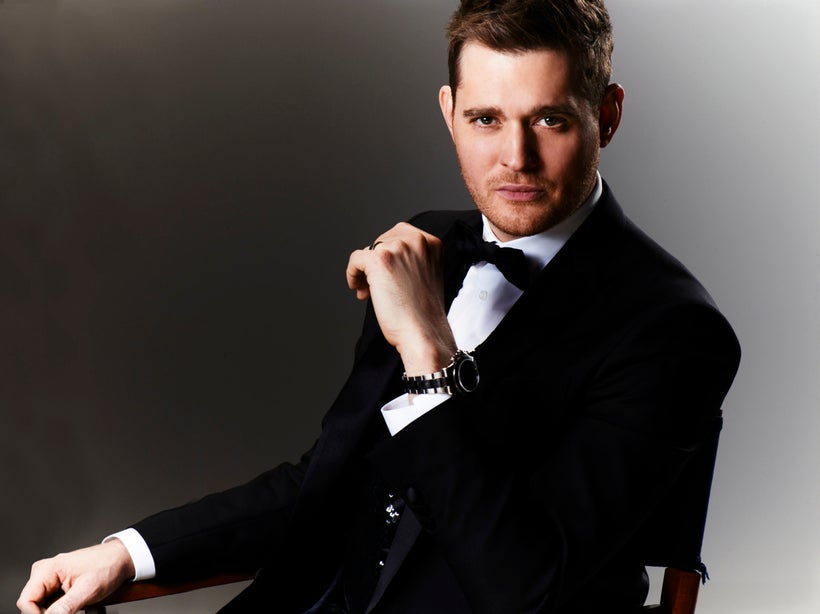 At this point in time, it was clear as day that Michael Bublé was one of the most genuine people I ever had the pleasure of talking to. When I asked Bublé about his extensive volunteer work, he told me, "There's so many different ways to give back. A lot of children's charities. I am an ambassador for the Children's Hospital in Canada. I also own a dog food company called DOG for DOG. Basically what we do is that there are a lot of dogs who wind up euthanized in pounds everywhere because they can't afford to feed them. What we do is when you come in and buy a bag of our dog food, we donate whatever you spent to all the local shelters." The singer quickly followed up by saying, "For me, it's a lovely thing to show up and give your time. To show up for something like Muhammad Ali's Parkinson's event. But sometimes it's important to open up your wallet and put your money where your mouth is. I don't speak about those things because I don't think it's charity if you are doing it for a reason. You're doing it for the adulation. You know...I believe the more you give, the more you get." Bublé's sentiment was a perfect match for the most wonderful time of the year.
As December is around the corner, people all over the world are getting ready to play their favorite Michael Bublé Christmas CDs. When asked why the holidays mean so much to him, Bublé smiled, "I think the holidays are important to a lot of people. For me, it's more about the fact that I've been invited to people's homes all over the world at such a personal moment in a tradition that means so much to families. That always meant a lot to me. I've always been very proud that I've been invited into a tradition that means so much to so many." Bublé then had a message for all of his fans that supported him over the years. "Honestly, I want them to know that I appreciate them so much. I can never give them as much joy as they have brought me." I couldn't help but ask about the happy moments that he had with his family. Bublé beamed with excitement when he told me that he learned a new language in honor of his wife.
"Oh God. I speak Spanish now. One phrase that I use all the time is 'Tengo hambre,' which means 'I'm hungry.' And the other is 'te amo.' It means, 'I love you.' Listen, do I have perfect pronunciation and is my conjugation perfect? No. But I can carry a conversation." Before I let Michael go, I asked him the ultimate question: Why is family important to him?
"I think it gives you a great sense of perspective to understand what's important is important. We all struggle in our lives and how to define ourselves. I used to define myself by what I do. But I don't now. I define myself by who I am as opposed to what I do. My family is everything to me."
REAL LIFE. REAL NEWS. REAL VOICES.
Help us tell more of the stories that matter from voices that too often remain unheard.
This post was published on the now-closed HuffPost Contributor platform. Contributors control their own work and posted freely to our site. If you need to flag this entry as abusive,
send us an email
.