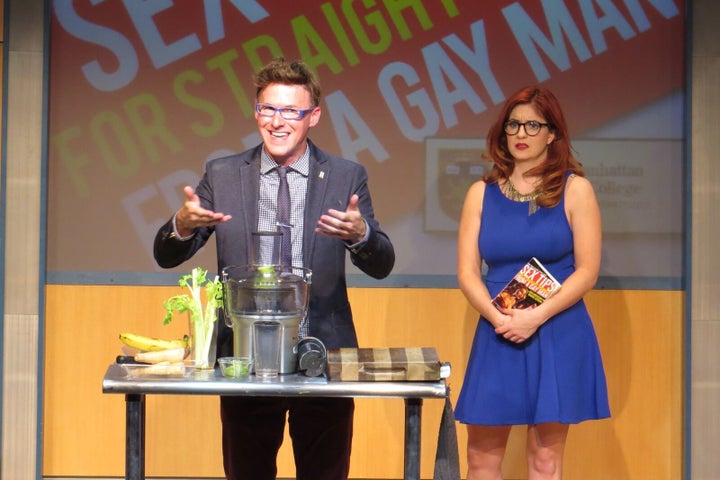 "I am really grateful for the opportunity to be on stage again," the self-professed "theater geek," whose quick-witted, zany pop culture observations have made his YouTube videos must-see weekly viewing, told The Huffington Post. "I never wanted to say it out loud, because, in a way, I was too nervous to put it out to the universe." 
In the three-character comedy, which is based on the book of the same name, a gay man (played by Buckley) shares lovemaking tips with a hapless straight woman ("That's So Raven" star Anneliese van der Pol). Adding additional titillation to the audience-participatory act is a hunky, Eastern European stage assistant (Mat Leonard). 
Now in the middle of his four-night New York run, Buckley took time off from his performance schedule to chat with The Huffington Post about his off-Broadway debut, an opening night wardrobe malfunction and, of course, sex tips.
What's the best sex advice you've personally ever given a straight woman?
I tell all my married friends; you just have to do it. The more sex you have, the more sex you want. And if he/she is not getting it from you, he/she is likely getting it from someone else, or is wildly addicted to pornography. I never understand when people say they have not had sex with their spouse in years! If you are both asexual, by all means enjoy that, but most people want sex! People often say they don't feel connected to their partner so they do not want to have sex. They need to realize having sex is a great way to connect. I know people love spontaneous sex, but it does not hurt to put it on the To-Do list sometimes!
When it came to making your off-Broadway stage debut, why did "Sex Tips" feel like a good match? 
I am playing a gay man and the setting is a book club. I am not doing Shakespeare, so I thought this was a good way to tip my toe back into the theater without freaking myself out. I read the script and thought it was funny and trusted that I could be funny in the role.
It seems like someone with your following would be offered other stage roles. Has acting been something you've been want to do for a while? 
Being a YouTuber kinda derails you from many of your previous dreams and you have to make sure you go back and remember all the other things you wanted to do too! I would love to do more theater and have one man shows I have been working on for years that I would love to do in New York!
For fans of your Internet persona, how much of the "Buck Hollywood" they know and love makes its way into your character in the show?
(laughs) I kept asking the director and writer if they wanted me to be "gayer." I feel they definitely gave me permission to bring as much of myself to the role as I wanted. The character of Dan reminds me of me in that he is very joy-filled and really wants to make people's lives better -- in his case, by offering sex tips. But yes, it is plenty of me, certainly camped up for the stage!
Your pants split opening night. How does one recover from this type of wardrobe malfunction?
You're halfway through your New York run. What's the most important lesson you've learned so far?
Just keep going! People are paying to see it. It is not a YouTube video where you can click on and click off. They have paid. They are sitting there. I see their faces wanting to be entertained, and I am determined to entertain them!
How much of a theater queen is Michael Buckley? Can we look forward to seeing more of you onstage moving forward?
Yes, I am a total theater geek!  I mean, I can throw down with anyone on Broadway trivia! I know most every cast album word for word. I could pretty much do a one-man "Next to Normal," "Sweeney Todd," "Evita," "Into the Woods," "If/Then," "Aspects of Love," "Chess," "Avenue Q"…anything you want! Haha!
 I have been known to invite people over and just read Patti LuPone's autobiography out loud. All during "Sex Tips" rehearsals, they would often say "Grant, the typical Dan, does it like this," to which I would launch into a monologue from Patti's book about how they need to shut up and if they keep telling me how Elaine Paige does it, I would be able to find how I should do it. It is hilarious to me. No one else seemed amused.
After a long day of rehearsing for "Sex Tips," I like to...
Drink. I am well known to enjoy a cocktail. But, if I am being honest, I had such little rehearsal, that afterwards I was just home running lines for hours. But now that the show is open, I enjoy a cocktail or six and Anneliese and I ended up at karaoke last Saturday night belting tunes and dancing the night away! It was magical!
Just before I step onstage, I like to...
Pray. I have so much energy that I amp up and then right before I go on, I look up and I ask God and my mother to watch over me and keep my brain clear so I can just enjoy the performance.
The thing that I love most about being in New York in the summertime is...
I love NYC and have always wanted more of a reason to spend time here! The best thing for me is just after the show feeling a total sense of relief and pride that I did it! And then going to the Chelsea Grill and eating and drinking the night away! They have the best Brussels sprouts! And penne ala vodka! And Absolut Pear flavored Vodka! Yum! 
Michael Buckley performs in "Sex Tips for Straight Women from a Gay Man" at New York's 777 Theatre on July 10 and 11, and at the Provincetown Theater from Aug. 3 through 8. Head here for more details.
This interview has been edited for content and length. 
REAL LIFE. REAL NEWS. REAL VOICES.
Help us tell more of the stories that matter from voices that too often remain unheard.