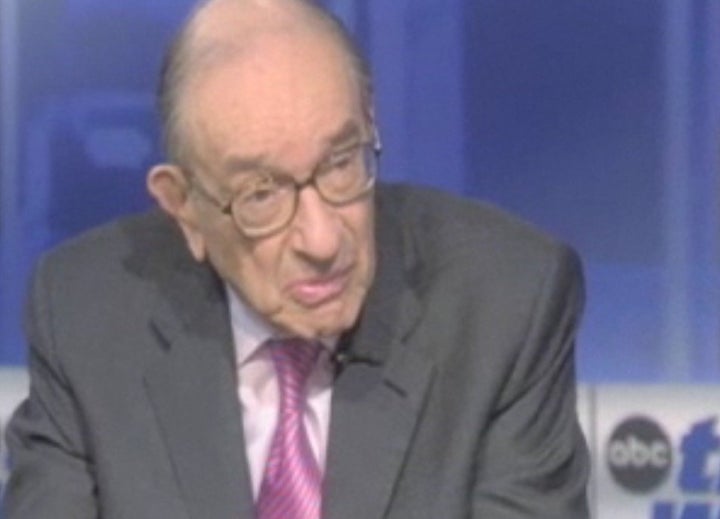 In a New York Times op-ed yesterday, Michael Burry, the reclusive hedge-fund manager profiled in Michael Lewis's best-selling "The Big Short," lambasted former Federal Reserve Chair Alan Greenspan and his colleagues, claiming that they "either willfully or ignorantly aided and abetted the bubble."
Burry, who was trained as a medical doctor and suffers from Aspberger's syndrome, placed huge bets that the subprime market would collapse and helped make his investors many millions.
Greenspan responded to Burry's op-ed in an interview on ABC News's "This Week," where he told Jake Tapper that while almost everyone failed to predict the implosion of the subprime market and while some people predicted it by chance, there was a "very small group, most of whom are my friends, who got it right, for the right reasons." Burry, he said, may well have been one of those people:
"I don't know whether or not he is in that extremely small group... . I know four or five people who are really good. I don't know six, seven, eight or nine."
In an appearance on Bloomberg Television last week, Greenspan insisted that Burry's successful prediction of the subprime crisis was a "statistical illusion."
Burry, for his part, says that Greenspan "should have seen what was coming and offered a sober, apolitical warning."
But that's not what happened. And, peculiarly, in the years since the subprime market imploded, Burry says policymakers have shown little interest in understanding how or why he was able anticipate the timing of the crisis with such accuracy. Rather than a simple dismissal of those who got it right, Burry argues:
"Mr. Greenspan should use his substantial intellect and unsurpassed knowledge of government to ascertain and explain exactly how he and other officials missed the boat. If the mistakes were properly outlined, that might both inform Congress's efforts to improve financial regulation and help keep future Fed chairmen from making the same errors again."
Watch Greenspan discuss Burry in this clip from his appearance on "This Week" yesterday:
Popular in the Community