 Michael Caine and Christopher Nolan have become each others' good luck charms. The pair have collaborated on five films since 2005 -- "Batman Begins," "The Prestige," "The Dark Knight," "Inception" and "The Dark Knight Rises" -- with another outing apparently on the way in the near future. To think, it all began when Nolan, a neighbor of Caine's, arrived at the actor's house with an offer to play Batman's butler.
"I thought that wasn't a very good part," Caine told HuffPost Entertainment in a recent interview. "I'll be saying, 'Dinner is served' and, 'Would you like a coffee?'"
As it turns out, the character of Alfred was anything but a mere butler: Over the course of three Batman films, he acted as father figure and moral compass for Bruce Wayne. In the "Dark Knight Rises," Alfred is the only person looking out for Wayne's survival.
With the Batman franchise over and "The Dark Knight Rises" being mentioned among the year's best films, Caine spoke to HuffPost Entertainment about the trilogy's controversial ending, what it was like when he won his first Oscar for "Hannah and Her Sisters," and what he thinks of this year's Academy Awards race.
"The Dark Knight Rises" is the end of your tenure as Alfred. What did you like most about playing this character?It was a complete surprise to me, because I know in all these big, expensive, blockbuster, special-effects films, they don't really ever write the parts. They're sort of ciphers to get the action going. They're really just there to fill in the space and explain what the next action is going to be. Chris, though, not just with the butler but with everybody, is such a fabulous writer. If you look at the last Batman, for instance, you could take the writing out and make a story out of that without the special effects and stunts. The writing is of such a high standard. Also, his casting: It's an incredible cast. He wants good actors. So for me, when I read the last script, "The Dark Knight Rises," I thought this is the best part for me in all of them.
As an actor, is it hard to keep the same role fresh over the course of three films?It was like one movie with the two characters, Bruce and I, developing a relationship. I got him into the thing, then supported him during the next one and left him when he overdid it in the third. There was a beginning, middle and end to our relationship. It wasn't the same thing each time. And not once did I say, "Dinner is served."
As a matter of fact, last Christmas, Chris sent me a dinner gong as a Christmas present with "dinner is served" engraved on it. At home, now, whenever any meal is ready, I'll come in and go, "Dinner is served." [Laughs] I get a cheap laugh every time.
Well, OK. How about this: What did he tell you on the day you shot that scene?It was just an ordinary day. "You do this, you walk in, have a look around." He said, "I just want you to nod, nothing else." Because earlier I said to Bruce, "I want to see you with a wife and children and all that." I said I won't saying, I'll just nod my head. I said that earlier in the movie and that's exactly what I did at the end. I thought the ending was wonderful.
It's the writing, you know. The thing about Chris is that he's not only a brilliant director. I think he's up there with David Lean, but David Lean couldn't write. He used Robert Bolt to write his scripts.
Nolan gets credit for creating these memorable visuals, but is sometimes underrated for the performances he gets ...That's the point, you see. A lot of critics reviewed "The Dark Knight Rises" as a very good adventure film and completely ignored all the other stuff that's going on, which is an incredibly high standard. For starters, Batman has won an Oscar. And the butler's won two! Gary Oldman was nominated last year. Very often with these big blockbuster stunt films, they haven't got the money to employ really experienced actors. They just write cipher parts that anyone can play. Very unemotional. Especially my lot in the last one. Blimey. It's one of the most emotional parts I've ever played.
How is he as a director?He's wonderful. He's quiet. He's an example of what John Huston once said. I was working with John Huston, I said, "What's the art of directing?" He said, "Casting. If you cast it right you don't have to say anything." [Laughs] That's the sort of thing. If you were on the set as a visitor, you'd have to have someone tell you who's the director. Chris mingles in so much and he's so quiet, you go, "Who the hell is directing this movie?" And it's that guy over there, and you better listen to what he says when he whispers.
You own two Best Supporting Actor Oscars, one for "Hannah and Her Sisters" and one for "Cider House Rules." What do you remember about going through awards season the first time you won?I was completely shocked and surprised because "Hannah and Her Sisters" was made by Woody Allen, who was always very anti-Oscar. He would always say, "I don't give a toss about the Oscars." He was very unenthusiastic about the Oscars. And he was the producer-director. And the film actually came out before the last year's Academy Awards! It came out in January and the Academy Awards were in February for last year's films. Because mine was in January, it was for next year. There was no campaign for me or anything. I didn't know I was going to get nominated. No one ever mentioned the Oscar to me until the nominations came out. I was already signed to do a movie: I was in "Jaws: The Revenge." I had a little part. I was down in Nassau, Bahamas for a week. And, of course, that was the bloody week when the Academy Awards were on, so I wasn't even there. The whole thing came right out of the blue, you know? You cannot be further away than the month before last year's Oscars, and yet they still remember you for a picture with a director who denigrates the Oscars 24-hours a day?
Not being there, what was Oscar night like for you?It was terrible! I was in a hotel suite, and in those days you had to wriggle the bloody aerial on the top of the television to get a picture. My wife and my daughter, who were in Los Angeles at Swifty Lazar's party, rang me immediately [when I won], because the television was a blank screen. So that was that.
The second one, for "Cider House Rules," I was there. It was fabulous. I was so pleased, because I was there and got to give a speech. I had a lot of fun with the other guys [Michael Clarke Duncan, Haley Joel Osment, Jude Law and Tom Cruise were the other nominees]. It was great. Dick Zanuck was producing it. He didn't play the music to cut me off. At least I was getting some laughs, so it was OK. I thoroughly enjoyed the whole evening.
Have you given any thought to being nominated for Best Supporting Actor this year?You don't think about getting nominated. They either do it or you don't. There's nothing you could do. I'm looking for people I could pay off, but I can't find any. [Laughs] So you just wait. It's like I said with "Hannah and Her Sisters," that's really out of the blue. At least people have seen "The Dark Knight Rises." So it would be there with a chance, but there's nothing you can do about it. You just leave it in the lap of the members. I'm one of the members, so I'm voting for me. I'll tell you that.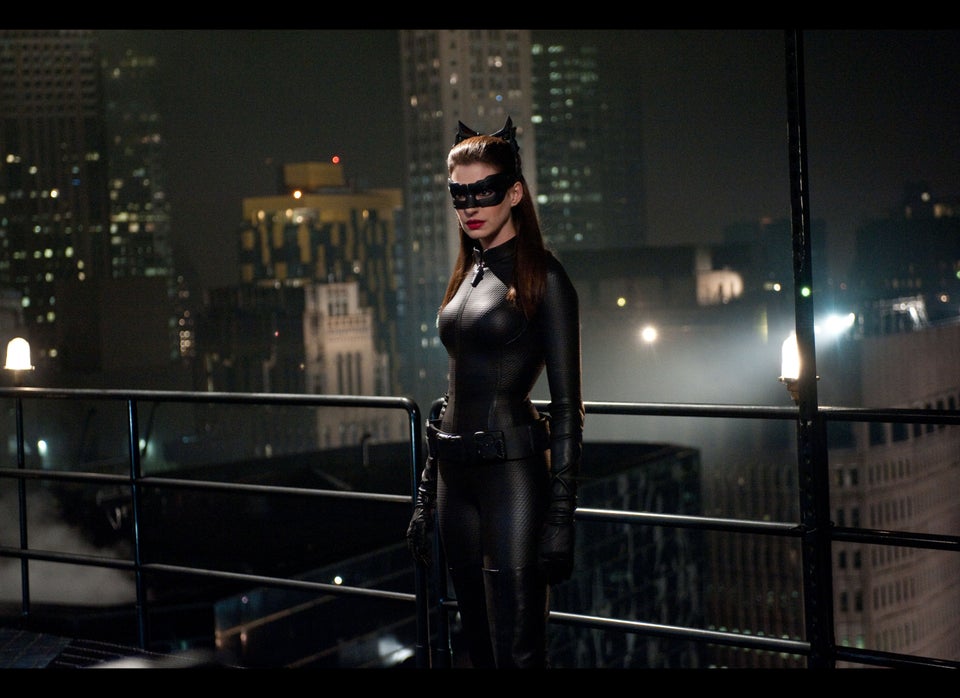 'Dark Knight Rises' Photos
Popular in the Community