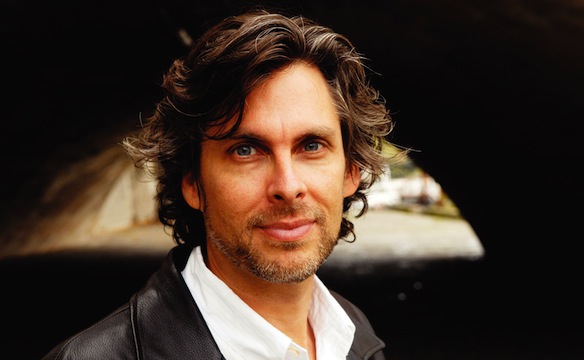 Photo courtesy of HarperCollins
A writer walks into a room full of rabbis.This sounds like the beginning of a joke, but it's not. In the words of Woody Allen's "Broadway Danny Rose," "It's the emes." The Central Conference of American Rabbis (CCAR) held the Reform movement's annual rabbinical convention March 3-6 in Long Beach, and novelist and essayist Michael Chabon was this year's Jacob Rader Marcus lecturer. He spoke on the topic "Shaping Jewish Narrative" with Rabbi Yoel Kahn who, not coincidentally, was the rabbi who married Chabon and his wife, author Ayelet Waldman. All of which raises the question: How is a novelist like a Reform rabbi?
Before the crowded room of gregarious, well-read rabbis from around the country, Kahn asked Chabon to narrate his own Jewish coming-of-age. When Chabon was 8, his family moved to Columbia, Md., a new planned community developed by James Rouse that sought to be a model for the city and the community of the future -- fully integrated and harmonious in all aspects. It even included an interfaith spiritual center shared by several religious denominations, including Chabon's own congregation, which practiced what he called a "guitar-strumming" Reform Judaism called "Innovative Judaism."
Chabon's loss of innocence occurred at age 11, when his parents announced their separation and eventual divorce, a completely unexpected event that caused, he said, "the scales to fall from my eyes."
Growing up, the sound of Yiddish was familiar. His grandparents belonged to a Conservative synagogue in Silver Springs, Md., which he attended on several occasions, and where they prayed, he recalled, in a "pickled-herring type of Hebrew -- lots of bones in it" in a service that was heavy -- not only because of its five-hour, endless-seeming plodding pace, but also because he knew there was meaning there that he couldn't yet grasp. Nevertheless after his bar mitzvah, Chabon drifted away from Judaism.
In his 20s, he said, he found himself adrift. A first marriage to a non-Jewish woman had ended. Although they'd had no children, they had fought constantly about how they would raise them. She challenged him about why he felt so strongly about his Jewish identity when he had little to no Jewish content in his life. Forced to give what Chabon called, "The Tevye answer" of "tradition," he found himself wondering what did matter to him about Judaism. And so, he said, "I began to reconnect."
Then Chabon met Waldman, and, yes, she was Jewish, but her father was a secular Trotskyist Zionist who worked on a kibbutz and had contempt for any religious practice. So, together the pair searched for what was meaningful for them, which led them, as San Francisco residents, to Rabbi Kahn's congregation.
At the same time, Chabon explained, he was also feeling equally adrift as a writer. He was publishing New Yorker-acceptable short stories, but he felt that form limited his expression of all that he enjoyed as a reader -- which was all sorts of genre fiction. Chabon decided that his writing should better reflect his passions and who he was.
The Amazing Adventures of Kavalier & Clay, his Pulitzer Prize-winning novel, is about two comic book creators, one of them a Holocaust survivor; it tells the story of their lives, loves, success and tragedies, and it became, for Chabon, a vehicle for embracing his interests and expressing parts of who he was. He followed up with three more novels, The Final Solution, The Yiddish Policemen's Union and Gentlemen of the Road, all of them mixing genre elements with Jewish characters and themes in new ways.
Nonetheless, Chabon said the "unapologetic Jewish stance" in his writing is only possible because he is what he called a "post-Rothian" writer, not breaking ground the way Roth or others Jewish writers of prior generations had to do.
"I benefit from the struggles of my parents and grandparents. They did all the hard work," Chabon said.
Asked how he expects his own children will connect to Judaism, Chabon said he is curious to see what they will adopt and make their own. Asked what he struggles most with as a Jew, Chabon answered that it is "the incredible black eye that fundamentalists are giving every religion," and that fundamentalists will make all religions seem tainted to his children and their generation.
In discussing how he shapes his narratives, Chabon explained that often one must decide whether to supply a lot of explanation and set things in context, or to plunge the reader right into a world and explain by means of the main character's point of view -- to reveal information to the reader only as the character learns about the world.
As it turns out, the challenge for the Reform rabbi is similar, Kahn remarked, in deciding how best to explain the context of Judaism and Jewish history while attempting to address a congregant's own point of view on the world, and in so doing, shaping the narrative of Judaism for the future.
Chabon has found a way to meld his writing self with his Jewish self to forge a new narrative. And for as long as there have been American Reform rabbis, they have tried to shape the story of contemporary Judaism. As was clear from Chabon and Kahn's conversation, both the Reform rabbi and the Jewish American novelist are engaged in the search for authentic expression of self as well as a continuity of Jewish identity.
There is, however, one important distinction: Only the novelist gets to play at being God.
Related
Popular in the Community