Future Emmys co-host and "Saturday Night Live" star Michael Che defended Louis C.K.'s return to the stage after he admitted to masturbating in front of multiple female comedians without their consent.
Che had a different response on Instagram on Tuesday night, according to screenshots of his posts shared by New York Times reporter Sopan Deb, dismissing resistance to Louis C.K.'s attempt to come back — which Che said is one of the reasons he no longer has a Twitter account.
The Weekend Update co-anchor took issue in particular with journalist Megan Garber's piece published by The Atlantic on Tuesday, "Louis C.K. and the Men Who Keep Getting What They Want."
"the one thing I do love/miss about twitter is seeing megan freakout about the world still turning," Che wrote in his now-deleted Instagram Story. "'omg! can you believe that guy went on with his life?!' yes, megan. i can."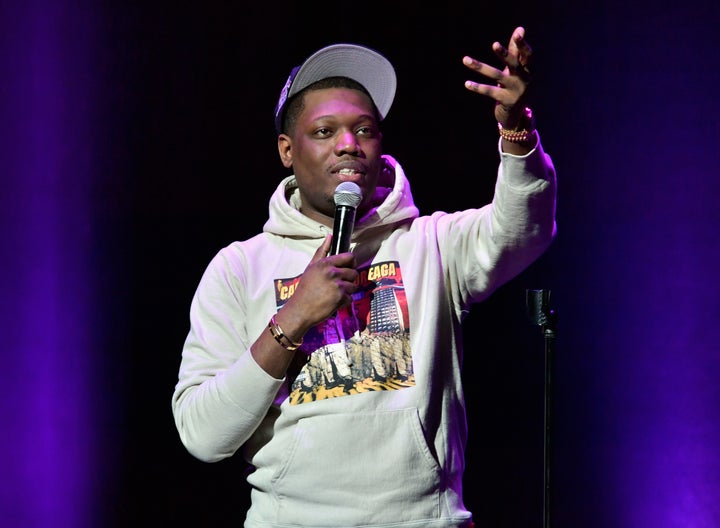 Che posited that our culture's obsession with fame and celebrity somehow underpin the desire to keep figures like Louis C.K. from performing. "what's interesting to me about these articles against louis ck performing again, is how important fame is to people," Che wrote. "a lot of what I read says that ck shouldn't get to be a 'famous' comedian anymore. because to them, hes still winning. Isn't that strange?"
"Meaning he can be shamed, humiliated, lose millions of dollars, lose all of his projects, lose the respect of a lot of his fans and peers, and whatever else that comes with what he did," he continued, "but since he can still do a comedy set for free at a 200 seat club a year later, it means he got off easy. THATS how coveted fame is."
When a follower responded in his direct messages about what Louis C.K. deserves in this cultural moment, Che defended his fellow comedian's "right to speak and make a living," while admitting that he's not terribly informed about the issue.
Asked what he thought Louis C.K. deserved, Che replied, "man, I dont really know. i havent talked to him in a while. i dont know any of his accusers. i dont know what he's done to right that situation, and its none of my business. but i do believe any free person has a right to speak and make a living."
He added, "just because it looks to you like someone is 'getting off easy' cause they still have the perks you would kill to have, doesn't make it so," according to The Daily Beast.
Che didn't exactly extend the same compassion to Louis C.K.'s victims or those sitting in the audience who might have experienced sexual harassment or assault. When someone brought up a "culture of retaliation" in Louis C.K.'s team, Che wrote, "wait, whos career was put on ice for speaking out against him? and how? and by who? genuinely asking."
While many comedians have pushed back against Louis C.K.'s return to stand-up, including Kathy Griffin, who called the situation "fucking pathetic," Michael Ian Black caught some heat for saying Louis C.K. should "be allowed to serve their time and move on with their lives."
Che and his fellow "SNL" star Colin Jost, whose controversial opinions have also been called into question as of late, are set to host the 2018 Emmy Awards on Sept. 17.