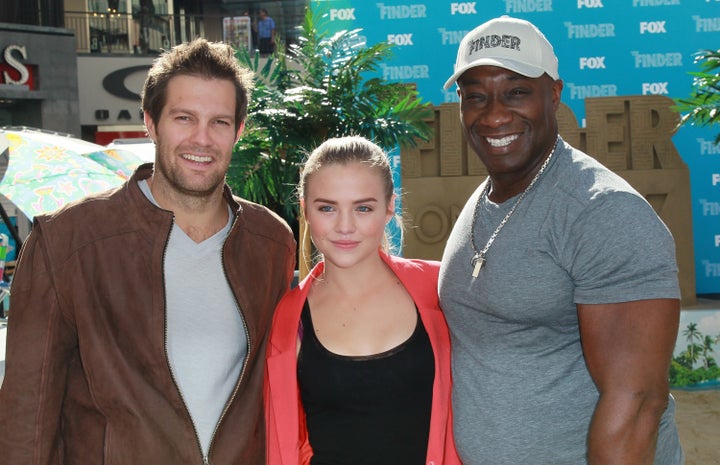 In keeping with the network's green initiatives, the set of Fox's new series "The Finder" has an eco-friendly set, with no plastic water bottles available. "I'm a big proponent of that," says creator Hart Hanson. The "Bones" spinoff starring Geoff Stults and Michael Clarke Duncan premieres Jan. 12, and will follow the "American Idol" results show starting the following week. "Not bad," acknowledges Duncan, thankful but aware they can't rely on riding coattails. "We have to make a name for ourselves."

Duncan, who's been putting his hulking form and booming voice to use on screen since his breakout role in "The Green Mile," was Hanson's first choice to play bar owner Leo Knox, the bodyguard/sidekick/best buddy to Stults' Walter Sherman. "I was looking for a TV show because I'd never done one before," says the actor, who bonded right away with his co-star. They crack each other up constantly on set. "We hardly get any work done," he says.

Duncan's film career remains busy, with roles in "From the Rough," starring Taraji P. Henson as the first coach of an all-black female college golf team; "The Hive," playing the principal of a school for delinquent boys; the slasher flick "The Sibling," playing the victim of a homicidal creature; and "Redemption Road," the twist in which he declines to divulge. "I love to work," says the actor, who remembers all too well the years when he was struggling and homeless.

Duncan, who attributes his size and fitness to "old school" calisthenic exercises like pushups and deep knee bends, eats an organic, vegetarian diet that incorporates meat substitutes like Morningstar Farms imitation bacon and sausage. He sheepishly admits to driving a Hummer, aware that it's not the most environmentally friendly vehicle. "I didn't buy it," he says of the gift. "It was free."
Related
Popular in the Community