A Houston musician is under fire for reportedly giving himself an enema during a performance and then emptying his bowels onstage.
However, the artist tells The Huffington Post that's a bunch of crap. He admits to getting an enema, but says the material that spewed on the stage was just a protein shake in a leaky bag.
The scatological scandal took place Friday at Avant Garden during a cancer benefit for a local artist. One of the bands scheduled to perform was Sonic Rabbit Hole, a two-piece noise rock act that includes elements of performance art.
Singer Michael Clemmons said he and his partner, who has not been identified, decided an onstage enema would be the perfect statement against the venue, where they've had issues in the past.
"It didn't have anything to do with the person with cancer," Clemmons told HuffPost. "It was a statement to the venue that 'You're not avant-garde.'"
During the performance, Clemmons took a bag filled with the protein shake, pulled down his pants and, with the help of his bandmate, administered it into his nether regions.
"We're were going to do an endurance piece," he explained. "I'd have the enema, do some light calisthenics and see how long I'd last before I had to go and then run to the bathroom."
Alas, both the bag and hose leaked, causing the contents to spill out onto the stage before it could go into Clemmons' keister.
But Avant Garden owner Mariana Lemesoff tells a different story: It was poop that covered her stage, not protein shake.
"My bartender was throwing up behind the bar," she told HuffPost. "Plus, it was indecent exposure. They made performance art look bad."
Lemesoff went into more detail for local station KPRC.
Lemesoff said her staff spent hours cleaning up after Clemmons, and says there was fecal matter covering the bathroom floor and splattered against the wall.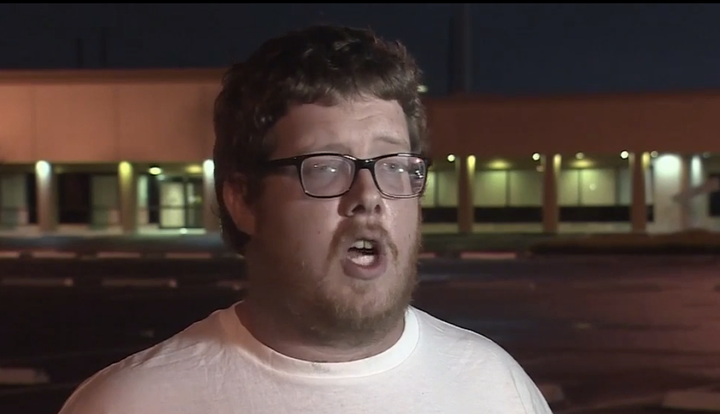 Clemmons said he did evacuate himself in the bathroom, but made sure to flush afterwards.
He also says he planned to clean up any mess, but didn't get the chance because the owner was angry.
"My art is about 'what can you get away with and why?'" he said. "I don't know how to spin it the right way, but I do my art and I don't compromise."
To demonstrate his art, Clemmons provided this video to Huffington Post of an earlier performance. Hint: He's the one in the cage.
Meanwhile, Friday's incident is raising such a stink in Houston that Clemmons is calling himself "one of the most loved and hated people in America," a statement that seems a teensy-weensy bit hyperbolic.
"Some people want to sign me because of it," he said.
She said the venue was forced to close, which meant the fundraiser didn't make as much money as intended.
A GoFundMe account has been set up to make up those funds and has raised $1,285 towards a goal of $100,000.
Clemmons believes his "pooformance" actually helped raise more money for the charity than anyone expected, since the original goal of the event was $1,000.
Lemesoff confirmed the $1,000 goal to HuffPost and says the GoFundMe page has raised more than that, but said people lost money in tips, sales of painting at the onsite art gallery and time in cleaning up the mess.
Despite his newfound notoriety, Clemmons plans to bag similar performances.
"I'm not a one-trick-pony," he said. "You'll never see Michael Clemmons with an enema bag again."
Related
Before You Go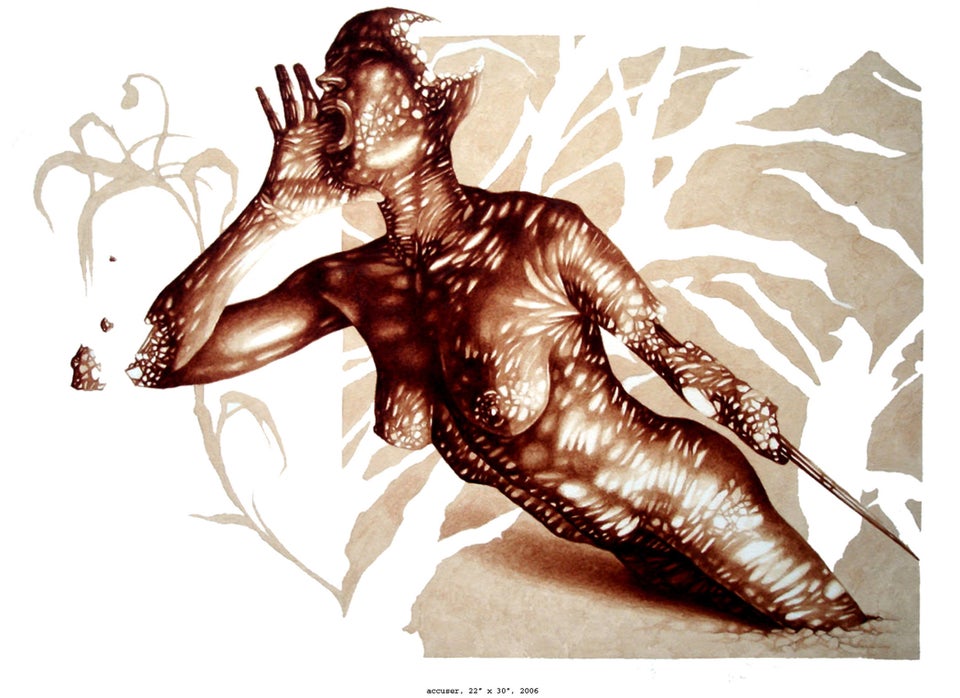 Vincent Castligia's Bood Paintings
Popular in the Community