Michael Cohen, former personal lawyer to President Donald Trump, is telling his side of the story about working with the president when he testifies before the House Committee on Oversight and Reform on Wednesday.
It's a moment of high drama on Capitol Hill. Sources close to Cohen told news outlets on Tuesday that Cohen's testimony paints an unflattering picture of Trump, detailing allegedly racist language and potential criminal conduct while the president is 8,000 miles away in Hanoi, Vietnam.
Cohen released his opening statement hours before he read it for Congress, saying he felt "ashamed" of working for Trump and accused the president of having prior knowledge of the Democratic National Committee hack.
At Wednesday's public hearing in front of the House committee led by Rep. Elijah Cummings (D-Md.), Cohen's replies are limited on order of the special counsel's office.
Cohen has spent much of the hearing detailing his questionable activities and business practices he says were done at the direction of Trump.
Republicans have tried to attack Cohen's testimony by pointing out that he pleaded guilty for lying to Congress. In response, Cohen said: "I take responsibility. I am remorseful."
Read live updates below. (You may need to refresh the page to see the latest updates.):
Cohen appeared to tear up as Cummings said he felt bad for his young children.
But "this is part of your destiny," Cummings said. He said the hearing and investigations would hopefully lead to "a better Donald Trump, a better United States of America, and a better world."
In his closing statement, Cohen issued a warning: "I fear that if he loses the election in 2020, there will never be a peaceful transition of power."
The former attorney then ran through a long list of critiques, shaming the president for everything from attacking the media to separating families at the U.S. border.
"In closing, I'd like to say directly to the president: We honor our veterans even in the rain. You tell the truth even when it doesn't aggrandize you. You respect the law and our incredible law enforcement agents, you don't villainize them. You don't disparage generals, Gold Star families, prisoners of war and other heroes who had the courage to fight for this country. You don't attack the media and those who question what you don't like or don't want them to say. You take responsibility for your own dirty deeds. … You don't separate families. … You don't cuddle up to our adversaries at the expense of our allies. … This behavior is churlish, it denigrates the office of the president, and it's not you."
Rep. Rashida Tlaib (D-Mich.) used part of her time to call out Meadows for drawing attention to Patton and using her as evidence that the president is not racist.
Saying he has friends ― including Cummings ― and family members who are people of color, Meadows responded: "It's racist to suggest I asked her to come in here for that reason."
After Cummings intervened and referred to Meadows as one of his best friends, Tlaib said she was not specifically calling Meadows a racist.
Meadows appeared to tear up.
"I do apologize if that's what it sounded like," Talib said.
"It was all about ego," Cohen said when Rep. Ayanna Pressley (D-Mass.) asked why Trump would want to drum up the price of a portrait of himself at auction.
Cohen also cited a contract he drew up between Trump and Ukranian oligarch Viktor Pinchuk as another example of the president using the Trump Foundation for his own personal benefit. Trump was asked to participate in the Ukrainian-American Economic Forum and appeared briefly via video conference.
Pressley concluded by asking Cohen whether a person could use the term "shithole countries," refer to white supremacists as "fine people," have a black friend and still be racist. "Yes," Cohen said.
Rep. Alexandria Ocasio-Cortez (D-N.Y.) fired off several questions about Trump's tax history. Cohen repeatedly answered "yes" when asked whether Congress should have access to and investigate the tax returns of Trump and his organization.
She further pressed Cohen into implicating Weisselberg in Trump's allegedly fraudulent inflation and deflation of his assets to avoid paying taxes.
Rep. Jimmy Gomez (D-Calif.) dug in with a few questions about Trump's tax returns, which the president has infamously refused to release to the public. Trump has repeatedly claimed to be under audit and has said his financial advisers strongly recommend he not share his tax information.
Cohen said he didn't know whether Trump was really under audit. He said he'd asked for a copy of the audit to show reporters as proof but "was never able to obtain one."
"I presume that he is not under audit," Cohen said. He added that he believed Trump didn't want experts to start "ripping it to pieces," referring to his tax returns, which would prompt a likely audit.
Rep. Ro Khanna (D-Calif.) argued the hush money reimbursement checks the Trump family allegedly gave Cohen constituted fraud.
"Are you telling us that the president directed transactions in conspiracy with [Trump Organization CFO] Allen Weisselberg and his son, Don Jr., as part of a criminal conspiracy of financial fraud?" he asked.
"There is garden-variety financial fraud," Khanna said. "There are three other people who are equally involved in this criminal conspiracy."
Kayleigh McEnany, national press secretary for the Trump campaign, issued this statement on Cohen's testimony:
"Michael Cohen is a felon, a disbarred lawyer, and a convicted perjurer, who lied to both Congress and the Special Counsel in a 'deliberate and premeditated' fashion according to the Special Counsel's Office. Now he offers what he says is evidence, but the only support for that is his own testimony, which has proven before to be worthless. As noted by the Southern District of New York, Cohen's wide array of crimes were 'marked by a pattern of deception that permeated his professional life' and his 'instinct to blame others is strong.' Prosecutors said his actions were to ensure that he would 'profit personally, build his own power, and enhance his level of influence.' This is the same Michael Cohen who has admitted that he lied to Congress previously. Why did they even bother to swear him in this time?"
The chairman has called a recess, which he said will last approximately one hour.
U.S. Virgin Islands Del. Stacey Plaskett (D) called on the House ethics committee to look into a tweet Rep. Matt Gaetz (R-Fla.) post Tuesday, in which he questioned whether Cohen's wife and father-in-law know about his "girlfriends." Democrats accused Gaetz of attempting to intimidate Cohen ahead of his public hearing. The Republican lawmaker later deleted the tweet and apologized.
"I think that at the very least there should be a referral to the ethics committee of witness intimidation and tampering," Plaskett said, adding that Gaetz should potentially face criminal prosecution.
In a back and forth with Lawrence, Cohen said he feared for his family's safety because Trump uses his millions of social media followers against him.
Lawrence: "What do you think he can do to you?"
Cohen: "A lot. And it's not just him. I don't walk with my wife when we go to a restaurant, I don't walk with my children."
Rep. Brenda Lawrence (D-Mich.) blasted Meadows for using Patton as a prop in an attempt to prove Trump isn't racist.
"I just want to put on the record as being a black American and having endured the public comments of racism from the sitting president as being a black person, I can only imagine what's being said in private," she said. "And to prop up one member of our entire race of black people and say that that nullifies that is in this environment of expecting a president to be inclusive and to look at his administration speaks volumes."
"People that follow Trump, as I did blindly, are going to suffer the same consequences," Cohen said earlier in the hearing.
When Rep. Mark DeSaulnier (D-Calif.) asked him about that comment, Cohen said others orbiting the president may end up in jail if they keep following him.
Cohen maintained while under oath that he has never been to Prague. The alleged trip was outlined in Steele's dossier on Trump. It suggested that Cohen went to the city in the Czech Republic in August 2016 to meet Russian operatives. Cohen has always refuted the claim, but this is his strongest denial yet.
Rep Carol Miller (R-W.Va.) said Dems were "grasping at straws" with this hearing. Then she asked what Republicans have been asking all day: whether Cohen planned to pursue a book deal. He said he did.
When asked about the existence of a video allegedly showing Trump hitting first lady Melania Trump in an elevator, Cohen said: "The story goes that he struck Melania in that elevator because there's a camera. … I'm sure it's not true. … I don't think that he struck Mrs. Trump, ever."
He said he doesn't think that tape exists.
Cohen once again said David Pecker, publisher of the National Enquirer, had paid for and then not published additional stories on behalf of Trump. He specifically mentioned the story of Trump's alleged "love child" with an employee. Cohen said an elevator operator claimed to have overheard a conversation about the supposed child and that Pecker paid him to keep quiet. Trump got nervous when Pecker entertained thoughts of leaving the Enquirer, according to Cohen.
"We were concerned about ― we'll call it the 'treasure trove' of information that would be there if he left," Cohen said, adding that he discussed buying the rights to those stories.
Rep. Peter Welch (D-Vt.) asked if Trump was telling the truth when he said he had never talked to Roger Stone about the stolen DNC emails.
"It was a short conversation," Cohen said. "[Stone] said, 'Mr. Trump, I wanted to let you know I just got off the phone with Julian Assange, and in a couple days there's gonna be a massive dump of emails that is going to hurt [Hillary Clinton's] campaign.'"
Rep. Clay Higgins (R-La.) to Cohen: "I've arrested several thousand men, and you remind me of many of them."
Cohen told Rep. Katie Hill (D-Calif.) that Trump spoke with him to coordinate a messaging strategy after the Wall Street Journal broke the story about a hush-money payment to Daniels in January 2018. In the days that followed, Cohen admitted he had used his personal funds to pay off Daniels. That was technically true, he told Hill ― he just left out the part about the president planning to repay him. He said he helped craft statements to news organizations in order to protect Trump.
CORRECTION: Katie Hill was previously referred to as a congresswoman who represents Texas. She represents California.
When questioned about how Trump gave orders indirectly, Cohen said, "He doesn't give you orders. He speaks in code, and I understand the code because I've been around him for a decade."
Then Rep. Justin Amash (R-Mich.) asked: "What truth does [Trump] fear most?" Cohen paused for several seconds before saying he didn't know how to answer.
"I have no reason to believe that tape exists," Cohen said when asked about the rumored existence of damaging video involving Trump.
The idea that Russian President Vladimir Putin had compromising information on Trump, including a so-called "pee tape" depicting him in sexual acts, was put forth in the dossier compiled by former British intelligence officer Christopher Steele in 2016. In his memoir, former FBI Director James Comey claimed that Trump was obsessed with disproving the allegation.
Cohen told the committee that although Trump's 2016 presidential campaign was a moneymaking scheme, it shifted gears after Trump won the election. Only then did the campaign become about "what to do here in Washington," Cohen said.
Rep. Michael Cloud (R-Texas) suggested that being in prison and getting a theoretical "million-dollar book deal" is "not a bad life." He asked Cohen whether he would commit to donating all proceeds from a future book deal.
"No," Cohen said plainly.
Rep. Raja Krishnamoorthi (D-Ill.) wondered whether Trump's regular use of nondisclosure agreements may be silencing others with evidence of wrongdoing.
"Do you believe there are people out there today, from president's business or personal life, who are not coming forward due to the president's use of NDAs against them?" he asked.
"I can't answer that question," Cohen said.
Cohen said he could not discuss what, if anything, Trump or his aides communicated to him in the months after the FBI raided the former attorney's home and offices because it is presently under investigation by the Southern District of New York.
Cohen is shaking his head after Republicans speak. He noted earlier that none of them has asked him yet about Trump, only about his conviction for lying to Congress.
Cohen told Connolly that he met with Trump and attorney Jay Sekulow in the Oval Office prior to the August 2017 testimony in which he lied to Congress behind closed doors. Trump wanted to ensure Cohen would remain loyal, he said.
"Don't be fooled" by Republicans trying to shift focus of the hearing to Cohen's lying, said Rep. Gerry Connolly (D-Va.). He said Congress relies regularly on testimony from "shady figures who are convicted of a lot worse crimes than you, Mr. Cohen."
The argument Republicans have been using to undermine Cohen would make every one of the government's organized crime convictions "null and void," Connolly said.
— Andy Campbell and Sara Boboltz
We're back from the break, and Rep. Virginia Foxx (R-N.C.) has accused Cohen of making his allegations for "personal benefit" and a book deal.
She asked Cohen if he would commit to not seeking a book deal or one day running for office. He said he would not commit to that.
Cohen requested a break, which was granted.
When asked if Trump would directly threaten people who crossed him, Cohen replied, "No. He would use others. I'm not so sure he had to hire them, they were already working there."
"He's sending out the message that this is his country; he's becoming an autocrat," he said.
Rep. Jim Cooper (D-Tenn.) asked Cohen at what point in his life he decided to "start telling the truth."
"Helsinki, Charlottesville, watching the daily destruction of our civility to one another," Cohen responded. "It's that sort of behavior that I'm responsible for. I'm responsible for your silliness because I did the same type of thing you're doing now for 10 years."
"I protected Mr. Trump for 10 years and the fact that you pull up a news article that has no value to it and you want to use that as the premise for discrediting me, that I'm not the person that people called at three in the morning would make you inaccurate," he added. "In actuality, it would make you a liar which puts you into the same position that I am in."
Cohen issued a warning to others who might follow Trump "blindly": "They are going to suffer the same consequences that I'm suffering."
Republicans continue to use their time to dunk on Cohen by reiterating that he's a convicted liar.
"How could anyone listen to this pathological person?" said Rep. Paul Gosar (R-Ariz.). "This is all about you."
He added: "Liar, liar, pants on fire."
Donald Trump Jr. jumps on Rep. Jim Jordan's assertion that Cohen's entire testimony is a plot to impeach the president.
Meadows attempted to debunk Cohen's allegation that Trump is racist by pointing to Department of Housing and Urban Development official Lynne Patton, who is black. The lawmaker claimed Patton would never work for a man who is racist.
"Neither should I, as the son of a Holocaust survivor," Cohen said. "Ask Ms. Patton how many black people are executives at the Trump Organization. The answer is zero."
Cohen described to Rep. Lacy Clay (D-Mo.) how Trump would overvalue his assets in order to game Forbes magazine's list of wealthiest people. According to Cohen, Trump would estimate the value of his buildings with the highest price per square foot of similar buildings in the area, among other duplicitous strategies. Trump inflated his net worth by around $4 billion when he tried to obtain a loan from Deutsche Bank to buy the Buffalo Bills, Cohen said.
He also reiterated that Trump would use bogus metrics to inflate or deflate the value of his assets, saying the metrics would change depending on whether he was talking to media or insurance companies.
― Andy Campbell and Sara Boboltz
In a heated line of questioning, Rep. Mark Meadows (R-N.C.) asked Cohen how many times he had spoken to representatives of Novartis, which had paid him $1.2 million for access to Trump ― or, in Cohen's words, his "knowledge of the enigma of Donald Trump."
Cohen said he didn't know, then estimated he had talked to Novartis six times.
A spokesman for Fordham University, which Trump attended for two years, confirmed to BuzzFeed News that one of his lawyers threatened the school with legal action if it released any of his grades.
Eleanor Holmes Norton (D), the congressional delegate from Washington, D.C., mentioned the infamous "Access Hollywood" tape in which Trump talked about grabbing women's genitals, as well as the alleged affair with Daniels.
Cohen told Norton that then-campaign spokeswoman Hope Hicks called him about the tape while he was visiting his daughter in London.
Hicks, according to Cohen, instructed Cohen to call the news organizations he "had relationships with," saying "we need to spin this" as "locker room talk."
― Sara Boboltz and Andy Campbell
Rep. James Comer (R-Ky.) asked Cohen what he would call himself since he described Trump as a "cheat" in his opening remarks.
"A fool," Cohen responded.
Cohen told Rep. Carolyn Maloney (D-N.Y.) that "there is nothing that happens at the Trump Organization" without Trump's knowledge and approval.
So far, Republicans are focusing on the fact that Cohen is an admitted liar and therefore not a credible witness.
"He lies to banks … all of those lies were done on fraudulent documents. They were forged," said Rep. Mark Green (R-Tenn.). "Ladies and gentlemen, how on earth is this witness credible?"
Cohen told Green that he has no reason to lie now that he is going to prison and said he expects to have "no source of income while in federal penitentiary." He has been contacted about a potential book deal, he said, but nothing is in the works.
― Andy Campbell and Sara Boboltz
Cohen deflected a question from Wasserman Schultz over whether Trump had worked with the Russians during his 2016 presidential campaign. He said simply that "Mr. Trump's desire to win would have him work with anyone."
Wasserman Schultz: "Would [Trump] have the potential to collude or coordinate with a foreign power to win the election at all costs?"
Jordan accused Cohen of wanting a job in the White House and behaving "selfish[ly]" when he didn't get a position more prestigious than personal attorney to Trump ― implying that Cohen's testimony was a form of retribution.
"I was very proud to be personal attorney to the president of the United States," Cohen said emphatically.
When Rep. Debbie Wasserman Schultz (D-Fla.) asked whether the Trump family could have been "compromised" by a foreign agent before the election, Cohen responded, "Yes."
Cohen chuckled when Jordan called him out over the @WomenForCohen fan account on Twitter that was set up during the 2016 presidential campaign. Cohen said he didn't personally set up the account and that it wasn't created to protect Trump's interests.
"We were having fun," Cohen told Jordan. "That's what it was, sir. ... We were having fun during a stressful time."
Rep. Jim Jordan (R-Ohio) pressured Cohen on false statements he has made unrelated to "blind loyalty to the Trump family."
"When you failed to report 4 million in income to the IRS, did you do that to protect Donald Trump?" Jordan asked.
"No, I did not," Cohen answered.
"I have never asked for, nor would I accept, a pardon from President Trump," Cohen said.
Cohen acknowledged he was disbarred in New York on Tuesday. Lawyers face automatic disbarment for a felony conviction under New York law.
"As of yesterday, I am no longer a lawyer," he told Cummings. "I have lost my law license amongst other things."
Cohen provided images of two checks from Trump-linked bank accounts that totaled $70,000 — money he says was part of a repayment plan for the hush money Cohen gave Stormy Daniels in exchange for her silence about the alleged affair between her and Trump.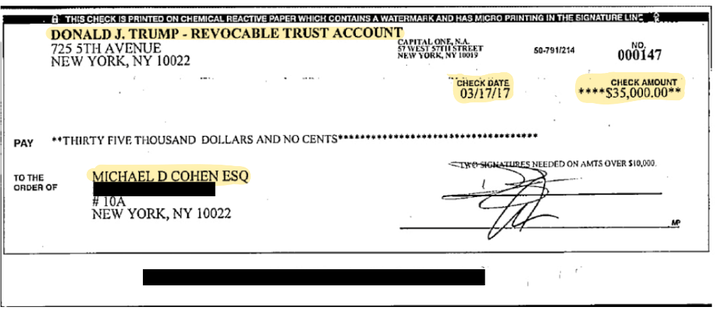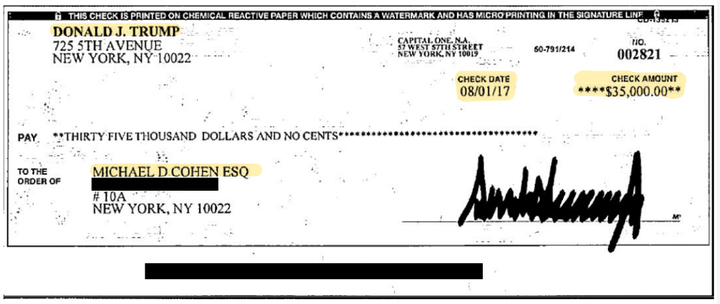 One of the two checks, both dated after Trump's inauguration, was apparently signed by the president himself. Other reimbursement checks — there were 11 in total — were signed by Donald Trump Jr. and Trump Organization Chief Financial Officer Allen Weisselberg, Cohen said.
He also presented the committee with a copy of the $130,000 wire transfer to Daniels. Cohen said Trump instructed him to use his own personal funds from a Home Equity Line of Credit to avoid the money being traced back to Trump.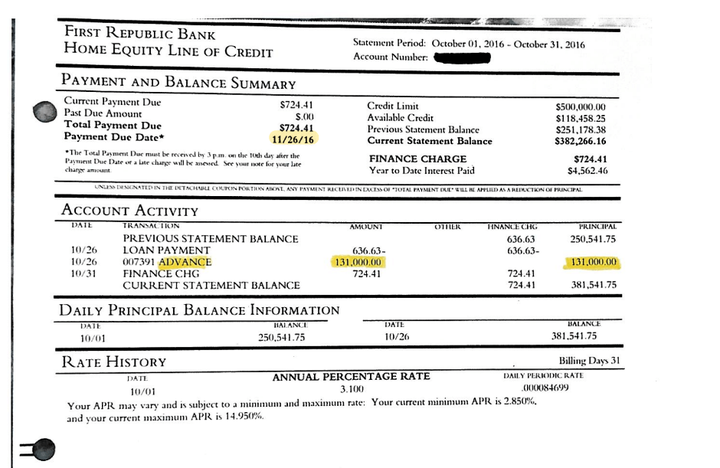 Cohen said Trump once used a straw buyer to get a portrait of himself and then boasted about how much it had sold for.
An example Cohen gave of Trump being a "conman" related to his academic history.
"When I say conman, I'm talking about a man who declares himself brilliant but directed me to threaten his high school, his colleges, and the College Board to never release his grades or SAT scores," he said.
Cohen alleged that the president is an "even worse" racist in private and that he once asked Cohen ― while Barack Obama was president of the United States ― if he could name a country "run by a black person that wasn't a 'shithole.'"
"While we were once driving through a struggling neighborhood in Chicago, he commented that only black people could live that way. And, he told me that black people would never vote for him because they were too stupid," Cohen said.
"Donald Trump is a man who ran for office to make his brand great, not to make our country great," Cohen said. He said Trump described his presidential campaign as the "greatest infomercial in history."
Cohen described his former boss as a complicated man capable of kindness and generosity, but who is not often kind and generous. Trump "has become the worst version of himself" since taking office, Cohen said.
Cohen said Trump lied about the Moscow real estate project because he "never expected to win" the presidential election and the project offered him the potential to earn "hundreds of millions."
He said Trump implicitly directed him to lie, too.
"In conversations we had during the campaign, at the same time I was actively negotiating in Russia for him, he would look me in the eye and tell me there's no business in Russia and then go out and lie to the American people by saying the same thing. In his way, he was telling me to lie," Cohen said. "There were at least a half-dozen times between the Iowa caucus in January 2016 and the end of June when he would ask me 'How's it going in Russia?' referring to the Moscow Tower project."
Cohen's opening statement begins.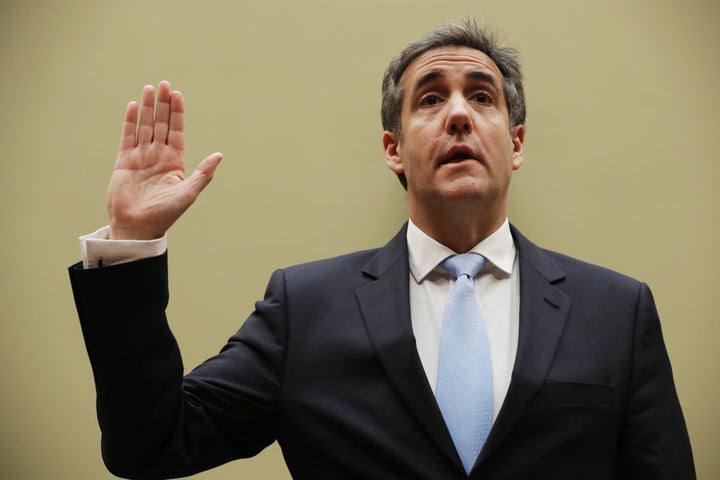 Rep. Jim Jordan (R-Ohio) attacked Cohen's trustworthiness — a card members of his party will likely play repeatedly throughout the hearing. Jordan claimed that Lanny Davis, Cohen's attorney, had "choreographed" the entire hearing as a "loyalist" to and "operative" for Bill and Hillary Clinton.
There won't be much questioning about the Russia investigation if Cummings has his way. He said he initially wanted to "limit the scope of the questioning" to exclude Russia altogether but acknowledged Cohen's opening statement briefly mentions the investigation.
Cummings vowed there would be repercussions for Cohen if it were later found that he had withheld the truth.
"I will be the first one to refer those untruthful statements to DOJ," the chairman said. "He has a lot to lose if he lies."
Cummings addressed Cohen's history of lying to Congress and whether he could be trusted. The hearing, Cummings said, would give Americans the chance to decide for themselves.
"Mr. Cohen admitted to violating campaign finance laws and other laws … in coordination with and at the direction of President Trump," he said. "Some will certainly ask, if he was lying then, why should we believe him now? This is a legitimate question."
"Ladies and gentlemen, we are in search of the truth," he added.
Cohen, meanwhile, says he is prepared to show some receipts to corroborate his allegations.
— Andy Campbell and Sara Boboltz
"The American people have a right to hear him so we're going to proceed," Cummings said of Cohen's testimony. The hearing moves forward.
The drama begins. Rep. Mark Meadows (R-N.C.) initiated a vote to postpone the hearing because Cohen's testimony was released Tuesday night and not with 24 hours notice.
Read Cohen's prepared opening statement:
Popular in the Community