Michael Cohen, President Donald Trump's former personal lawyer, pleaded guilty to two counts of violating federal campaign finance laws in a New York courtroom on Tuesday and, in doing so, directly implicated the president and his 2016 campaign in criminal activity.
Cohen, who is also the former deputy finance chairman for the Republican National Committee, admitted in court Tuesday that Trump, named as Individual-1 in the plea agreement, directed him to pay off two women the president allegedly had affairs with to keep them from talking to the media prior to the 2016 general election. The payments, according to Cohen's plea deal, were made to aid Trump's campaign to win the White House and therefore legally constituted campaign donations. Both donations far exceeded the $2,700 individual campaign contribution limit and one came from a corporation, which cannot donate directly to presidential campaigns. The two illegal donations were not disclosed.
"President Trump and his campaign are on the hook now for criminal violations of the law given what was revealed in Cohen's plea today," said Paul S. Ryan, campaign finance legal expert at the nonpartisan group Common Cause.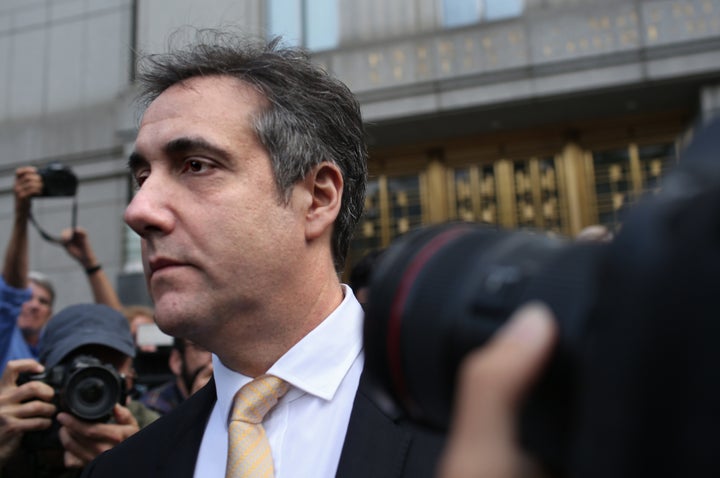 Since Trump is alleged to have directed these payoffs to his alleged mistresses and his campaign accepted and failed to disclose these donations, he and his campaign are implicated in breaking the law. Federal campaign finance law makes it illegal to accept a corporate contribution, receive excessive contributions and to fail to disclose those donations to the Federal Election Commission. Additionally, the Department of Justice views an intentional failure to disclose contributions to the FEC as an additional crime of making materially false statements to the federal government. This would make a total of six potential criminal violations that the president of the United States and his campaign could face.
This is the first time since President Richard Nixon was in office that a sitting president has been directly implicated in criminal campaign finance violations. Nixon solicited, received and failed to disclose illegal corporate campaign contributions to be used as hush money for Watergate burglars.
Fred Wertheimer, who helped pass campaign finance law reforms in the wake of the Watergate scandals and the scandals of the 1990s, said:
The comparisons between the Watergate scandals and the Trump scandals grow on a regular basis. And this is one, even though the violations were different. You have two presidents knowingly engaged in serious campaign finance law violations.
Cohen admitted in his plea agreement, which included six other counts of tax and bank fraud, that he facilitated the payment of $150,000 from American Media, Inc., the media corporation owned by David Pecker that publishes the National Enquirer, to ex-Playboy Playmate Karen McDougal to purchase the rights to her story about her alleged affair with Trump. Cohen promised to reimburse Pecker's company for the payment and stated in court that this was done at Trump's direction in order to benefit his presidential campaign.
Cohen also pleaded guilty to paying $130,000 of his own money to adult film actress Stormy Daniels as part of a non-disclosure agreement to prevent her from going public with her allegation that she had an affair with Trump months after his wife Melania Trump gave birth to their son. Like the payment to silence McDougal, Cohen admitted that the payment to Daniels was made at the direction of Trump to protect his presidential campaign from scandal.
"One of the questions that's been hanging out there for months is, 'What did President Trump know and when did he know it?" Ryan said. "Did he find out about this after the election when Cohen wanted a reimbursement? Well, Cohen has indicated today that this was done at the direction of President Trump."
Wertheimer, who has had a front seat to every campaign finance scandal from Nixon on, said about the historic nature of Cohen's admissions: "It's big time."
Popular in the Community