President Donald Trump's former personal attorney Michael Cohen pleaded guilty Thursday morning in special counsel Robert Mueller's investigation for lying to Congress during private testimony last year about the timing and extent of his discussions about a Russian real estate deal during Trump's campaign.
Cohen's cooperation with Mueller's investigation marks an extraordinary development, as he has long been a key figure, given his role in Trump's businesses and as his fixer.
According to court documents, Mueller's team has focused on Cohen's role in Trump's business dealings, particularly a Trump Tower project in Moscow during the 2016 campaign. Cohen lied about the timing of his discussions with Russian officials about the potential real estate deal. Last year, he told the House intelligence committee that the talks ended in January 2016, before the presidential primaries. But, according to court documents, he continued talks "as late as approximately June 2016," before Trump became the GOP nominee, discussing the deal several times with Trump and briefing Trump's family members.
Cohen also lied about whether he and Trump, referred to as "Individual 1" in Thursday's documents, discussed planning a trip to Russia during the campaign.
"COHEN asked Individual 1 about the possibility of Individual 1 traveling to Russia in connection with the Moscow Project, and asked a senior campaign official about potential business travel to Russia," the documents said.
Cohen did not comment while leaving court Thursday morning. His attorney told reporters, "Mr. Cohen has cooperated. Mr. Cohen will continue to cooperate."
Asked about Cohen's plea deal Thursday, Trump told reporters that Cohen is "a weak person" and claimed he was lying.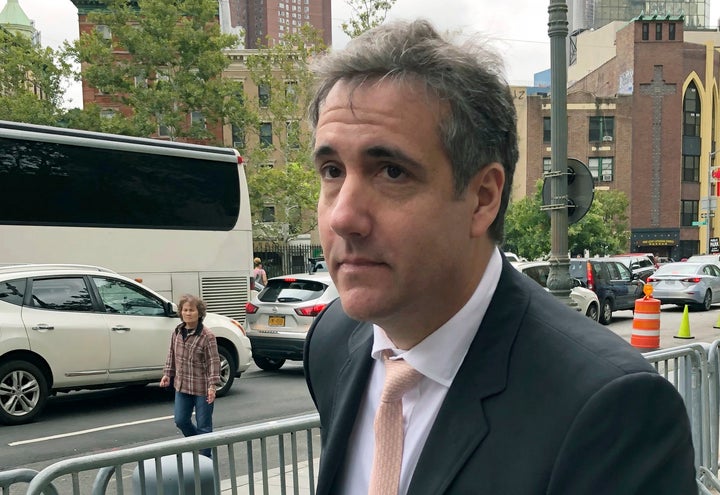 In a statement, Trump's lawyer Rudy Giuliani said that Cohen is "a proven liar who is doing everything he can to get out of a long-term prison sentence."
According to Cohen's plea agreement, his sentencing on the charge would be between zero and six months in prison. The plea agreement indicates that Cohen met with Mueller's team several times since his August guilty plea: on Sept. 12, Sept. 18, Oct. 8, Oct. 17, Nov. 12 and Nov. 20.
Cohen, who served as Trump's attorney and fixer for years, has been under close scrutiny from federal prosecutors in New York for engineering hush money payments during the 2016 campaign to silence Stormy Daniels and Karen McDougal, two women who alleged having extramarital affairs with Trump.
In August, he pleaded guilty to charges that included violating campaign finance laws and said that he made the payments under Trump's direction.
Cohen had been expected to reach an agreement with Mueller after his separate guilty plea this summer. In several interviews, his attorney Lanny Davis said his client had experienced a "complicated evolution" in his relationship with Trump and was ready to cut ties and "tell the truth to everybody who asks him about Donald Trump."
"He's turned his life from what he did for Donald Trump, much of which he now regrets, and would love to do re-dos," Davis said on NBC's "Today" show in August.
This story has been updated with more details from court documents and comments from Trump and Giuliani.
Popular in the Community