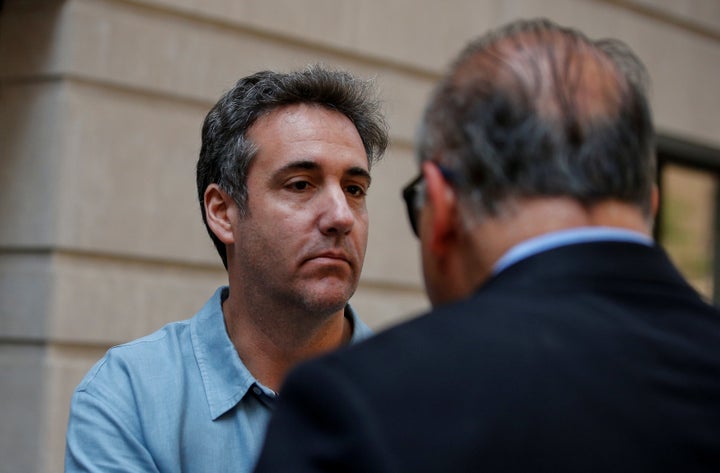 Michael Cohen, beleaguered former personal attorney for President Donald Trump, has hired Lanny Davis, a Washington-based lawyer who in the late 1990s advised then-President Bill Clinton as his legal troubles were unfolding.
Davis confirmed Thursday that he is representing Cohen, a previously fierce Trump defender who has been under investigation by federal prosecutors in New York for months.
Davis' hiring may come as a surprise considering his previous history as a tireless defender of the Clintons ― or as no surprise given speculation about Cohen's growing displeasure with Trump.
"Like most of America, I have been following the matter regarding Michael Cohen with great interest," Davis said in a statement provided to HuffPost. 
"As an attorney, I have talked to Michael many times in the last two weeks," Davis continued. "Then I read his words published on July 2, and I recognized his sincerity. Michael Cohen deserves to tell his side of the story ― subject, of course, to the advice of counsel."
In a July 2 interview with ABC News, Cohen said he intended to "put family and country first" in the federal investigation. "To be crystal clear, my wife, my daughter and my son, and this country have my first loyalty," he said. 
Cohen's words suggested that his priorities have shifted away from loyalty to Trump less than a year after saying he would "take a bullet for the president." Many speculate that Cohen is now willing to "flip" on Trump and cooperate with prosecutors including special counsel Robert Mueller, who is investigating Russian interference in the 2016 presidential election.
On Cohen's legal team, Davis joins attorney Guy Petrillo, who once headed up the criminal division in the U.S. Attorney's Office for the Southern District of New York ― the same office now investigating Cohen.
Davis traces his connection to the Clintons back to Yale Law School where he first met Hillary Rodham, he told The New York Times. He defended Bill Clinton as he was being investigated for possible campaign finance violations, leaving before the president's affair with Monica Lewinsky had stirred up nonstop news coverage. 
But even after his departure in early 1998, Davis appeared as a pro-Clinton talking head "on sometimes two or three programs a night," he recalled in 2013. He said the stress of that period took a toll on his health. 
Cohen has come under investigation for possible bank fraud, wire fraud and campaign finance violations on a referral from Mueller's team. An FBI raid on the lawyer's home, hotel room and office shocked and infuriated Trump in early April.
Calling all HuffPost superfans!
Sign up for membership to become a founding member and help shape HuffPost's next chapter