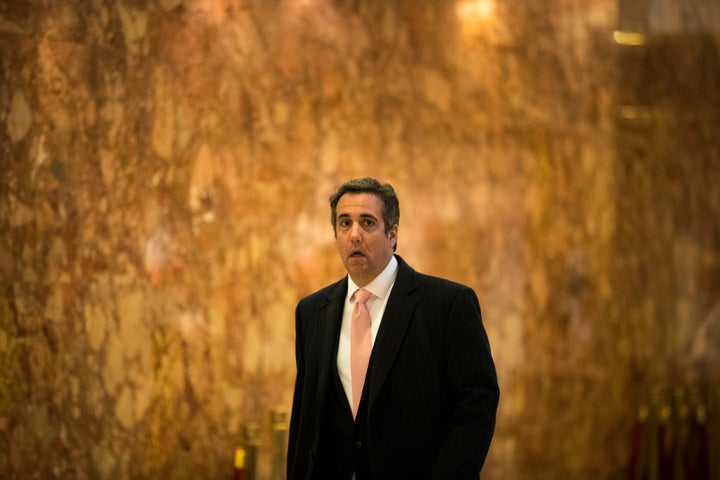 WASHINGTON ― A major law firm that formed a strategic partnership with Donald Trump's personal lawyer Michael Cohen last year said the work that Cohen did on behalf of corporations that paid him through a shell company was separate from his business with the firm.
Squire Patton Boggs, a global law firm with 47 offices in 20 countries, announced an arrangement with Cohen in April 2017 to "advance the interests" of its clients. The partnership, which lasted roughly a year, ended not long after the FBI seized material from Cohen last month.
AT&T, investment firm Columbus Nova, pharmaceutical company Novartis and Korea Aerospace Industries all paid Cohen's Essential Consultants LLC, the same shell company that Cohen used to pay hush money to Stormy Daniels, a porn star who claims she had an affair with Trump years ago. Although most of the payments came when Cohen had a partnership with Squire Patton Boggs, the firm said that was separate from the work he did with it.
"We have we never paid any money to Essential Consultants LLC and we've never performed work for any of the identified entities as a result of our past arrangement with Cohen," Squire Patton Boggs spokesman Angelo Kakolyris told HuffPost in an email.
After the FBI raid on Cohen ― which included an office he had at Squire Patton Boggs' office at Rockefeller Center in New York ― the firm said that it was fully cooperating with the federal investigation and that the activities under scrutiny did "not relate" to the firm.
Squire Patton Boggs agreed to pay Cohen a $500,000 annual "alliance fee," according to court filings in connection with a dispute over government access to information he claimed was protected by attorney-client privilege. Over the past year, he had only three legal clients: Trump, Republican donor Elliott Broidy and Fox News host Sean Hannity. Federal prosecutors said that they had reason to believe Cohen had "exceedingly few clients and a low volume of potentially privileged communications" and that he "introduced a sum total of five clients to the firm."
The Wall Street Journal identified one of those companies in an article Wednesday evening as U.S. Immigration Fund LLC, a company with close ties to Jared Kushner's family business. The company helps wealthy foreign investors connect with American businesses and obtain permanent U.S. residency through a visa program available to those who can afford to invest at least $500,000.
It was U.S. Immigration Fund that put together a presentation last year soliciting Chinese investors to get involved in towers the Kushner family company was planning to build in Jersey City, New Jersey. The presentation featured several officials in the Kushner family business, including Kushner's sister, Nicole Meyer. The Wall Street Journal reported that federal prosecutors obtained video footage of Meyer's presentation from her husband.
Lobbying reports indicate Squire Patton Boggs received $370,000 from U.S. Immigration Fund to lobby the Trump administration and Congress about the visa system for investors, the Wall Street Journal reported.
Squire Patton Boggs declined to identify the other four clients that Cohen sent to the law firm.
"We cannot breach our clients' confidence, but what I can say is that they were routine legal matters," Kakolyris told HuffPost following the WSJ story on Wednesday night.
Cohen's access to Trump was an essential component of his marketability. Novartis said in a statement on Wednesday that it entered into a yearlong contract with Cohen's shell company worth $1.2 million to advise it on how the Trump administration should approach health care policy. But a first meeting in March 2017, Novartis said, it determined Cohen would be "unable to provide the services that Novartis had anticipated related to US healthcare policy matters and the decision was taken not to engage further." Under the terms of the contract, Cohen got his money anyhow.
Ryan Reilly is HuffPost's senior justice reporter, covering the Justice Department, federal law enforcement, criminal justice and legal affairs. Have a tip? Reach him at ryan.reilly@huffpost.com or on Signal at 202-527-9261.
Popular in the Community