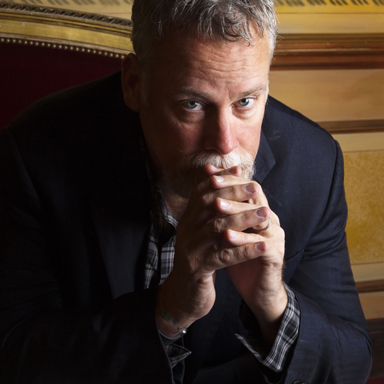 Michael Connelly just celebrated a milestone. No, it was not his birthday, but the 20th "birthday" of Hieronymous "Harry" Bosch, the LAPD homicide detective Connelly introduced in his 1992 novel, The Black Echo.
Marking the occasion, last month the 17th Bosch novel (and 25th Connelly novel), The Black Box, was published. It already occupies the #1 or #2 spots on a multitude of bestseller lists.
He says, "When I did the first book, I hoped to be able to write more about Harry. I never imagined I'd be doing it 20 years later."
Connelly says Bosch's appeal is so strong because, "He's a good guy trying to do a good job under very difficult circumstances. And isn't that what we all do in our lives? He doesn't suffer fools lightly. He has a distrust of authority and these are things that I think most of us have."
Born in Philadelphia, Connelly's family moved to Fort Lauderdale, FL where he attended St. Thomas Aquinas High School and then went to the University of Florida in Gainesville. His interest in crime was piqued, according to his biography, while still in high school. Walking home one night he saw a man throw something into a hedge. He was curious and retrieved the object. It was a gun wrapped in a plaid shirt. He put the gun back, followed the man to a bar and went home. He told his father about the incident and later that night he brought the police to the bar. Though the man who'd thrown the gun was gone, Connelly's interest in police work was born.
After he graduated college with a major in journalism and a minor in creative writing, Connelly became a crime beat reporter on the Daytona Beach, and then the Fort Lauderdale, daily papers. In 1987, he moved on to the Los Angeles Times, again covering crime.
Even after his success as a novelist, Connelly says, "I still feel I'm a journalist. Everyone has a private view of himself and mine is that I'm a journalist. I miss the camaraderie of a newsroom, but that's changed today."
That love of journalism is key in Connelly's 1996 book The Poet, in which the protagonist is crime reporter Jack McEvoy. The book -- with an ending that can literally elicit a gasp from the reader -- was originally to be titled Above the Fold, old-time newspaper parlance for a story that was important and was, therefore, placed on the top half of the newspaper's front page.
Aside from Bosch, Connelly's best-known character is Bosch's half-brother, an attorney named Mickey Haller who became known to millions when Matthew McConaughey portrayed him in the 2011 film adaptation of Connelly's 2005 novel, The Lincoln Lawyer.
That was not the first time his work had been put onscreen. In 2002 his 1988 novel Blood Work was made into a film with Clint Eastwood starring as FBI agent Terry McCaleb.
"I think I've done pretty well with movies," Connelly says. "I loved The Lincoln Lawyer and I liked the experience of Blood Work 10 years ago. In Blood Work they made choices I wouldn't have made, but I'm not a filmmaker. I took the money and they told the story. I could not have been happier with The Lincoln Lawyer. They got the essence and the casting, starting with McConaughey, was just perfect"
If asked to cast an actor as Bosch -- a task he might well undertake very soon -- Connelly says, "I've been living with this character for over 20 years and I have created an image in my head that's very hard to break away from and pick an actor."
He says he's "watched House and I could very easily see Hugh Laurie in the role. We happen to be in the process of turning Harry Bosch into a television show this year. We're talking to cable networks now. We have a script and a whole company, and so forth. It could possibly be a situation where I have to answer that question for real in the next couple of months. So, I'm looking at television, as opposed to movies, and I think there's an opportunity to find someone who's not known to the viewing public and that person can make this role theirs the way Laurie did with House. There are people out there -- people like Kyle Chandler, like Billy Burke -- people that physically look like the guy I've been writing about -- not exactly, but close to it."
He notes that when discussing with readers the question of what Bosch's appearance, some have said they see him as Bosch. He does not. He says the main similarity between the writer and his fictional detective is the fact that they each have daughters.
Reading has had a deep influence on Michael Connelly. He cites Raymond Chandler as an influence, along with Dashiell Hammett and, most especially, Ross McDonald. The city where Harry Bosch works and spends most of his time is a character in the novels as much as any person is and the authors he names as influences all wrote about Los Angeles.
"Ross McDonald had a greater influence on me than any other writer. His style of writing, the repeated theme of the past coming out to grab somebody, that's very attractive to me as a reader and, now, as a writer." The Black Box, in fact, deals with solving a murder committed 20 years ago, in 1992, during the LA riots.
Promoting The Black Box, Michael Connelly conducted a video tour of Los Angeles:
Today, Michael Connelly still reads a great deal, noting he enjoys P.G. Sturges, author of The Shortcut Man and son of the legendary writer-director Preston Sturges. "But I'm also reading more non-fiction now. At the moment," he says, "I'm reading about Whitey Bulger," the 83-year-old fugitive from the Boston mob captured last year in Santa Monica.
Asked about his writing process, he replies, "Every writer has an ego. There's gratification in a question about process. Process comes out of the mystical element about writing. In many ways I'm not really sure how it happens, how that mystical element of creating works.
"It's sacred and, therefore, I work at it and safeguard it. Very few things that are as deeply fulfilling as writing are easy. I wouldn't trade it for anything."
Courtesy photo of Michael Connelly by Philippe Matsas/Agence Opale.
Calling all HuffPost superfans!
Sign up for membership to become a founding member and help shape HuffPost's next chapter