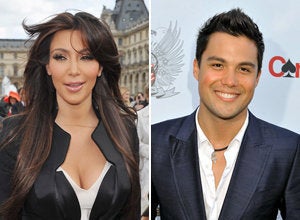 Kim Kardashian is filming her new reality series 'Kourtney and Kim Take New York' in NYC, and she already has a new man, In Touch Weekly reports.
In Touch's press release follows:
It's all about new beginnings for Kim Kardashian -- she has a new TV show, a new zip code, and now, a new man, too! A galpal of Kim's tells In Touch that she's dating actor and musician Michael Copon, who's best known for his role on One Tree Hill. "Kim is dating Michael," the source tells In Touch. "They have known each other for years, but he and Kim just recently reconnected." Kim and Michael are currently in New York, where she's filming Kourtney and Kim Take New York, and fans can expect to see more of her new hottie. "He'll definitely be making appearances on Kim's new TV show," the source adds. Kim and Michael met in 2006 when they filmed Beyond the Break together, in which they played boyfriend and girlfriend. "They have been running in the same circles and going to the same events forever, but now they are hitting it off romantically," the source says. "The timing is right for both of them."
Popular in the Community