France, of course, is to blame.
The year was 1968 and it was my first morning in Paris. A freshly baked croissant still warm from the oven and I added butter and strawberry preserve. I had never seen nor smelled anything quite like this curious crescent of pastry, but the first mouthful detonated an alchemy of flavor and texture so intense and subtle at once that I might have taken a bite of God.
In that moment, I discovered the pleasure of food. There would be many memorable meals to follow, but always in my reflection the flavor of the food and the feeling of the room conjoin, the appetite and the ambiance of place.
There we were, with his wife, Jori Jayne Emde, in the conference room of Smuggler Films, brought together by its co-founder, Patrick Milling Smith. Patrick and I had been introduced by a mutual friend for whom I had recently completed a Loft near Union Square.
It was soon apparent that there was considerable common ground around the table. We all divided time between New York City and Columbia County, in upstate New York (Patrick at a lovely farm in Ghent, Zak and Jori at a Barn in Old Chatham, and me at a former Trout Hatchery in Livingston and an Art Deco Gas Station in Hudson in which I operate an antique shop, 3fortyseven which includes a bar and food truck garden.)
We all loved the romance of food, honest architecture, and country life. Although we might not yet have perceived it fully that first day, we made a pact to create a restaurant unique to Hudson, a city busy being re-born.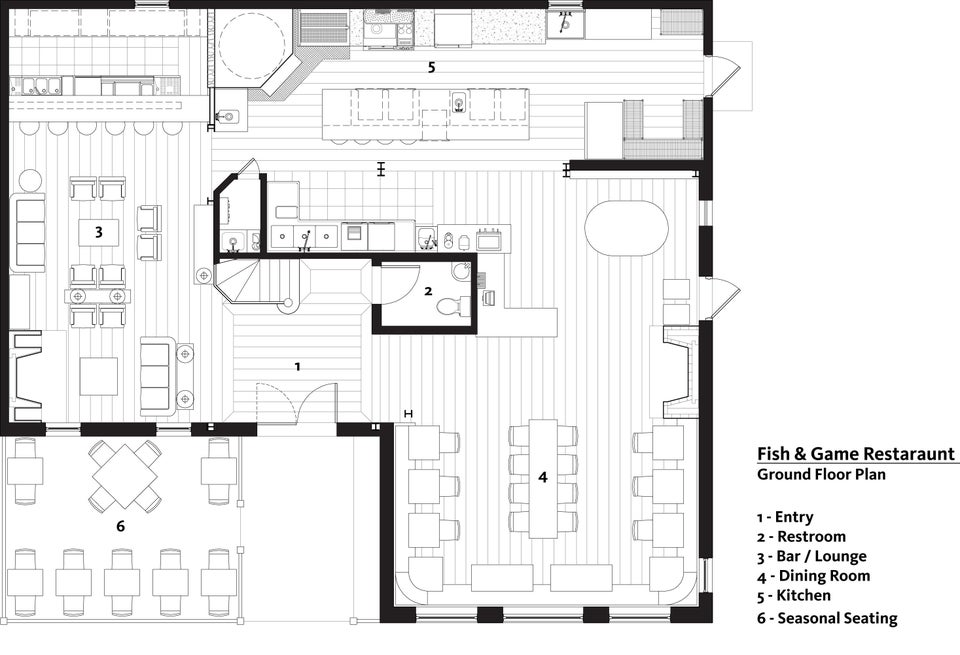 Patrick and his wife Lavinia had recently purchased a mellow old brick building near Warren Street, the main commercial thoroughfare in Hudson. The building, located at 13 South Third Street, started life as a blacksmith and carriage house sometime during the first half of the 19th century. It had been denuded of any period architectural detail by the time we took it on. The brick exterior remained, although it had been re-built and re-configured over the past century and a half. Yet, the little building had undeniable curb appeal had enough charm to suggest that it had once been a place of unselfconscious early-American beauty.
Most recently, the building had been a popular local tea salon and B&B with food service at street level and three bedroom suites on the second floor. There was nothing of the character of the building exterior to be found inside, a series of small rooms marked by low ceilings, oak strip floors, and painted sheet rock walls. The task was clearly to remove this recent past and excavate deeper into the building's early history. Demolition revealed that there was nothing of the original structure intact with the exception of two brick walls, one on a stone foundation, and very little of it structurally sound.
Layer by layer, we began to unlock the interior. We shifted and re-configured the stair opposite the entry doors to create a more residential Foyer flanked by the Bar and Dining Room, each with a large new fireplace facing one another to create an axis of warmth and welcome at the very threshold. These would not be purely decorative, ambient accessories.
By removing part of one original brick wall at the back, we were able to expand the building footprint to create a long bar/kitchen wing now conjoining the bar and dining room and open to both. In the process, we salvaged sufficient brick and stone from the earliest part of the building to fabricate a wood-burning brick oven, one stone wall at the bar, the dining room fireplace, and both exterior chimneys - all new elements composed of old material and therefore perfectly matched to the building exterior and connected to its past.
Having established the basic program, the next task was to buttress the structure of the building, which was in frightening shape at best. We decided to craft an exposed steel frame of beams and columns -- the contemporary equivalent, one might say, of a traditional timber frame -- that meanders through the ground floor picking up roof loads, underpinning masonry walls, and forming new openings where needed. And, in the deliberate contrast between new and old, we were establishing an aesthetic theme common both to Zak and Jori's cooking and the architecture and interior design work since my earliest days of practice - an honest use of material combined with a balance of the traditional and the present day.
We set about foraging for material that would support this theme and restore some of what had been removed from the building over the years with a visit to a trusted source, Provenance in Philadelphia. Including an intact roll of turn of the century voided-velvet wallpaper just bawdy enough to recall Hudson's once infamous red light district and a matching pair of steel and wire-glass fire doors,
We sourced more wonderful material from another favorite supplier, Demolition Depot. And before you know it, we were ready to cook a restaurant.
Do you have a home story idea or tip? Email us at homesubmissions@huffingtonpost.com. (PR pitches sent to this address will be ignored.)