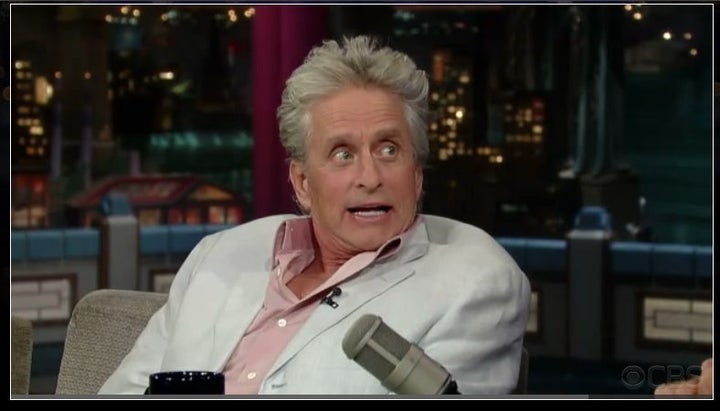 Michael Douglas went on Letterman Tuesday and talked about the recent news that he has throat cancer.
He has just completed his first of eight weeks of radiation and chemotherapy, and appeared a little thinner than usual, with his suit slightly oversize. With the coming weeks of treatment, he said, his voice may change and it could become impossible to swallow solid food.
But he was upbeat, saying that despite his throat cancer being Stage 4, it has not spread down below his throat. Asked by Letterman what the percentages were, Douglas said he has an 80% chance of recovery, with some hospitals even more optimistic.
When Letterman wondered if there was anything he could do, Douglas said, 'Aw, give me a hug!' And the two men embraced. Scroll below the video for the AP article and partial transcript.
WATCH:
AP:
NEW YORK — Michael Douglas says he faces an "eight-week struggle" against throat cancer but is optimistic about his chances for recovery.
During an appearance Tuesday on David Letterman's "Late Show," the actor said he had just finished his first week of radiation and chemotherapy. That drew a surprised reaction from Letterman.
"You've never looked better to me, and this proves that you're a tough guy, for God's sakes," the talk-show host said, drawing cheers from the studio audience, according to a CBS news release.
"Let's just say ... I'm pretty lit up right now," Douglas replied.
The disease was diagnosed three weeks ago, he said, although he had complained of a very sore throat earlier this year and had undergone testing that failed to find a cause.
Douglas, 65, who has two children with Catherine Zeta-Jones, said he enjoyed the summer traveling with his family before returning to the doctor. A biopsy found he had late, stage-four cancer, "which is intense, and so they've had to go at it," he said.
However, Douglas said, the cancer remains above the neck and that means expectations are good, with an 80 percent or better chance of recovery.
Asked by Letterman about his personal habits, he said he had smoked and consumed alcohol.
According to a National Institutes of Health website, use of tobacco or alcohol are among the factors that put people at risk of developing throat cancer. Combining tobacco and drinking increases the risk.
Most throat cancer develops in people older than 50, with men more likely than women to get the disease, the NIH site says.
Popular in the Community